Ahhh, Persephone…how I long for thee…in every colour! It is no secret that I love the Persephone Pants pattern from Anna Allen Clothing. I mention them constantly on the Love to Sew Podcast and I have a previous post about my first pair (which I wear all the time). I've got a third pair in progress in black cotton twill and I don't think they will be my last. I can't get enough, especially paired with the Roscoe Blouse!
This version is made in cotton and modal Cone Mills denim from Blackbird Fabrics. It is sold out now, but they do denim pre-orders fairly regularly. This pattern also works well in cotton twill or duck canvas. I love this denim so much because it is VERY soft. It feels really nice on the skin and the deep blue colour is lovely.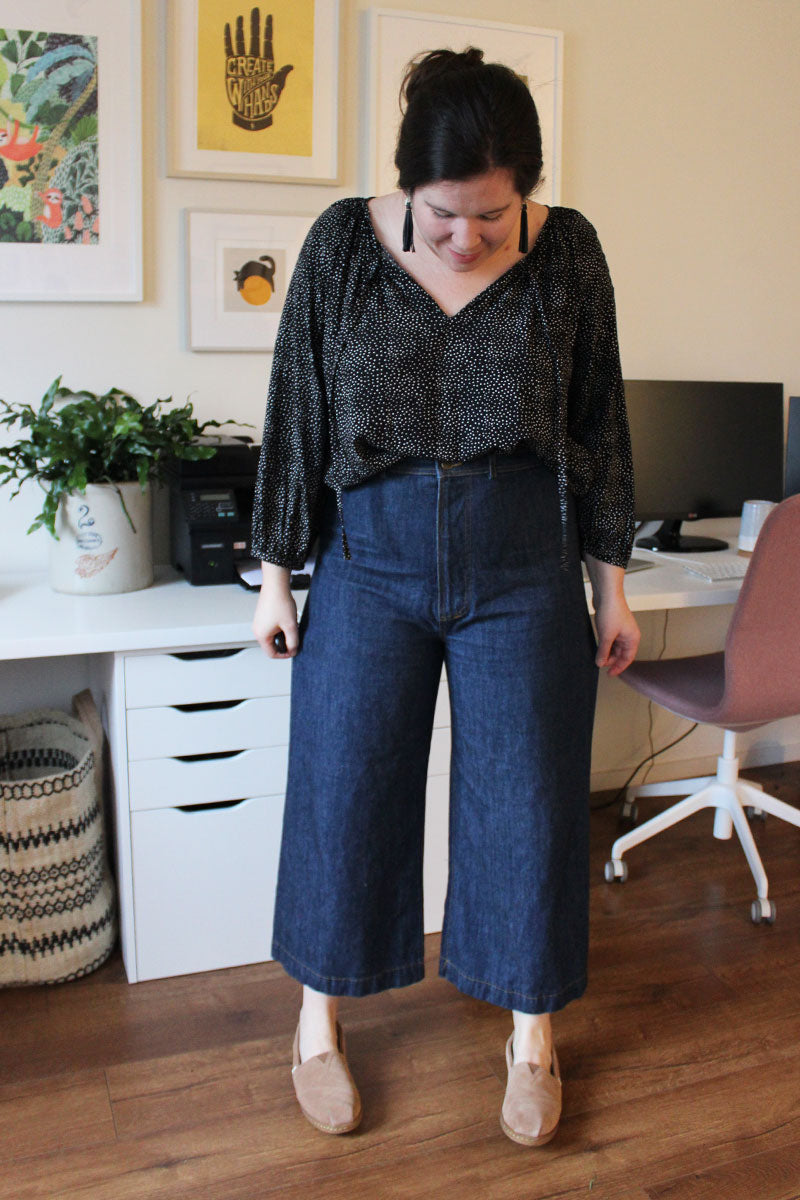 I opted to do gold topstitching on this pair and I also eliminated the pockets. I regret that decision because I actually used those little waistband pockets more than I thought! They are really handy for putting your phone in, so I wish I had put in at least one. Pants without pockets are flawed, I know this now.
The other change I made is to sew a zipper fly instead of a button fly. I made this up as I went along, but essentially I added a zipper fly extension to both sides and then followed the Ginger Jeans zipper fly tutorial on Closet Case Patterns. Because the waist is so high. the zipper fly is comically long, but it worked out well. Now that I have experienced both versions (see my button fly version here), I think I like the zipper better. It is easier to take on and off and easier to sew (in my opinion).
Paired with my Persephones is one of my new Roscoe Blouses! I did some batch sewing over the holidays and made THREE versions of this True Bias pattern. I really love my Roscoe Dress and I was smitten with Caroline's Roscoe from our photoshoot for Seamwork Magazine. I am actually wearing my Persephones in those photos, too! I decided to make some Roscoe Blouses because they are so wearable and I feel really chic in them. They are nice and loose, too, which was perfect for those holiday parties!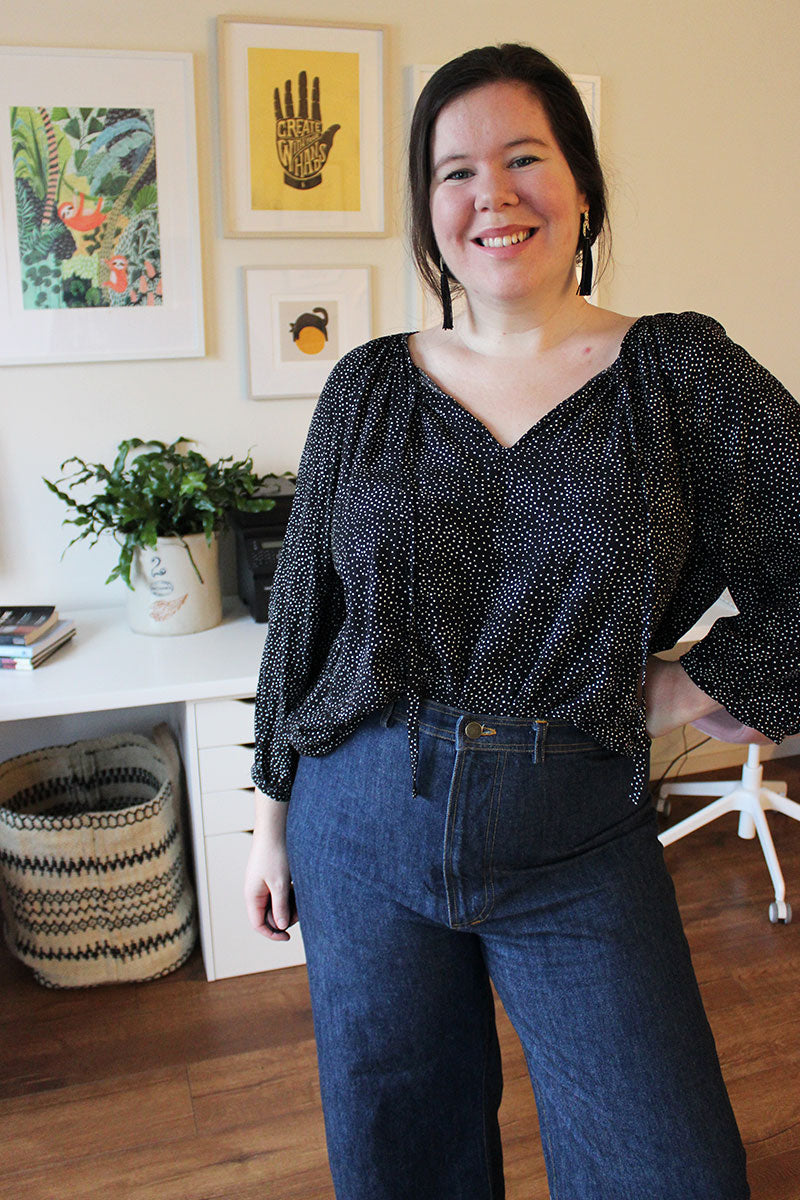 This Roscoe is made in viscose poplin from (you guessed it) Blackbird Fabrics. They have this fabric in a few colours and it is so cute! I love the little polka dots and it is a nice, light weight for a blouse like this.
I like to wear Roscoe open in the front, but you can tie it up for a cute look, too. It pairs really well with jeans and is a great alternative to a t-shirt that is equally comfortable. Highly recommend this pattern!
I will be wearing this outfit often and I am going to photograph my other Roscoes to share as well. Maybe I'll even finish my next pair of Persephones and we can do this whole blog post again! Sorry, not sorry 😉
Thanks for checking out this project! Happy sewing!
Helen