The new York has arrived! We're so excited that the York Pinafore is the second pattern to be updated with the new size range, and it feels wonderful to be able to offer this playful design to more people. The York Pinafore is now available in sizes 0-30!
The York is 20% off until midnight on March 23 to celebrate! No coupon code required.
The updated York Pinafore includes sizes 0-30. The new pattern is graded numerically ( 18, 20, 22, 24, 26…) rather than S, M, L, XL, XXL…this more specific sizing system will help you to choose the most accurate size.
The instructions have also been streamlined! There are now better finished garment measurements, to help really perfect the finished product.
What if I already purchased the York?
Not to worry! If you have already purchased the York Pinafore, simply log-in to your account and download the updated version of the York. If you didn't create an account when you purchased the pattern, simply email us at support@helenscloset.ca and we will get the new pattern to you ASAP.
Of course, if the old version of the pattern works for you, you are more than welcome to keep using it- no re-printing required.
What about the other patterns?
They are coming! We are working on getting all the patterns re-sized by the end of this year. Thanks for your patience!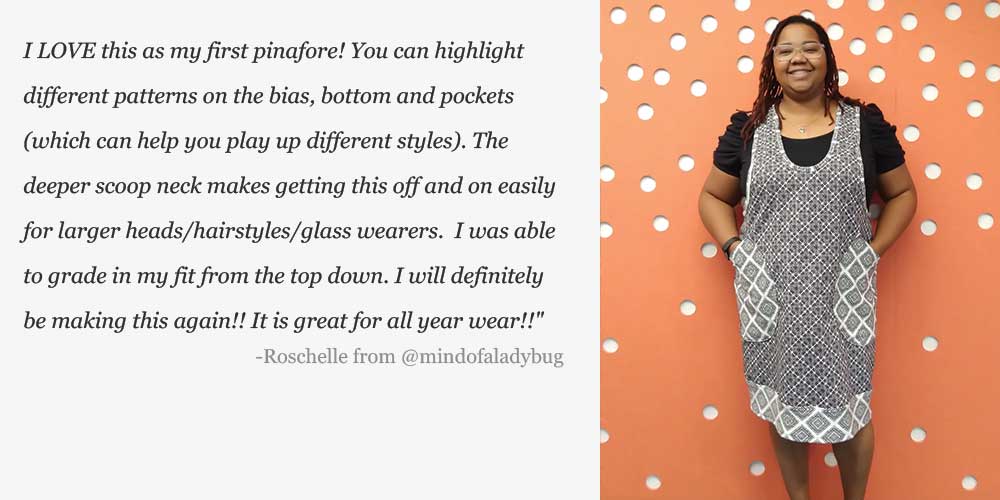 Two options are provided for the neckline, length, and pockets of the York Pinafore, so you can easily mix and match features to create your own look! View A features scoop pockets, a longer length, and a low neckline.View B has a classic pinafore kangaroo pocket, a shorter length, and a higher neckline.
The York Pinafore Apron Expansion Pack is also updated to the new size range. Inspired by Japanese cross-back aprons, the York Apron is designed to be both practical and stylish. The York Apron offers you full coverage and deep pockets, perfect for cooking, baking and crafting. Easy to put on and comfortable to wear, this apron will soon be your go-to cover-up when it's time to get messy!
The York Pinafore is a great pattern for both beginner and advanced sewists, and everyone in between. Recommended fabrics include cotton, linen, denim, corduroy, canvas, and wool. Lighter weight fabrics also work for a softer, less structured look. This pattern is versatile in its wearability and its materials!