This has to be one of our most favourite Ashton hacks so far! Embroidery is such a creatively inspiring way to take a me-made garment up to the next level. You can use today's post to learn how to embroider garments like your Ashton Top, whether it's on the shoulders or elsewhere, as a really fun way to make your top extra personal and special.
You can grab the Ashton Top this month for 20% off using the code ASHTONAUGUST! Just a few more days to take advantage of this code!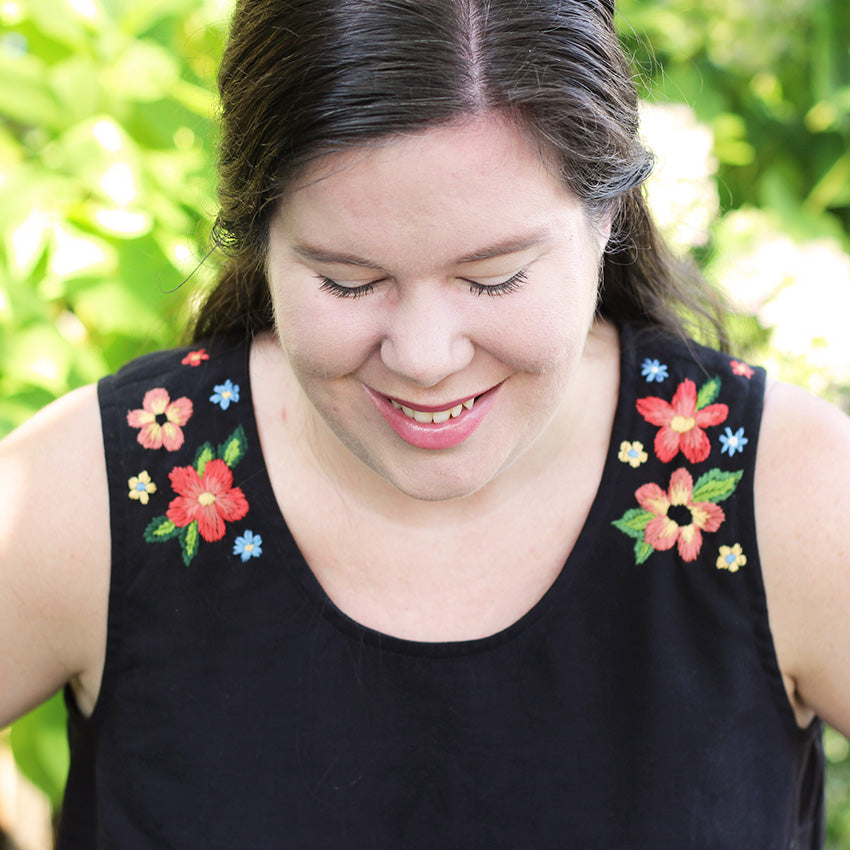 If you've never embroidered before, or you haven't embroidered since you made that ill-fated sampler at summer camp, don't be intimidated! Embroidery can be as simple or complex as you want to make it. I embroidered my Ashton with flowers, but you could try leaves, cacti, succulents, dogs, stars and planets, waves, abstract designs…the possibilities are endless! There are lots of great resources out there to help you learn how to embroider.
Resources:
The Spruce Crafts has a post on how to get started with embroidery, as well as a post on 15 essential embroidery stitches, with lots of details on how to learn them.
Crewel Ghoul has a post on what materials can help you get started with embroidery.
Needle n' Thread has a whole catalogue of embroidery stitch tutorials, complete with clear and informative videos.
DMC has a huge catalog of free embroidery patterns.
When Elisalex from By Hand London was a guest on Love to Sew, she gave us her top Instagram accounts to follow for embroidery inspiration. Check them out!:
@tessa_perlow
@acru_
@bystaceyjones
@yumikohiguchi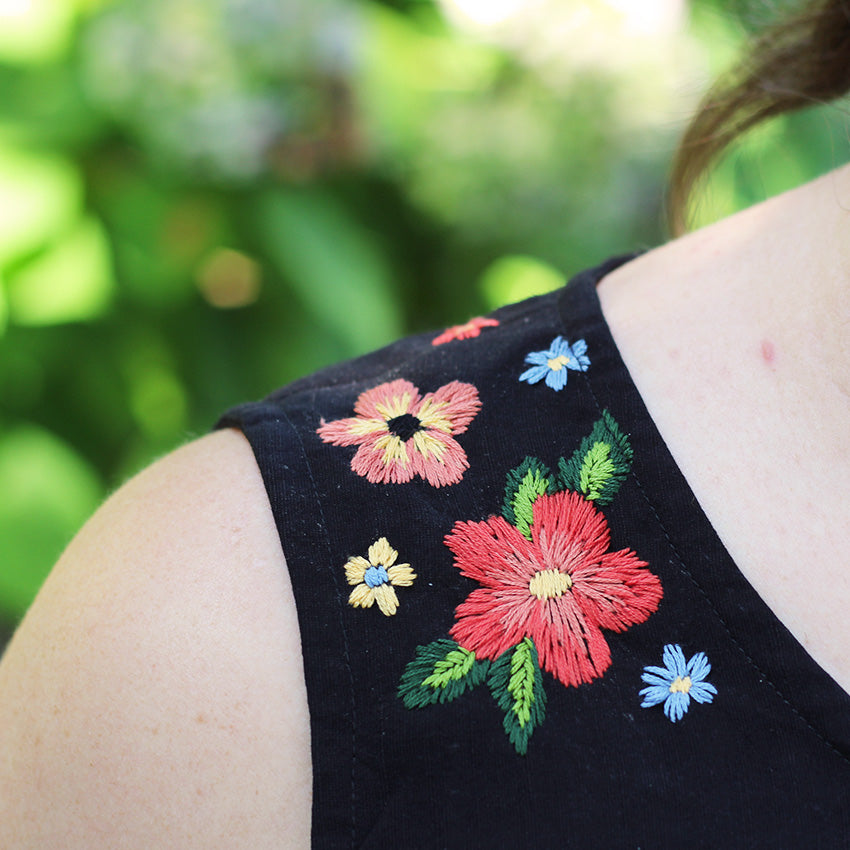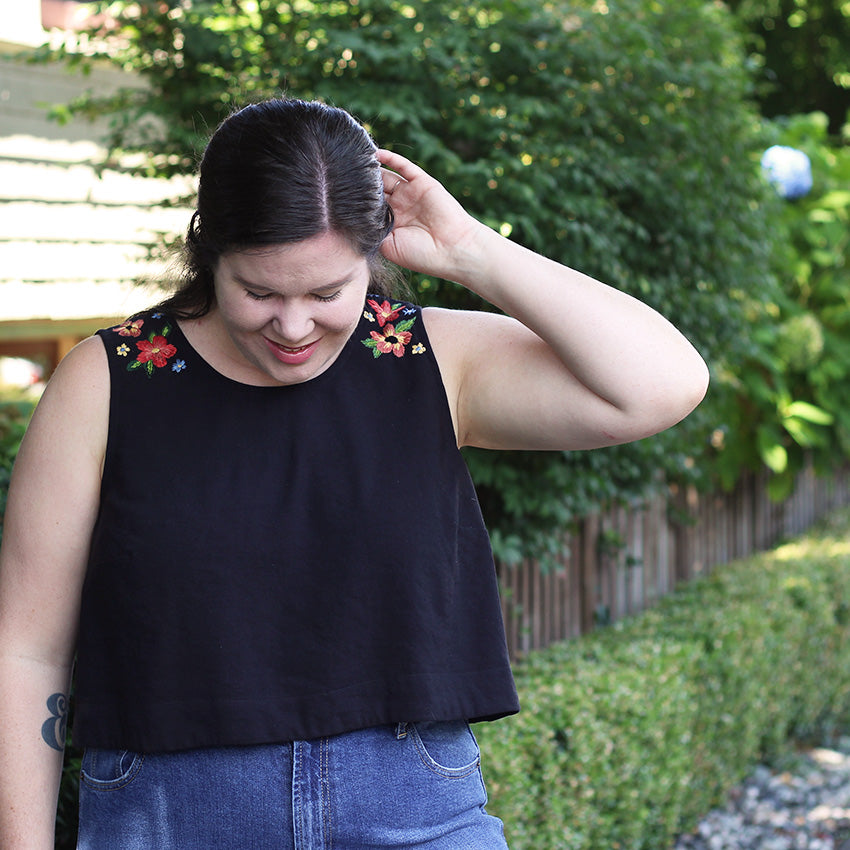 How I Embroidered my Ashton Top:
I used my facing pattern pieces to cut interfacing for my Ashton Top. It is a good idea to put interfacing behind anything you are embroidering for extra stability. I fused it on and it is pretty much invisible!
I cut and sewed my Ashton together at the shoulder seams. Then I used an embroidery hoop to flatten out the shoulder area so I could embroider it.
I didn't have a plan when I set out to embroider my top. I simply grabbed the colours I wanted to use for my flowers and started making petals and leaves! I did not use any fancy stitches and I just followed my gut. Flowers are not perfect and neither is my embroidery! There are lots of tutorials and templates out there for how to embroider garments if you prefer to follow a plan. You can also feel free to copy mine!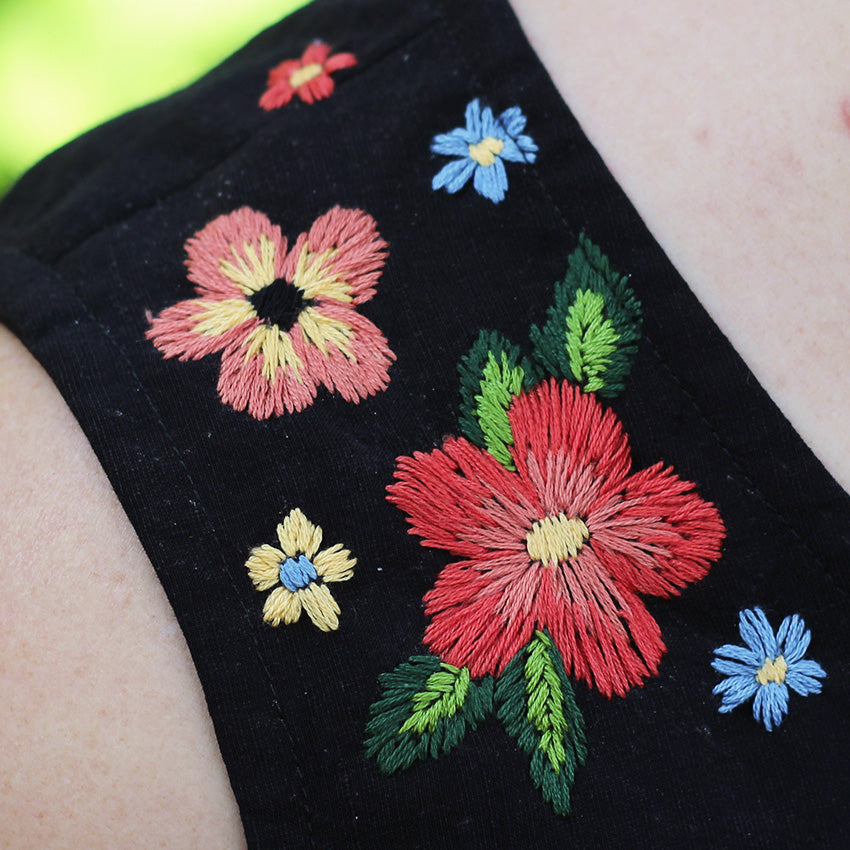 I finished the arm and neck openings of this Ashton after I did the embroidery. I did the bias finish, but the facing finish would have been a better choice. It would have covered all the knots and stitches on the back of the work, too! Hindsight is 20/20.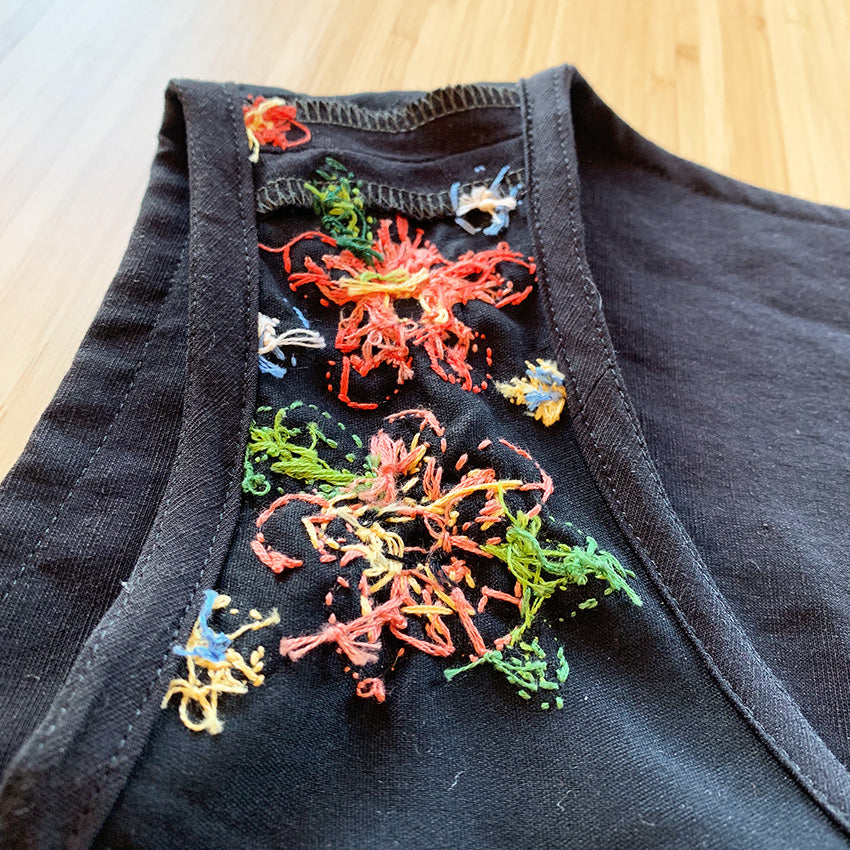 Now, I want to embroider ALL THE THINGS! Seriously. This was so fun and it is really addictive. I hope you try it, too!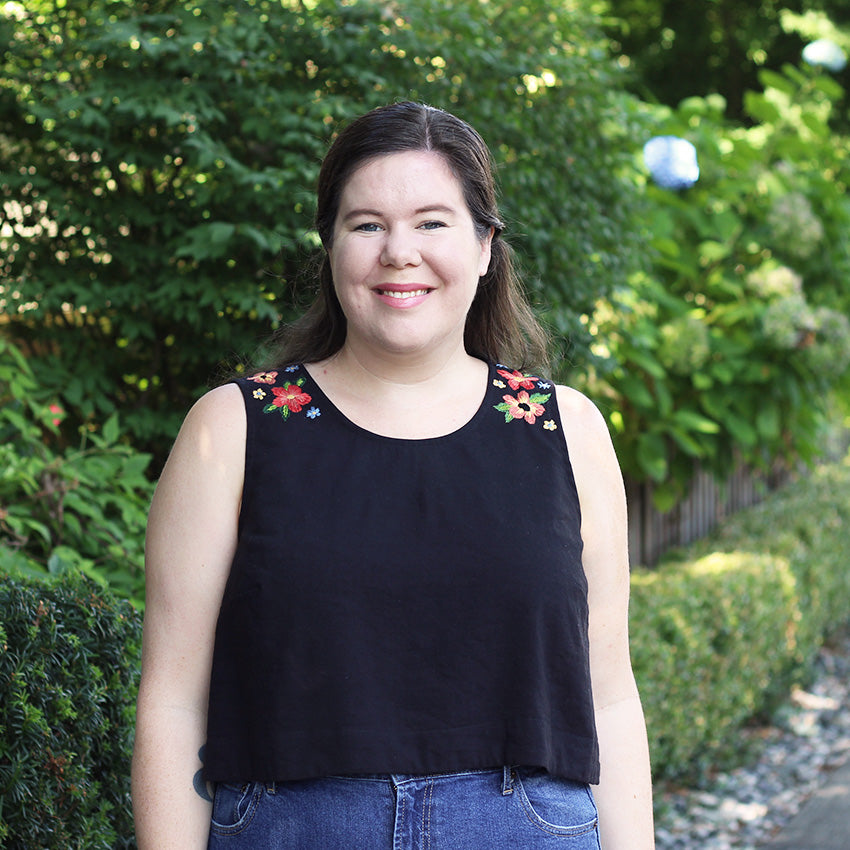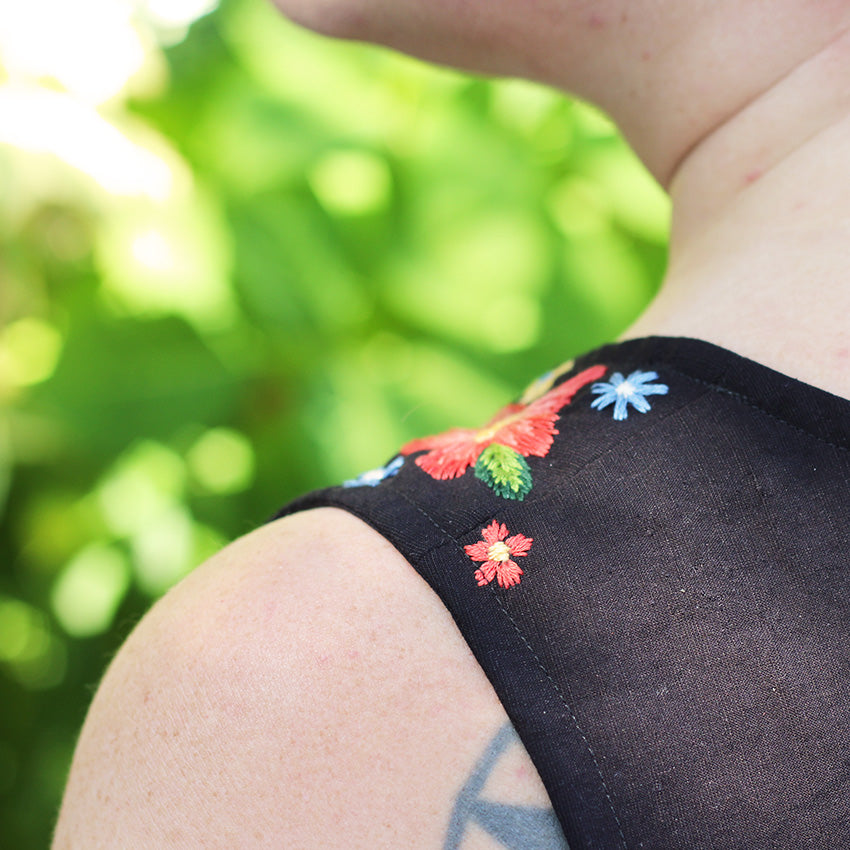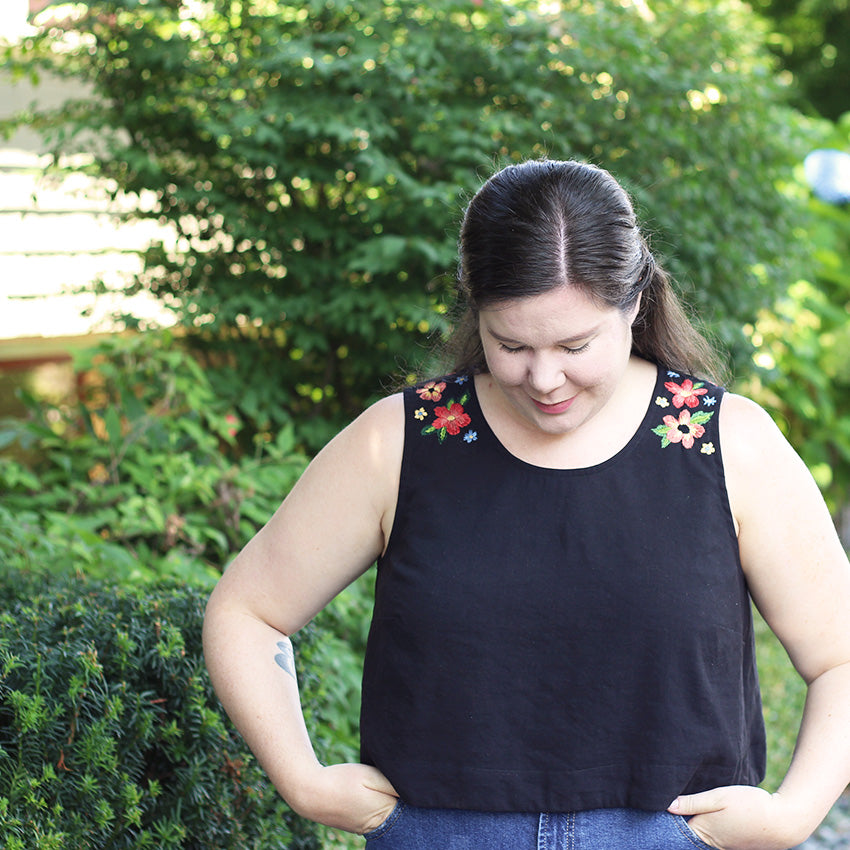 You can grab the Ashton Top this month for 20% off using the code ASHTONAUGUST.
This was our second hack in this new blog series all about the Ashton Top! See all the posts in this hacking series here.