I'm excited to share the first of several guest bloggers joining us this week to show off the March Top and Dress! We know how important it is to see different versions of a pattern and get real feedback from the community, which is why we now welcome paid guest bloggers to make the final version of the pattern and share their opinions on the design! This is just one more way for us to showcase new patterns on different bodies and in different fabrics!
Today we are welcoming Swetha (@the.hemline.eclectic and The Hemline Eclectic) to share her thoughts on the March Top and Dress pattern! Swetha began teaching herself to sew last year, and it has been a joy to watch her explore new patterns and grow her sewing practice ever since! I love her effortless style and how creatively she designs her projects! Let's see what she thought of the March Dress.
Note: I ask my guest bloggers to be honest! I want you to hear what they thought of the pattern, things they might change for next time, and how they feel in the garment! You know, the real sewing experience! This post is their own and all opinions are honest.
Swetha's March Dress Review
Hello! My name is Swetha Mohan (pronounced sway—tha) 😊.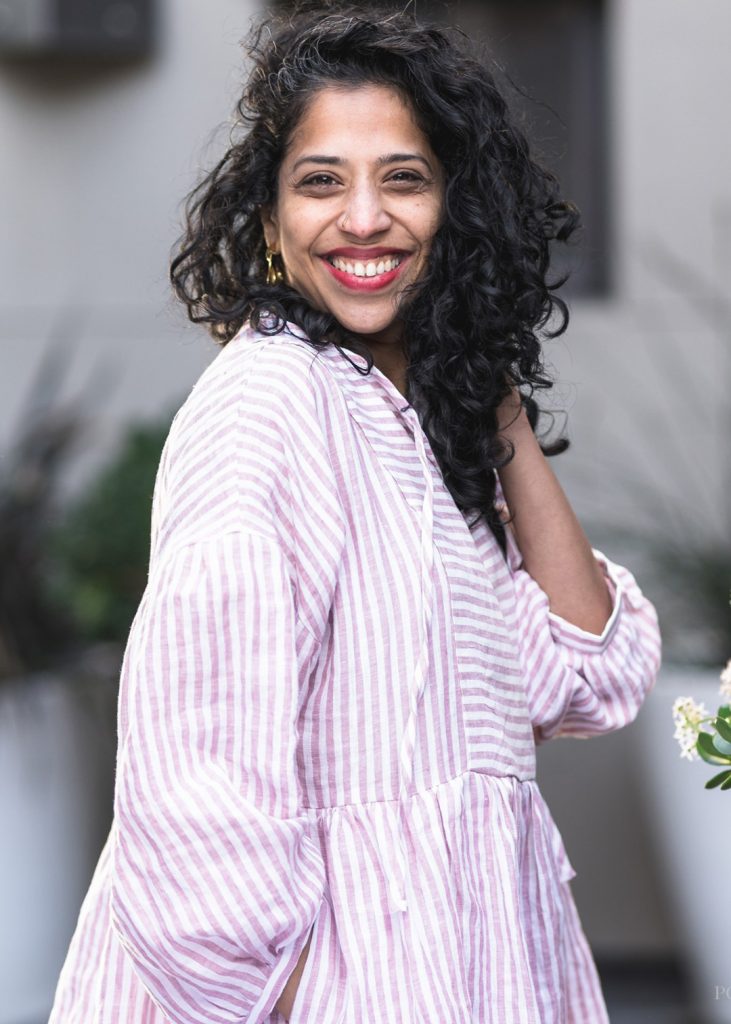 I taught myself to sew during the start of lockdown in April, as a way to get through the crazy time of being at home with 2 kids all day long. I discovered Helen's Closet during my many hours of scouring Instagram for inspiration and sewing patterns. Helen has a very keen eye for wearable patterns which make a lot of sense for day-to-day life. I can see each of her patterns easily fitting into my everyday wardrobe. I was absolutely thrilled when I was given this opportunity to review Helen's latest pattern. Being still pretty new to the sewing community, I was so honored that Helen asked me to write this post!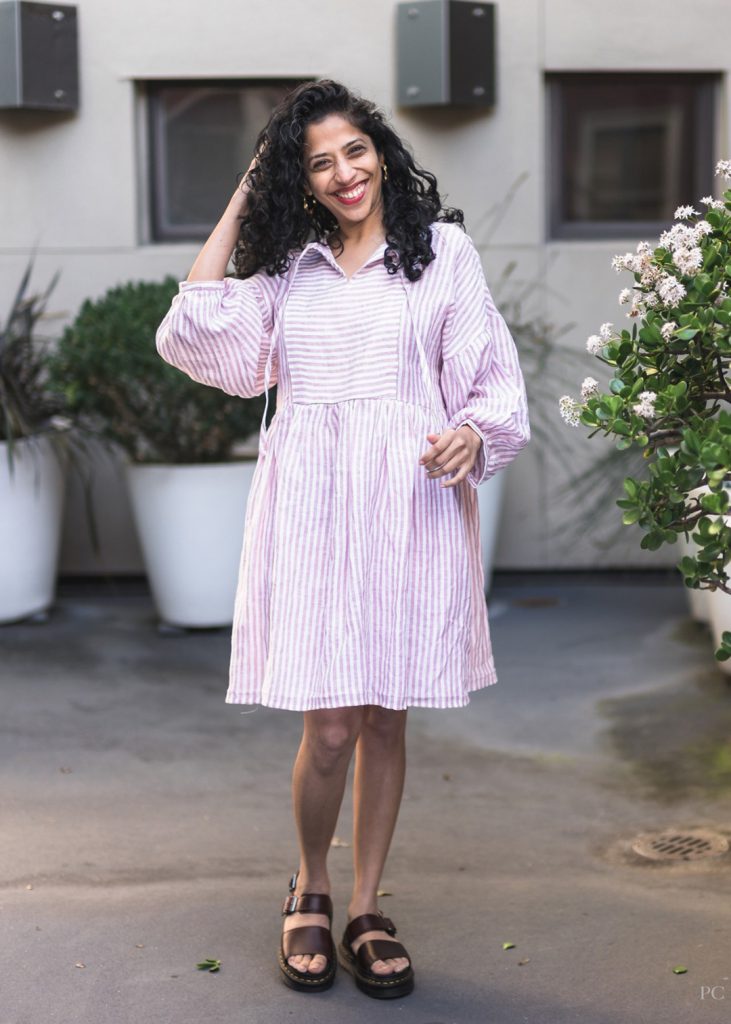 The Pattern
The March Top and Dress Pattern offers you so many different options. It has 3 different views to choose from. All three views are beautiful, relaxed and very retro with lots of ease. I love that you can have a gathered skirt/peplum for a romantic look or just go with a straight peplum if you prefer. There are also 2 neck options, either a necktie or no tie, and 2 sleeve length options. For me, these sleeves have the perfect volume. I think both sleeve lengths would be very flattering. The possibilities are endless!!! The dress is meant to be knee length, but I could totally see it hacked into a maxi or midi length dress if you prefer.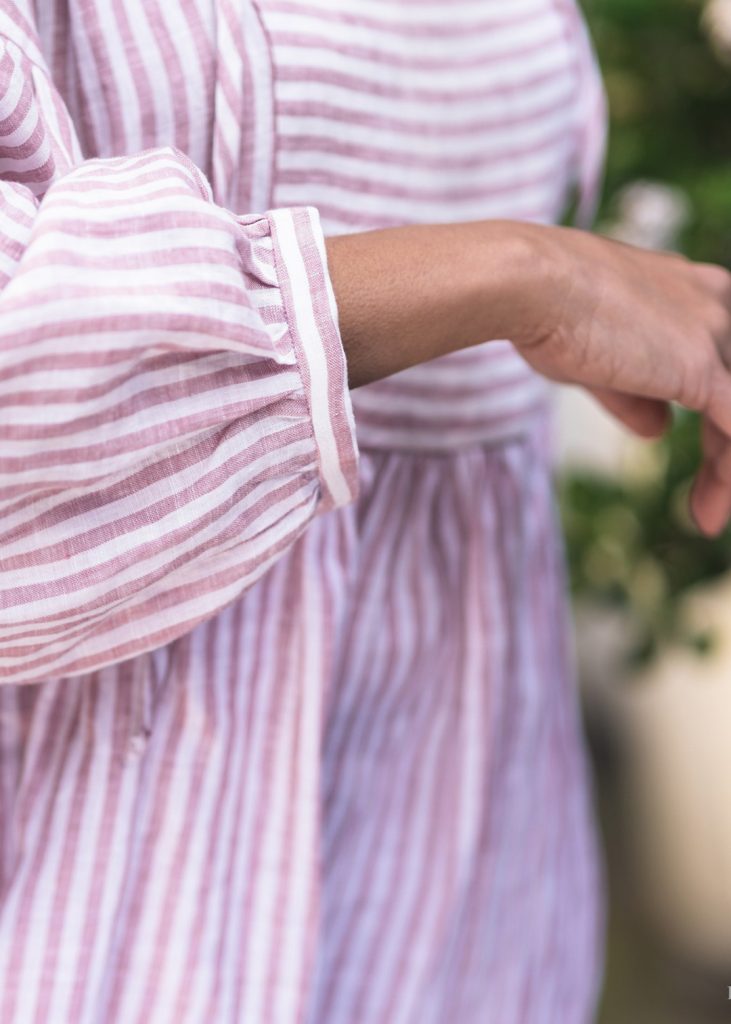 Now let's talk about this yoke. I absolutely love the yoke on this pattern. It allows for so much play with your fabric. First of all, it is fully enclosed giving the garment a great finish. The inside yoke is fully interfaced giving the neckline a very polished look. This yoke would also be great for when your fabric is a bit sheer.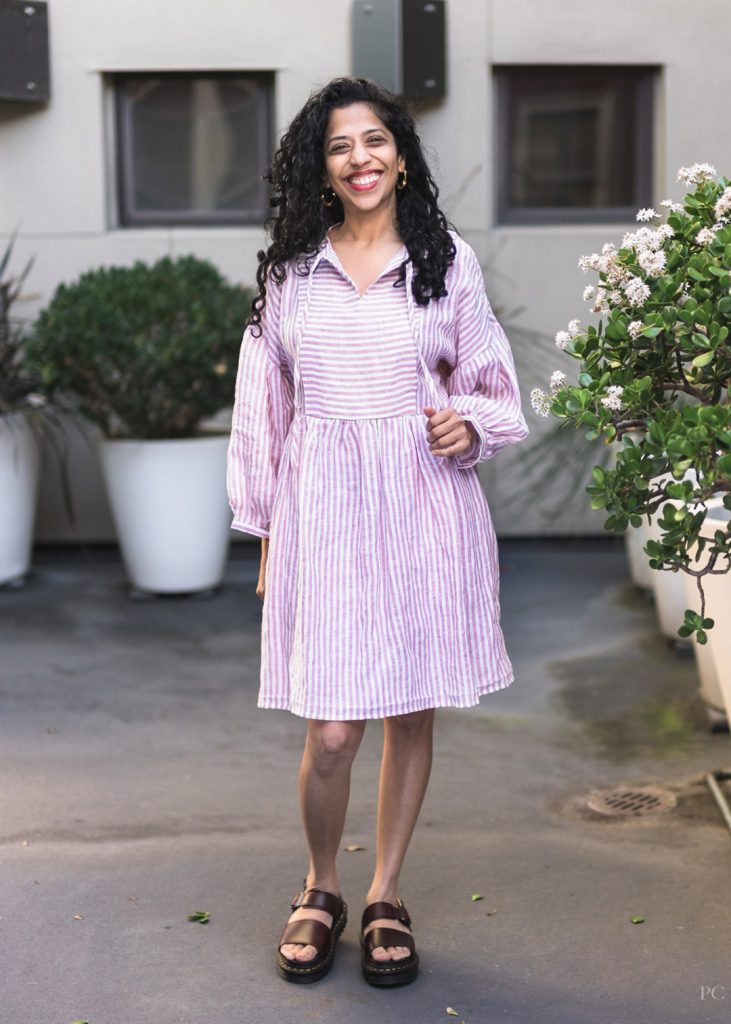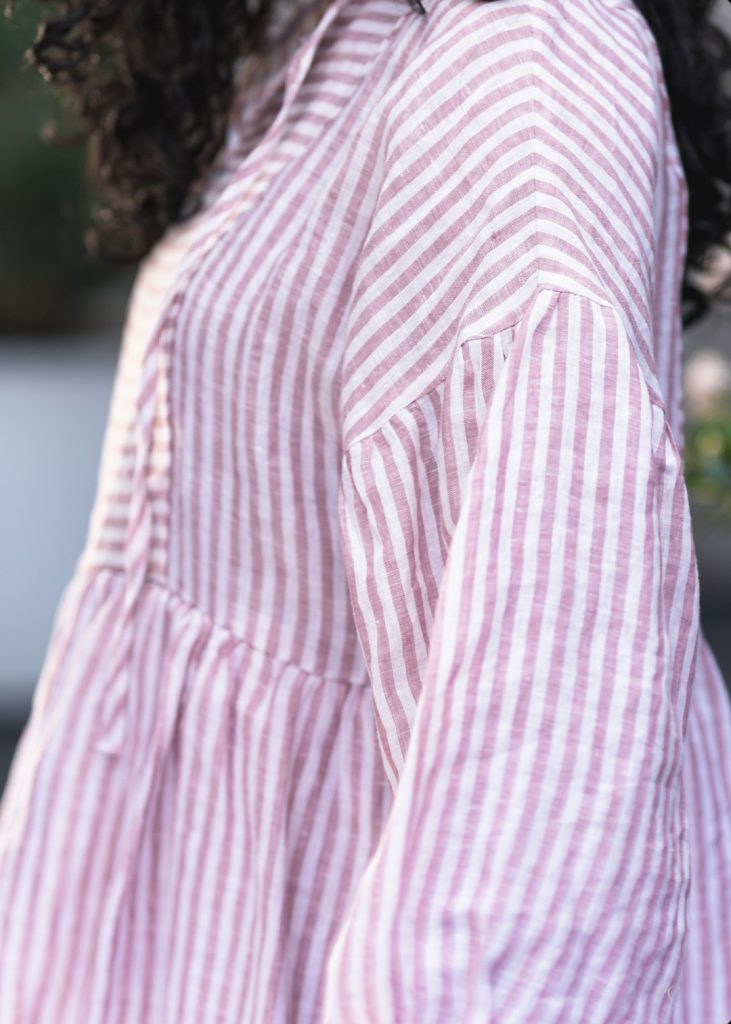 The Fabric
Just for the yoke on this pattern, I chose to work with a striped fabric. I chose a 100% linen that I purchased from PDX Sewing Studio with beautiful cranberry-colored stripes. I chose to use a thinner stripe to accentuate the pattern more than the fabric. I think a seersucker would also be very cute for this pattern.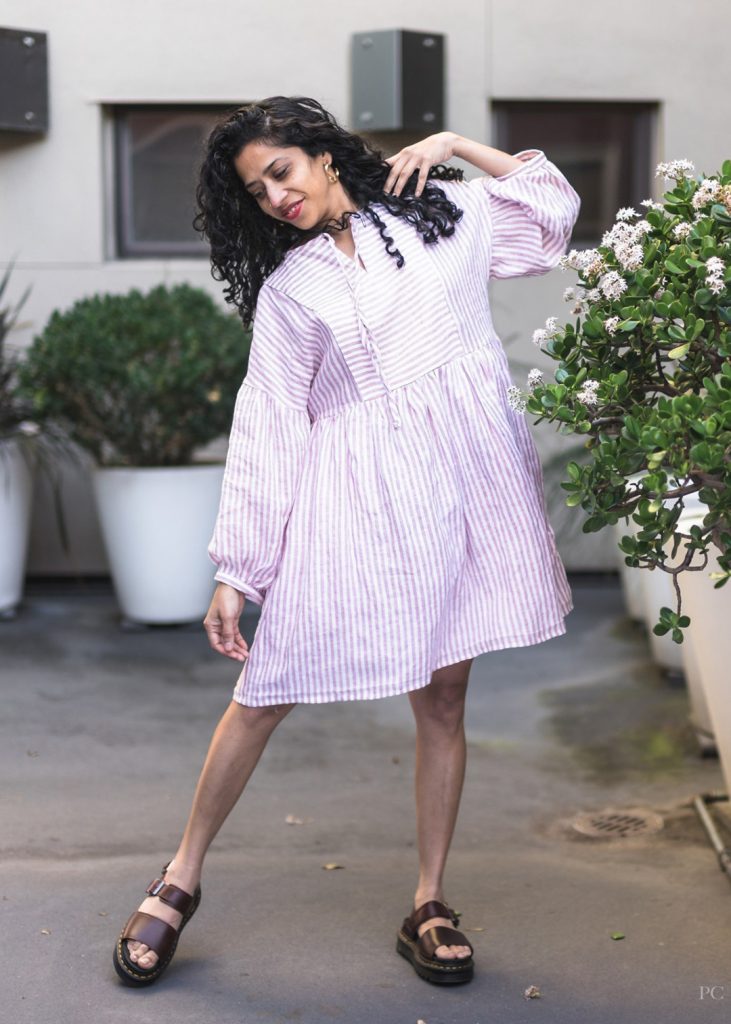 I think this pattern would work well in many lightweight fabrics. I would love to make a second one in a drapier fabric like viscose or tencel. But I absolutely love my linen dress. I cannot wait for the summer.
Sewing the Dress
I loved all views on this pattern and chose to make the dress with the longer sleeves and necktie for this review.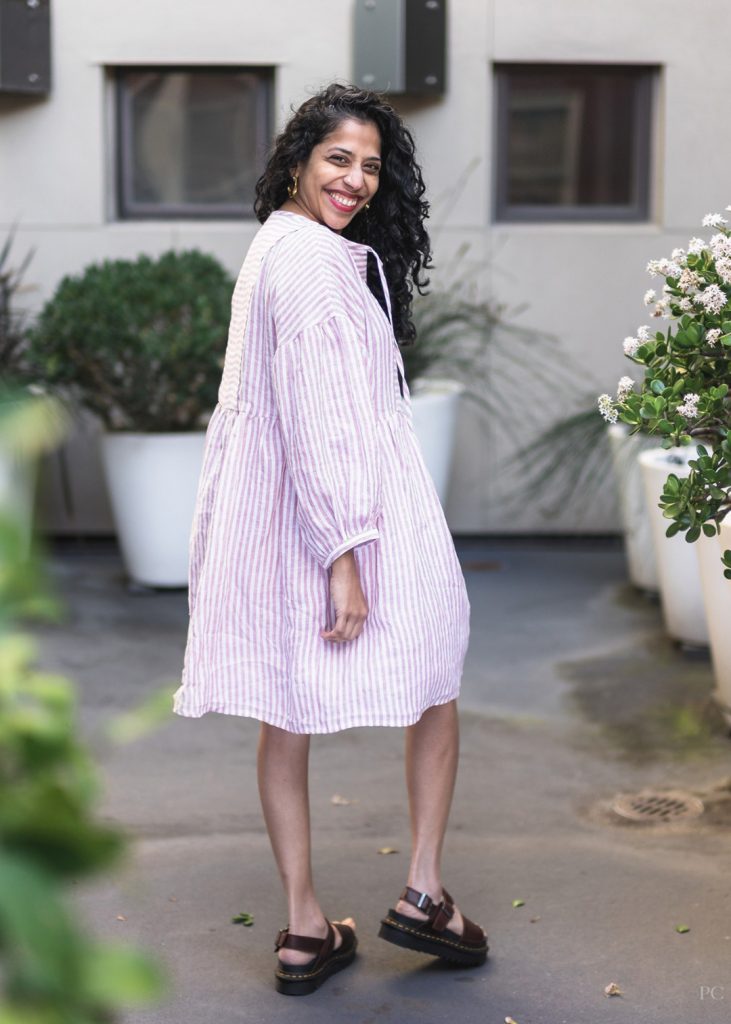 Helen's size chart put me between a size 8 and 10. However, when I looked at the finished garment measurements and the amount of ease in each size, I decided to size down and I cut out a straight size 6.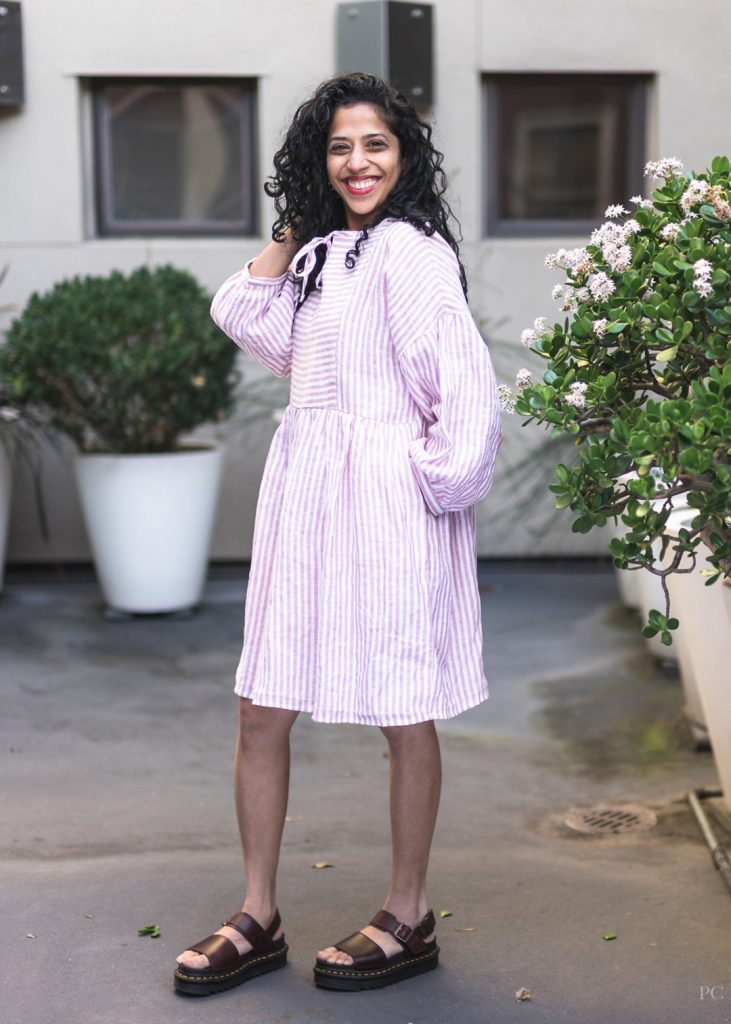 The bodice in the pattern is meant to hit on the natural waist. I am short-waisted, which means the distance between my waist and my hips is shorter than standard measurements. I am also almost petite in my proportions on top. So, if I want the bodice to hit at my natural waist and on my shoulders, a standard adjustment I'd have to make is to shorten the bodice. However, since I had sized down for this pattern, I first measured the distance between the inside shoulder neckline to the bottom of the bodice and compared it to my measurements. This was exactly my length and so I did not make any adjustments to the bodice. I shortened the skirt so the hemline is just above my knee.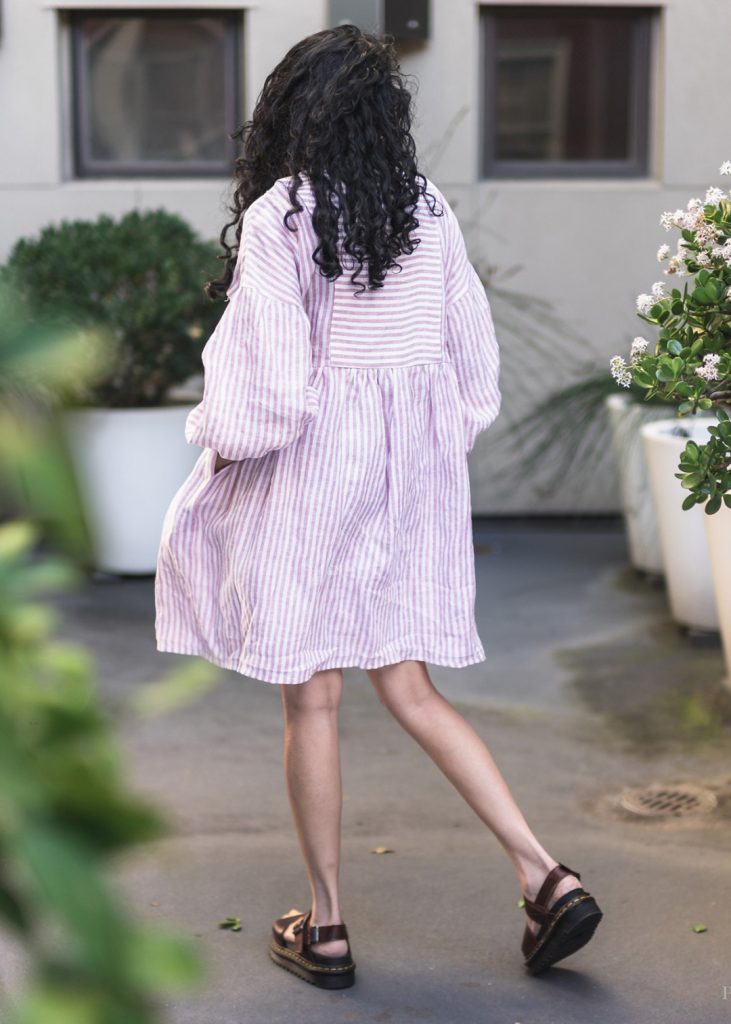 I carefully considered how I wanted the stripes to be placed and decided the most flattering combination would be for it to be horizontal on the yoke and vertical in all other pattern pieces.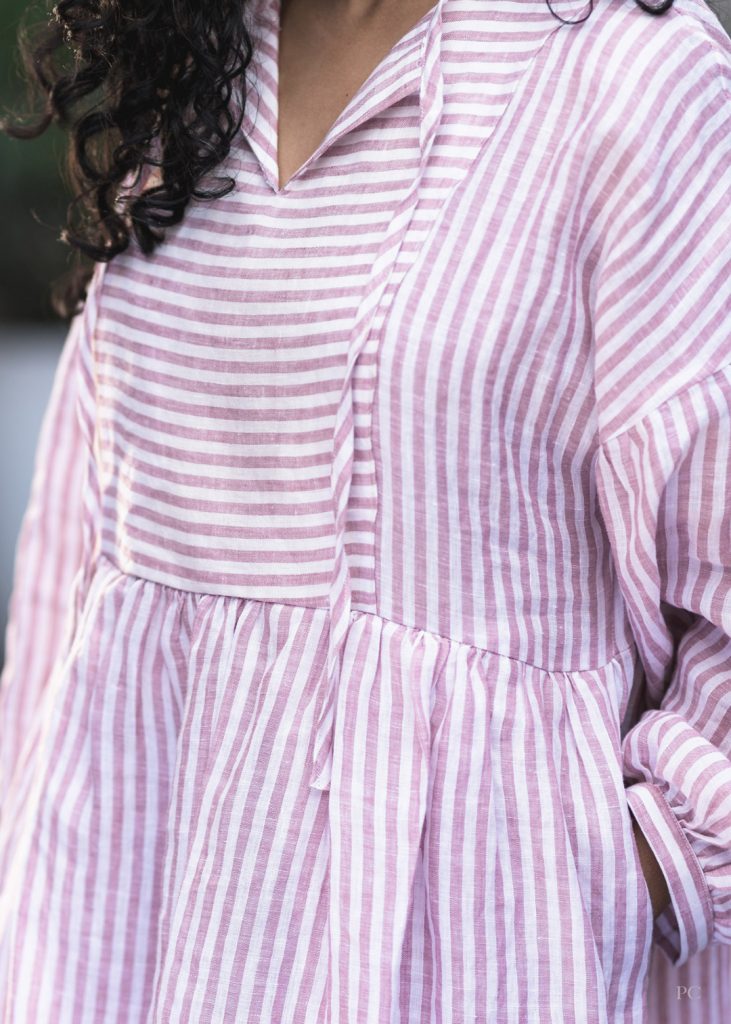 One of my favorite attributes of Helen's Closet Patterns (and Helen herself) is her attention to detail. The confidence and joy that one gets by following her instructions is something rare, even in the indie sewing pattern world. Not only will Helen hand-hold you through more complex parts of the garment construction, she also tells you why something is sewn a certain way. This not only gives you confidence while sewing this garment, but also informs you on how to use this technique in other sewing projects.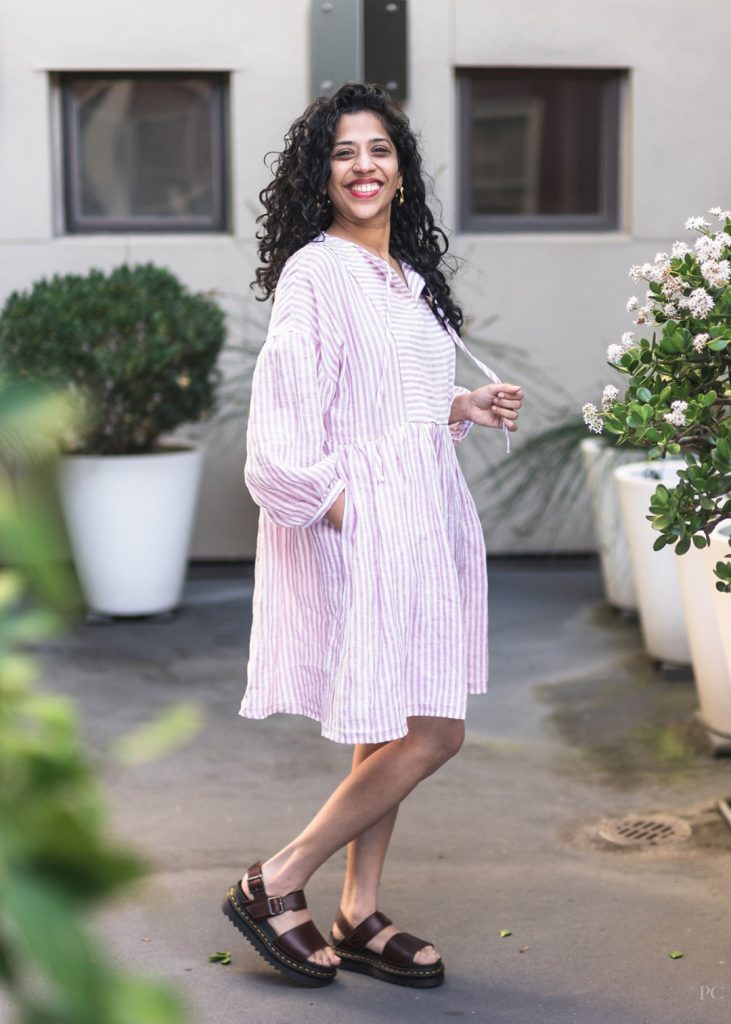 The instructions for the March Top and Dress do not disappoint. I absolutely loved sewing this dress and had a very enjoyable Sunday afternoon with my machine!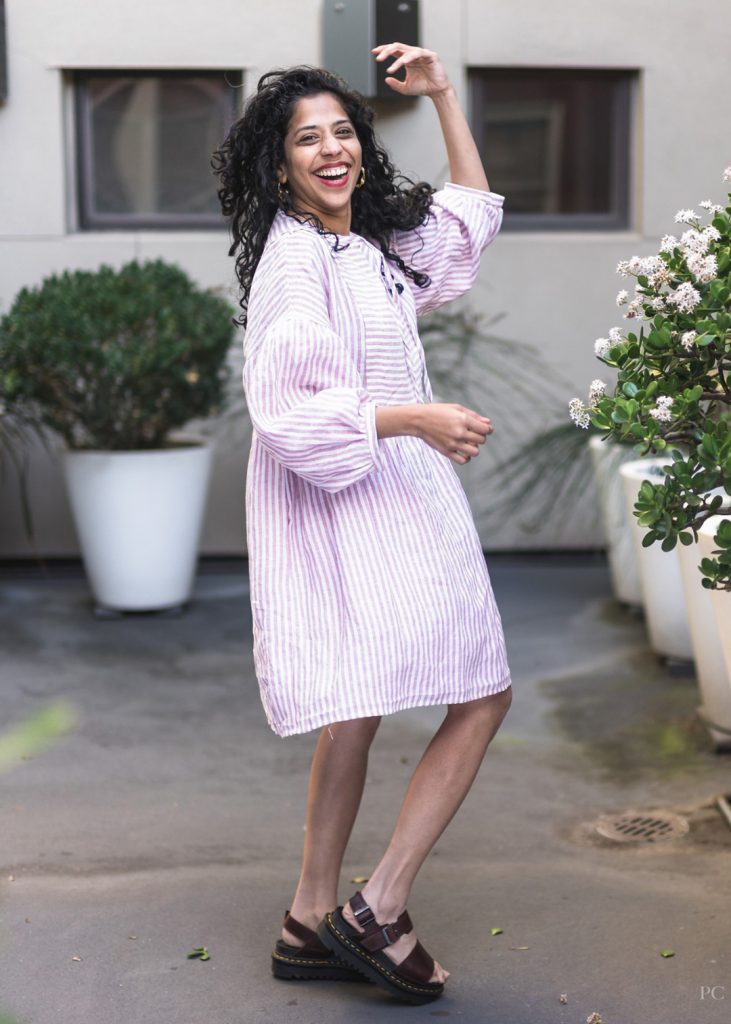 Techniques You Will Learn
With Helen's instructions hold your hand, I think a confident beginner can make this pattern. I recommend reading the instructions completely before starting this project. Here are some of the techniques you can learn by making this pattern:
Sewing an enclosed yoke
Sewing a necktie
Gathering a skirt and sleeve
Sewing a gathered skirt and sleeve to the garment
Sewing a sleeve cuff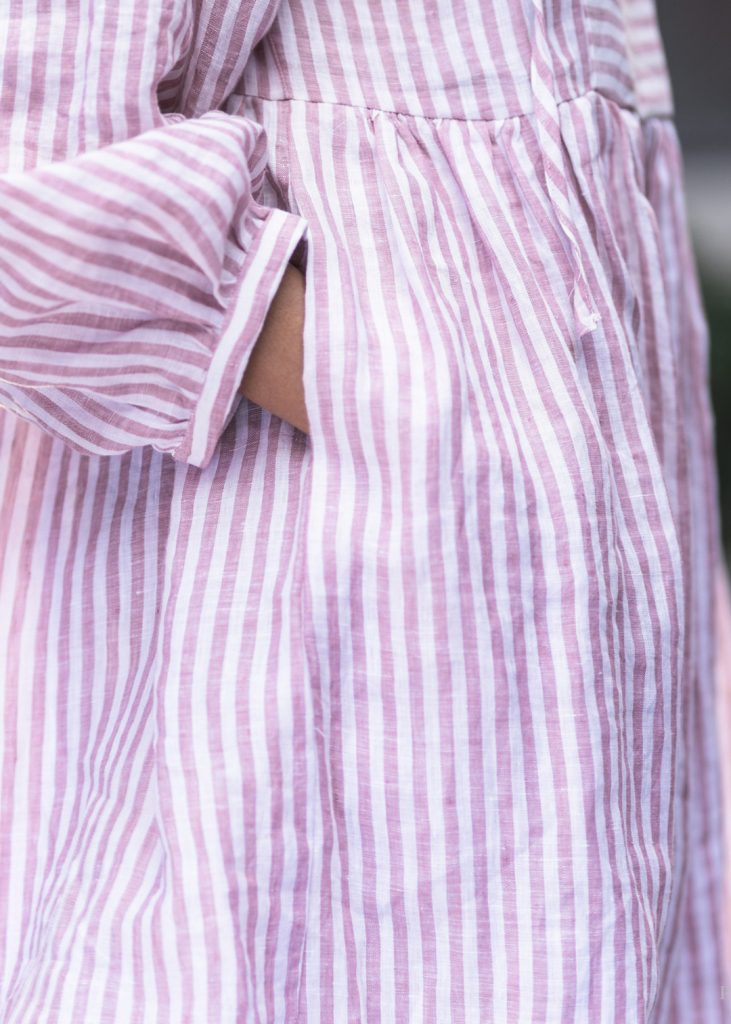 It was my first time sewing an enclosed yoke and a neckline like this. I loved making this dress.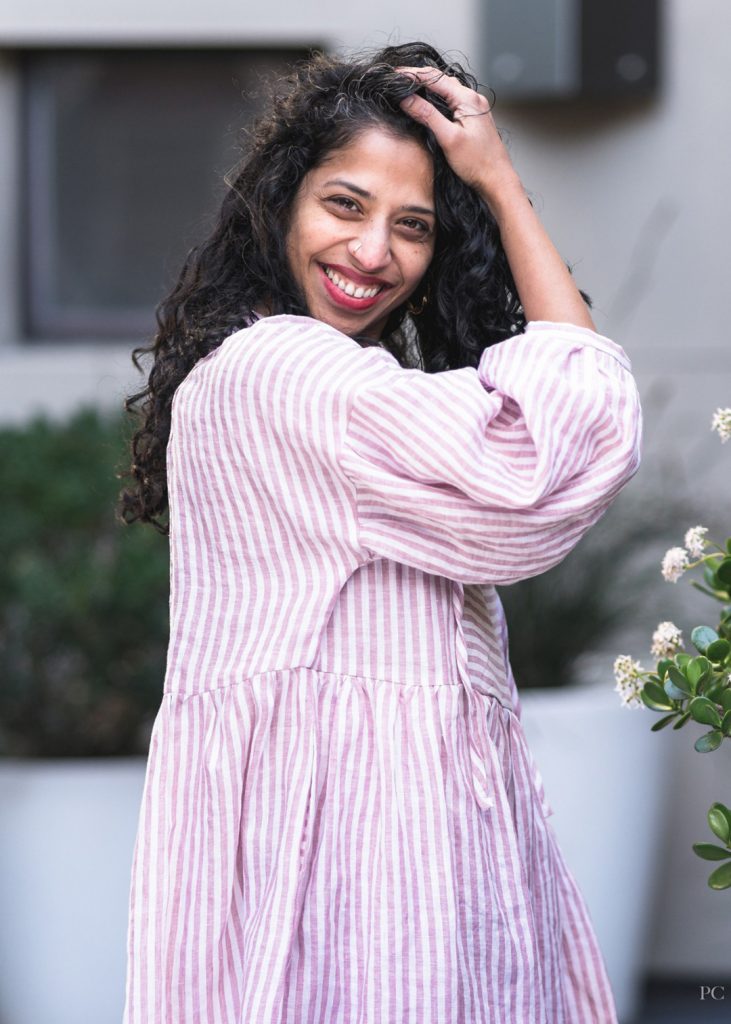 What would I do differently next time?
I definitely have plans to make the other views on this pattern. The only thing I would do differently, if I used the exact same fabric again, is to sew the neckline without the tie. I think with a more drapey fabric the tie would work well but with linen I found it too stiff. Since the neckline is already well structured with the interfacing, it would have been better had I not added a necktie.
Swetha
---
We have more posts about March coming your way soon! Check back later for more guest blog reviews, pattern hacks, and March inspiration!