I'm so excited to share another March model Spotlight with you! These posts give us a chance to share more photos from our photoshoot and give you all the details about the samples we made for the models and what fabrics and sizing we used.
The March Top and Dress is 20% off during the launch! No code required.
We're continuing our March Model Spotlight with Vanessa! You can see more of Vanessa at @smokeyandsprocket on Instagram. Vanessa is just the sweetest person! She has a wonderful warm energy and when we initially had our zoom call to discuss the photoshoot, she told me her favourite colours were rust and mustard. You can imagine how excited I was! Those are two of my favourite colors to work with and I love to include a rusty red/orange sample in our pattern photos.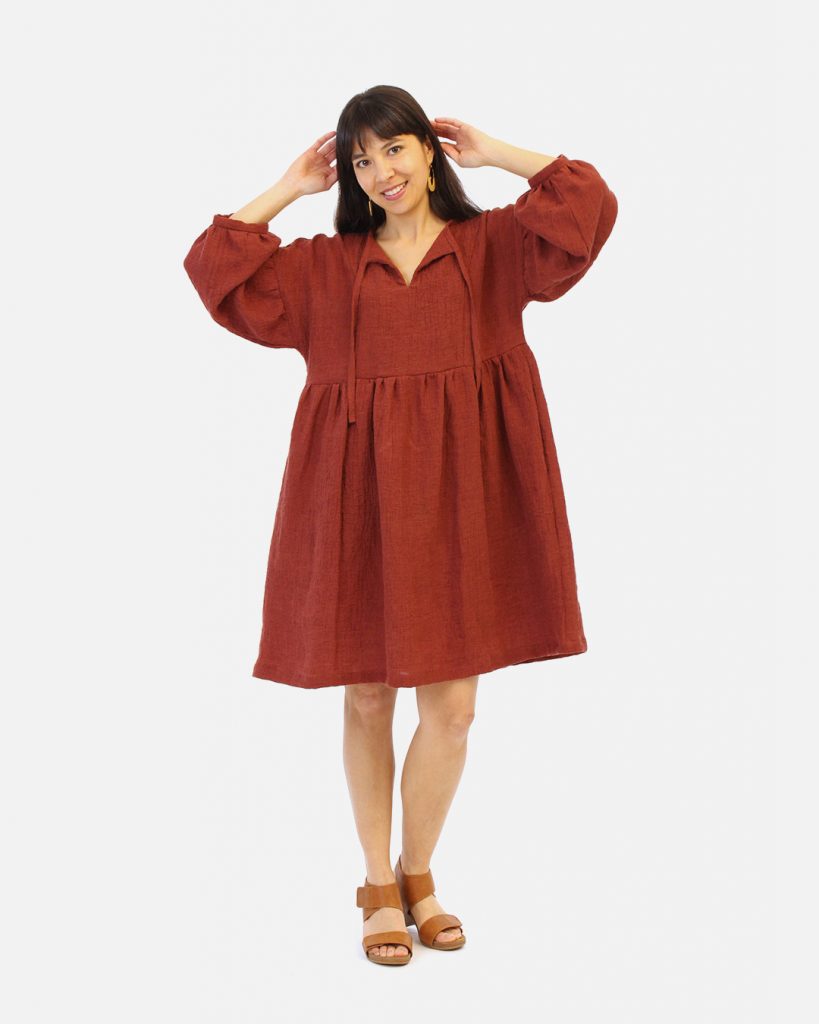 We made two views of the March Top and Dress for Vanessa: View A (the dress), and View B (the gathered peplum). Here are the details:
Model's Measurements: High Bust (32"), Full Bust (34"), Waist (27"), Hips (35"), Height: 5'4"
Size Made: Straight size 4
Adjustments: Shortened the pattern 1" at the bottom of the bodice
Fabrics Used: Crinkle Linen Gauze (rust) and Viscose Linen Noil (yellow). Both sourced from Blackbird Fabrics.
I am so in love with all of our samples but this rusty red crinkle gauze linen dress is one of my favourites for sure. Crinkley fabrics like this linen gauze or cotton double gauze work great for this kind of dress where there are lots of gathers and not a ton of seam lines. It makes it easier to work with and the natural texture of the fabric gets to shine! Don't be afraid to work with these textured fabrics, just try to avoid smoothing out all the lovely crinkles—lift and press the iron rather than dragging it across the fabric. That said, after a run in the wash, the fabric should crinkle right back up and then some!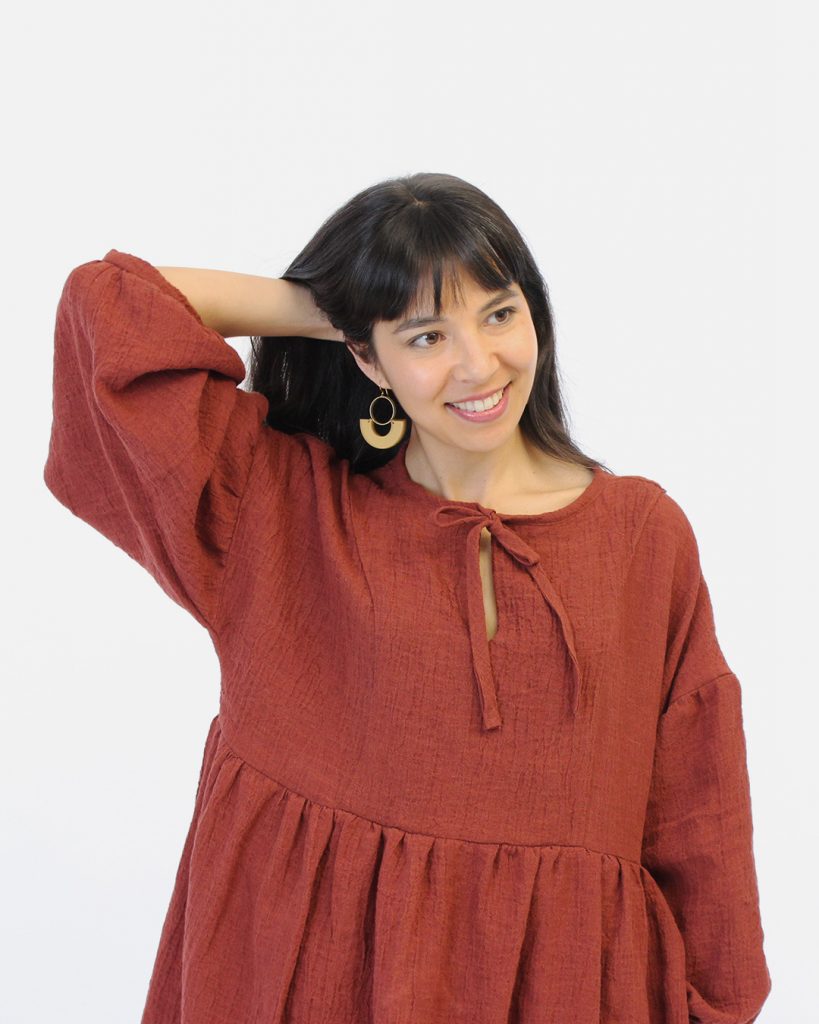 This particular fabric is a little sheer but the style lends itself well to layering a slip or some bike shorts underneath. I almost always have shorts on under my dresses because it's so much more comfortable! You can also wear March over tights in cooler weather which I love. It does have long sleeves after all!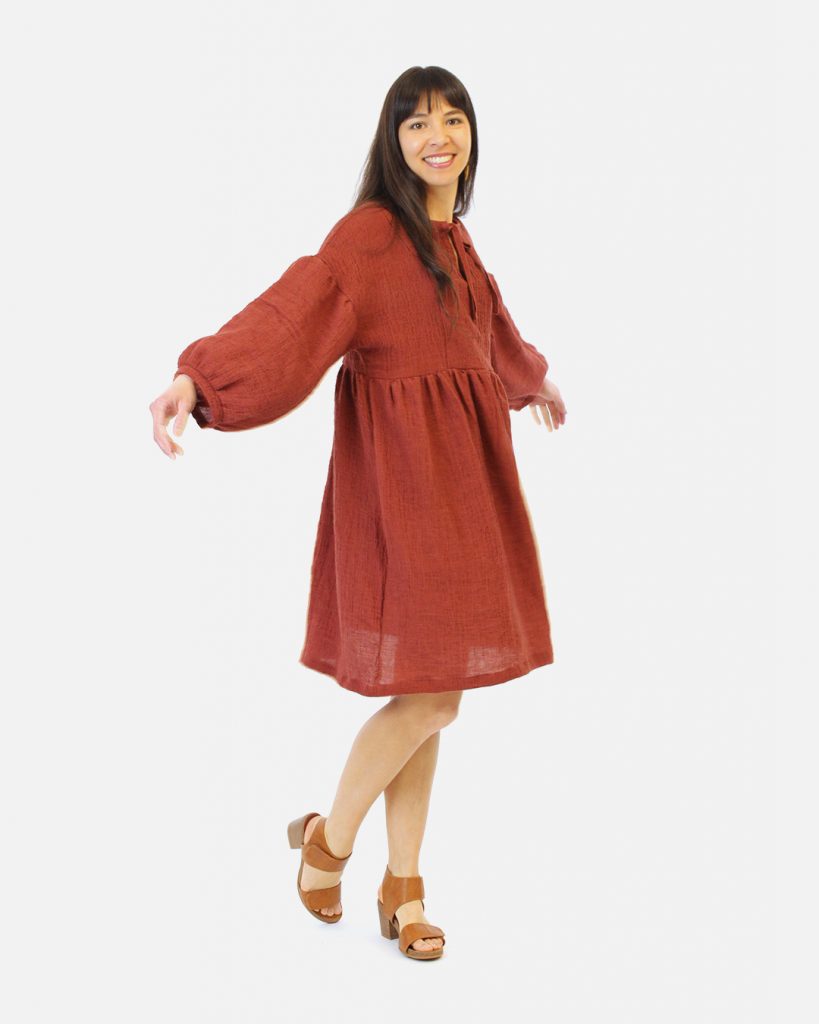 One of my favorite features of the March Dress is the secret pockets. I say they are secret because almost all of my models were delighted when they discovered them! Vanessa even said "Oh, there's no pockets . . ." and then when I told her there were—her face lit up! It has pockets!!! The pockets for March are inseam pockets that extend up and anchor in the waist seam of the dress. I love this style because you can't see them at all from the front, but they are there when you need them and they don't flop around inside the side seam!
Another thing I love about March is the neck tie. You can sew any of the views with or without the neck tie, but I love how cute it looks dangling open or tied in a bow—I honestly can't choose which I prefer! It gives the top really fun movement, offers you something to fiddle with when you need it, and it allows you to switch up the style of the garment by tying it closed.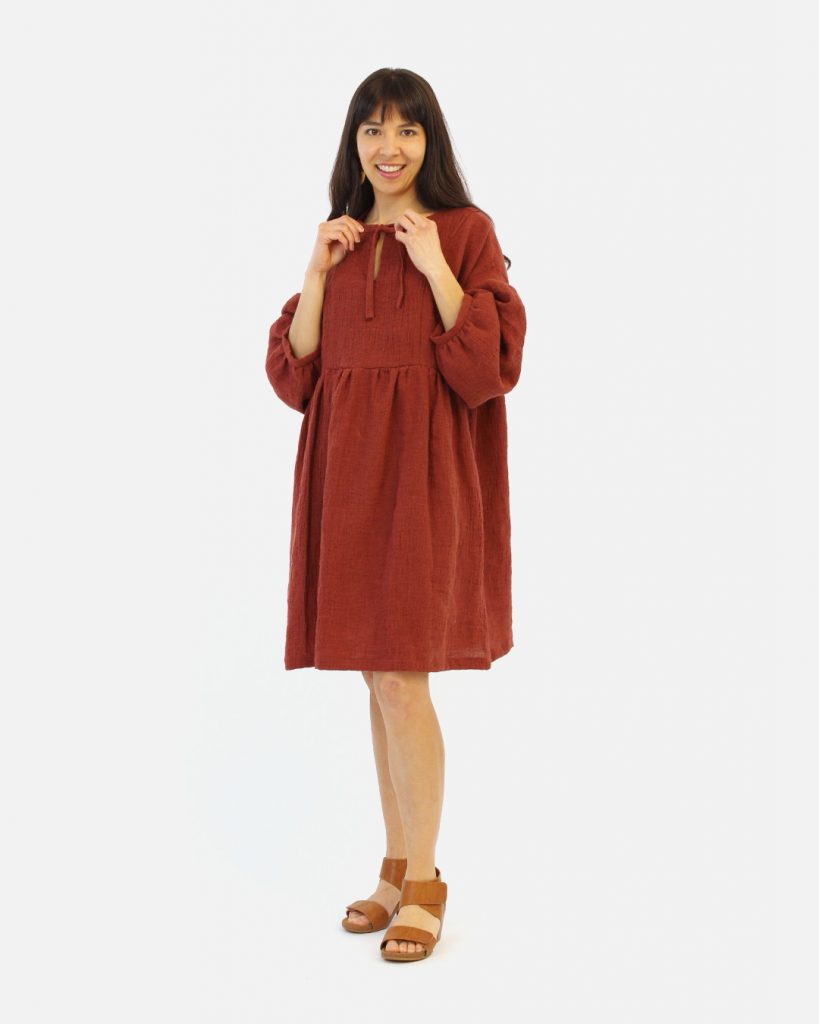 Both of the views we chose for Vanessa feature the longer sleeve. This length offers great drama without being so long as to constantly get in the way of your hands. I like that the cuffs are loose enough to slide up the arm, but you can easily make them tighter, looser, or add elastic if you like! If you prefer a shorter sleeve, you can mix and match the views and design elements on March, no problem.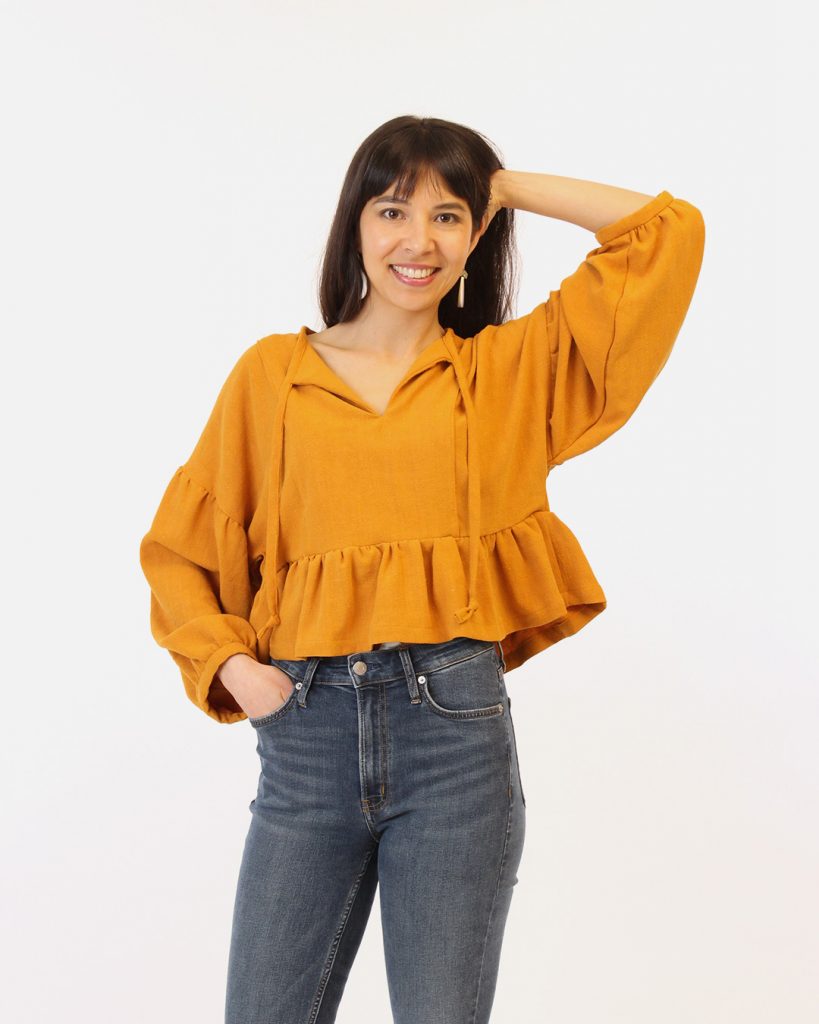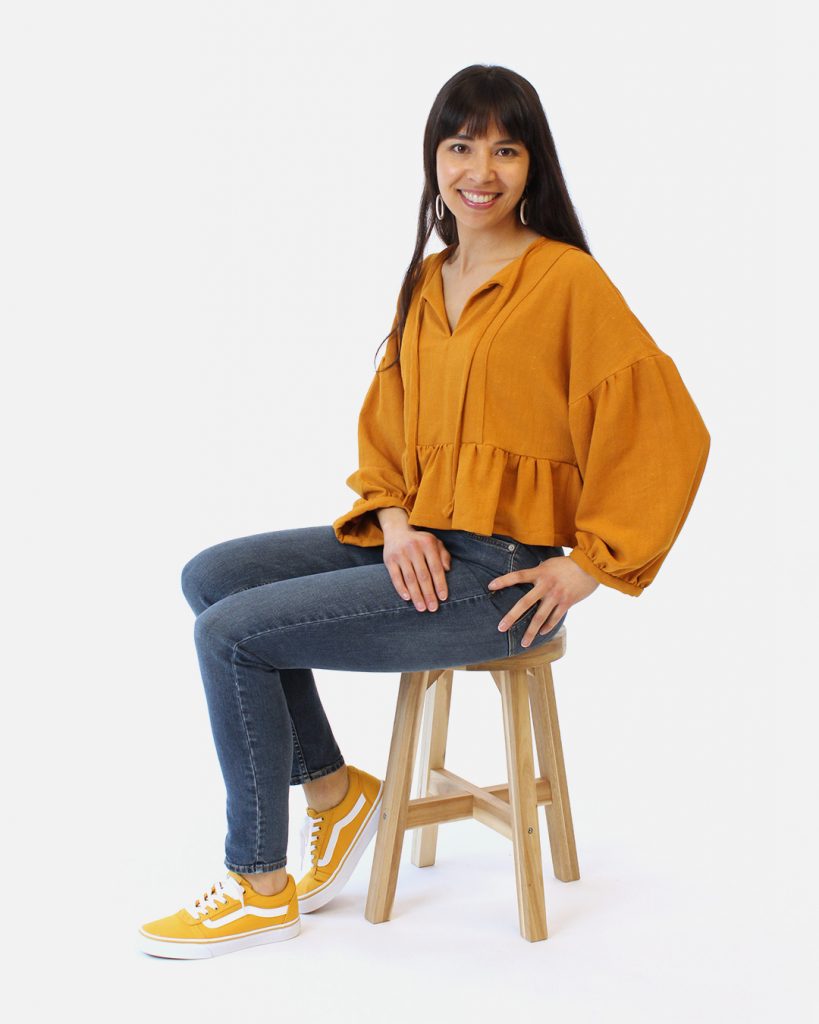 View B of March was the first design I came up with when I started working on this pattern. I wanted a top to wear over the holidays (even though I was stuck at home) so I made my own viscose linen noil March Top with a gathered peplum and I fell in love! I knew I wanted to use this fabric for one of the samples. The cheerful mustard yellow colour totally matches Vanessa's sunny vibe and the drape of this fabric is perfect for that gathered peplum.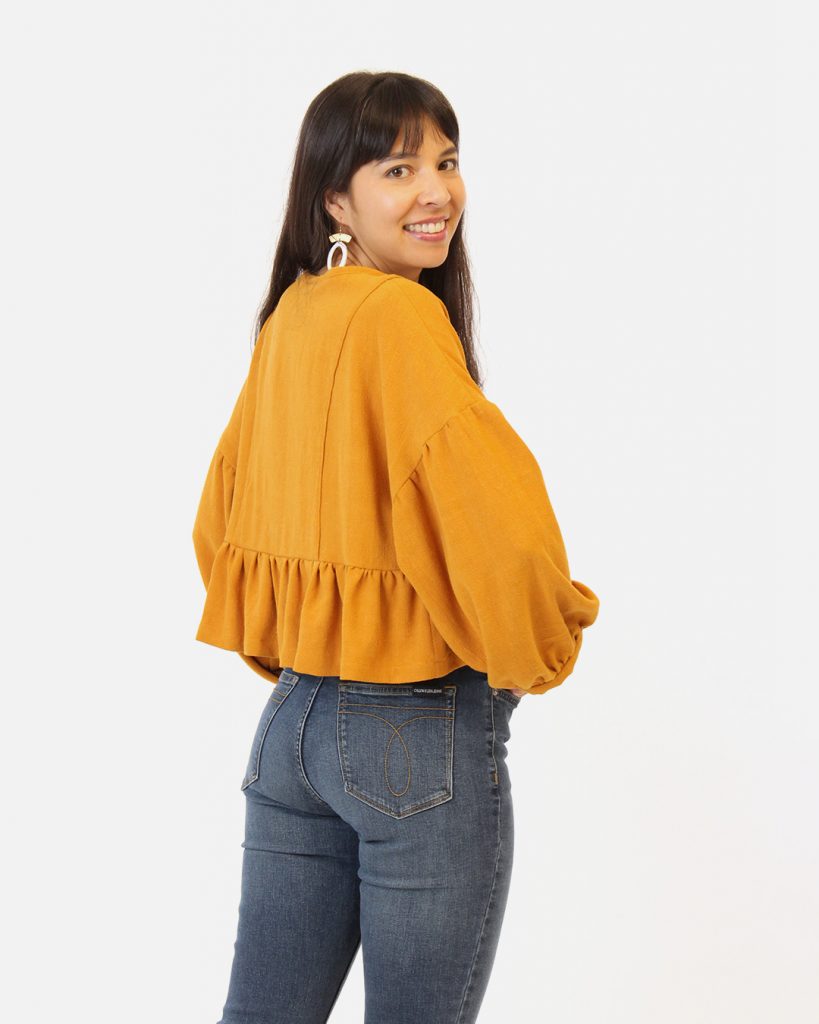 I was nervous going into this photoshoot because it was my first time using my new photography set-up. I recently invested in lighting and a seamless backdrop so I could have photoshoots more regularly, but I had no idea what I was doing! Vanessa modeled both the March Dress and March Top like a total pro. Her warm and inviting smile made me feel totally at ease and we had a lot of fun taking these pics together.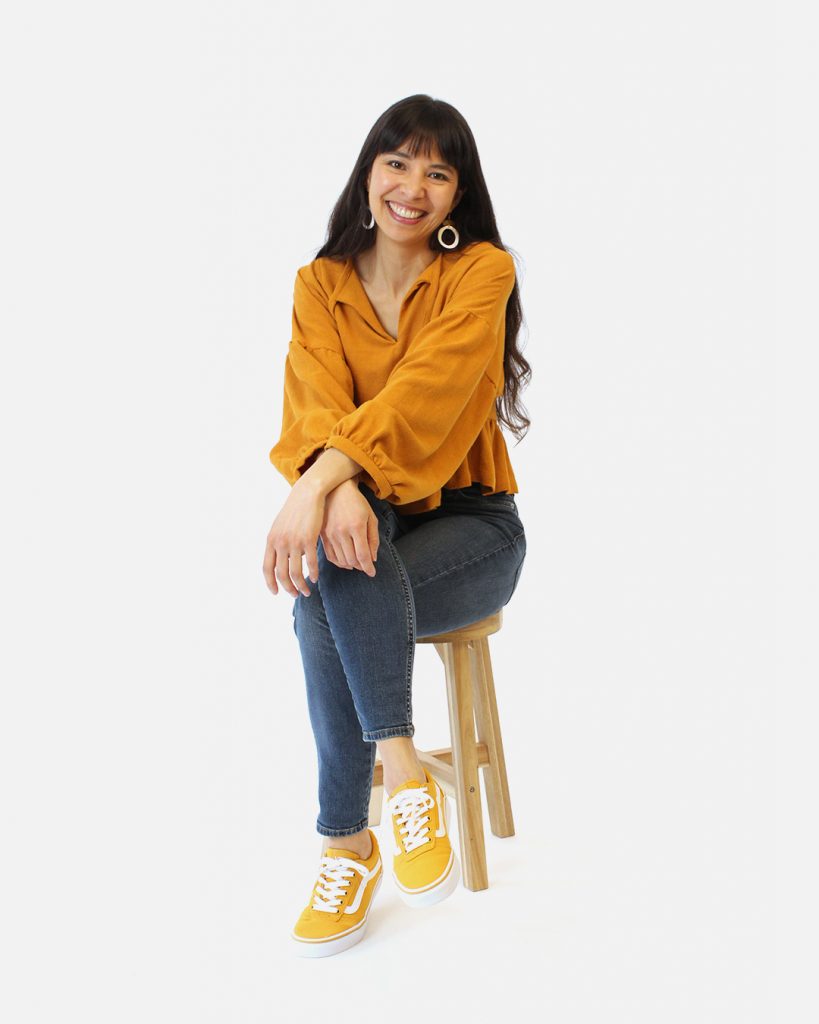 I hope you enjoyed checking out Vanessa's samples of the March Dress and Top! If you want to see more versions of our latest pattern, head over to the product listing or check out our other blog articles this week for more March Model Spotlights!
The March Top and Dress is 20% off during the launch! No code required.