Interested in working with knits, but not sure how the heck to hem them? We get it. Zig zag stitches aren't for everybody, and many (if not most!) of us don't have the luxury of owning a coverstitch machine. The good news is you don't need another machine, because you can still achieve a nice and professional looking hem with a twin needle.
So what is a twin needle, you might ask? It's just like what it sounds—two needles on one shank. It attaches to your sewing machine the same way a regular needle does, and is compatible with any machine that can accommodate a zig zag stitch (with the exception of some vintage machines). You can use it to create two lines of evenly spaced straight stitches on top of your hem, with a stretchy zig zag stitch on bottom. It is perfect for hemming knit patterns like Jackson and Elliot! Twin needles have a reputation for being notoriously tricky to calibrate, but fear not! Today we are sharing our top tips and tricks for sewing with this very useful tool.
How to Purchase a Twin Needle
Like regular needles, twin needles come in a variety of different types, weights, and sizes, and are widely available at any shop that sells sewing notions. It's important to make sure that you purchase the correct needle for your project and machine, and to do so you'll need to understand how to read the label: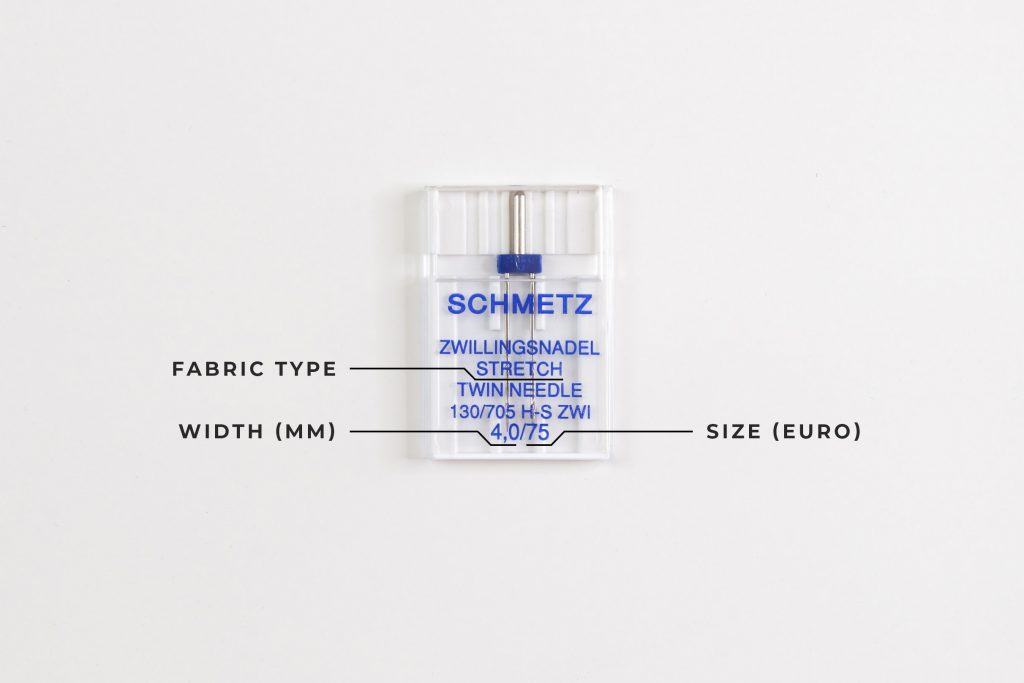 Fabric Type: The kind of fabric the needle is most suited for (universal, stretch, denim, etc.). To hem the Jackson or Elliot Tee, look for a twin needle that is marked as ballpoint or stretch, which will work better with knit fabrics. These needles come with rounded tips that are designed to slide through the threads in the fabric without breaking fibers and making small holes.
Size: How large the needle is. This is often listed in European needle measurements, so a size "75" is going to be the same size as a "75/11" needle. Choose the size most appropriate for your fabric weight.
Width: How far apart the two needles are, noted in millimeters. Choose a width based on your preference (keeping in mind that wider sizes are more likely to "tunnel"), and machine compatibility. This information is sometimes located in the user's manual, but if not—go with your machine's widest zig zag setting. This is a good indication of the maximum width your stitch plate will be able to accommodate.
Threading the Twin Needle
Because there are two needles to thread instead of one, you will need two spools of thread (plus a bobbin) to use a twin needle. If you don't have an extra spool, you can simply wind a second bobbin to use as a normal spool.
Threading a twin needle is easier than it looks—in most cases, you will set up the second spool of thread on your machine's auxiliary spool pin (you can also use the bobbin winder if you don't have a second spool pin), and thread both spools through your machine as normal. One of the threads will go through the first needle eye, and the other thread will go through the second needle eye.
Here is a photo of a twin needle threaded on my Pfaff machine to give you an idea of what this looks like, however this will vary slightly from machine to machine. You should always check your manual for instructions on how to thread a twin needle on your specific machine. If you don't have your machine manual, try searching for it online.
Testing the Hem Stitch
Once you've threaded your machine, it's very important to test your settings until you achieve a hem stitch you are happy with. Make sure you are sewing with a straight stitch setting on a double layer of fabric scraps from your project.
You are looking for nice, flat stitches on the front and the back (no "tunneling"), and an even tension on both sides. It should stretch nicely along the stitch line without any popped or broken threads.
If your twin needle stitches are not looking good right out of the gate, don't worry! This is normal and probably just means you need to tweak your settings. Here are some things to try for better looking stitches:
Adjust the tension: Thread tension determines how much "pull" the top thread or bobbin thread has in a given stitch. Most machines have an adjustable tension dial or setting that will adjust the top thread tension.*
*There are many sources out there that suggest manually adjusting the bobbin thread tension to troubleshoot twin needle stitches. This is generally not recommended by sewing machine technicians, unless you have a spare bobbin case exclusively for that purpose. If you decide to go this route, proceed with caution!
The rule of thumb when looking at tension is that if the bobbin thread is coming through to the top side of the stitch, the thread tension is too high. If the top thread is being pulled to the underside of the fabric, the thread tension is too low. When you are testing your stitches, try using a different-colored bobbin thread to make it easier to identify any tension problems.
With twin needles, you want to make sure that the thread tension is high enough that the top thread is not pulled underneath the fabric (inhibiting the amount of the stretch in the zig zagged thread), but not so high as to create a tunneling effect. Adjust the thread tension until the top thread is just shy of being pulled underneath the fabric. Here is an example of what different tension settings look like from the right and wrong side of the fabric: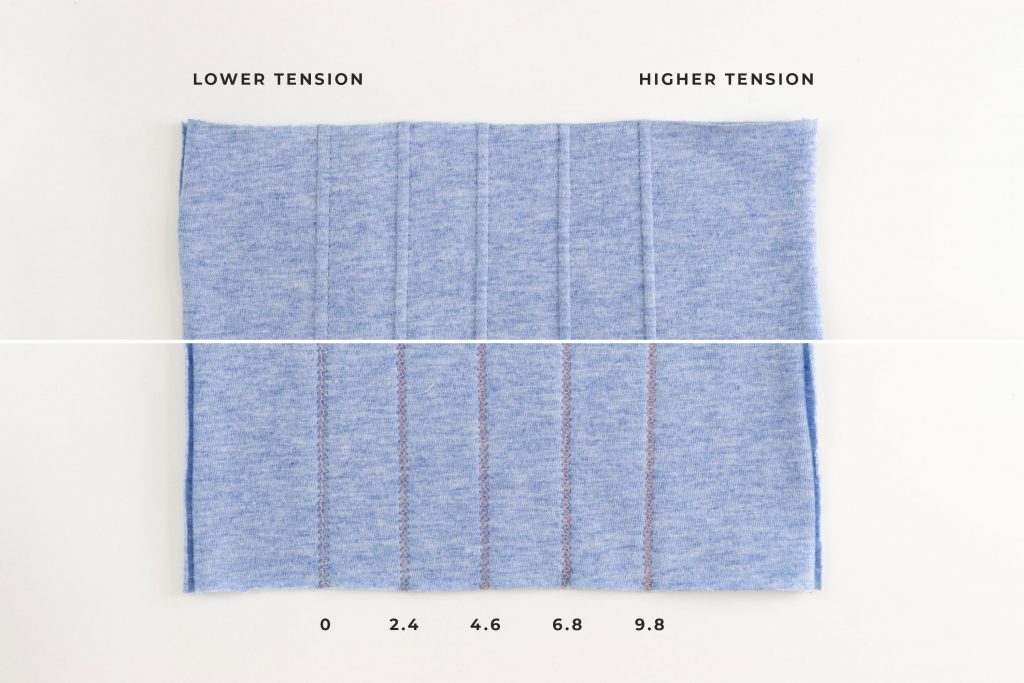 If you find that you are still getting a tunneling effect even at the right tension setting, move on to the tips below.
Stabilize the fabric: Try using a thin stretchy interfacing or tissue paper to help stabilize the fabric and give you clean, flat stitches. You can either cut the interfacing into 1" strips and fuse it to the wrong side of the hem, or place tissue paper underneath the fabric as you sew it. The paper can be torn away from the seam after it is sewn.
Here is an example of different tensions with fabric that has been interfaced. As you can see, almost all of the stitches are looking flatter than the sample above that was not stabilized in any way.
Wooly Nylon: Also known as textured nylon serger thread, this specialty thread is extra stretchy and designed specifically to be used on garments that require a lot of stretch, like swimwear and activewear. It also works well in the bobbin of a regular sewing machine, where it can provide seams with even more stretch. Wooly nylon thread is by no means necessary for sewing with a twin needle, but it can help create a nicer finish.
If you decide to try Wooly Nylon, you'll want to make sure to wind the bobbin by hand (much like elastic thread) in order to not lose any of the elasticity. Because it's made of nylon, which has a lower melting point than many fibers, be mindful of the iron temperature.
Hemming Your Project
Once you've finished calibrating your twin needle settings, and you are happy with the result, it's time to finish hemming your Jackson or Elliot as described in the pattern instructions.
For the cleanest finish, bring the top threads to the back and tie a knot. Alternatively, you can simply backstitch two or three times, which is what I have done.
And voila! You have conquered the mighty twin needle! That wasn't so bad, right? You can now use this technique to finish hems, top stitch collars and pockets, or anywhere else you want a neat but stretchy stitch.
Don't forget that Jackson, Blackwood, and Elliot are all on sale during the month of October! Grab them for 20% off, no coupon code required.