Since the heat wave hit Vancouver, I've been feeling a lack of loose fitting tank tops in my wardrobe. The kind of shirts that feel like you're not wearing a shirt, and are easy to throw on with any shorts.  This is a pattern I designed for myself for just this purpose.  I love the shorter length and the way it flows away from the body.  It also has nice thick, comfortable straps and a higher neckline, which is ideal for me because my chest burns easily in the sun.
I'm calling this the flutter top, here is a quick diagram of the pieces needed if you would like to make your own, I wear a size 14 and was able to make this top with less than a meter of fabric. Eventually I want to turn this into a full pattern with length variations, but for now, here are the basics:
Instructions:
fold straps, sew, and turn right side out, press
finish facing edge & trim excess if needed
pin straps to shirt front and sew in place
pin front facing to shirt front and sew
turn facing in and press, understitch if desired.
repeat steps 2-5 for the back
sew side seams together
double fold seam allowance underarm and sew up to the straps
double fold hem and sew.
Have you guys seen this flamingo fabric in stores?  It comes in black and white and it is absolutely to die for.  I love a bold print and this one is just perfect in everyway.  Cute animals, black and white with a pop of colour, and super soft.
There is an ice-cream place by our house that is entirely painted flamingo pink.  I immediately thought of it for this shoot, and naturally had to get an icecream to go with everything.  In my mind I look adorable eating ice-cream, but the truthfully, 9 out of 10 shots were soooo weird. and kinda gross, and a little inappropriate….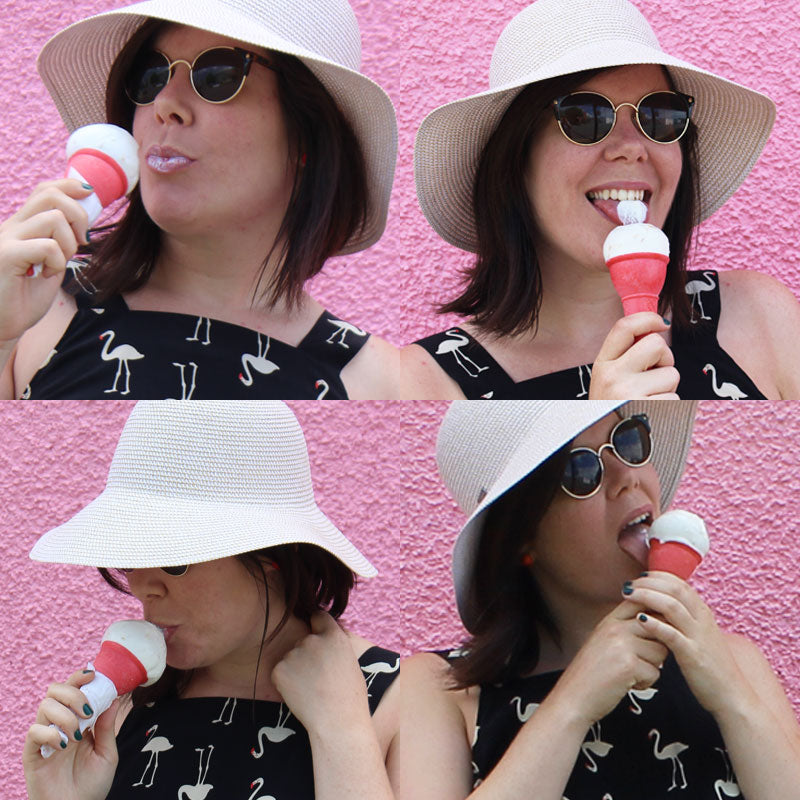 Also, here is me running with my 'olympic torch' – you're welcome.
Final Stats:
Total project time:  Approximately 2 hours
Fabric: 1 meter
Pattern: me made pattern