I love the annual Top 5  hosted by Gillian at Crafting a Rainbow.  It is so much fun to see everyone's pics and to take a moment to reflect on our accomplishments of the year.  I also enjoy the clarity that comes from this and the plans for next year.  I'm going to split the process up and focus on the best today. It is way too hard for me to pick 5, but I did manage to narrow it down to 10, let's do this.
Most Adored: Cascade Duffle Coat
Coats are the kind of projects that leave you feeling like you left a little bit of yourself in there when you are finished.  Not in a bad (or creepy) way, but in a loving, caring, so much freaking effort kind of way.  I could not be happier with my Cascade and I had the chance this year to show it off to Jen in person, which was quite the highlight in itself!
Most Work: Re-fashioners 2016
This project was more successful as a garment than I expected.  I love how it turned out, and I wore it a lot in the warmer months! I'm so glad I decided to take part in the refashioners challenge, and I can't wait for refashioners 2017!
Most Beautiful: Self-drafted Robe
Everytime I put this robe on in the morning, I feel relaxed and content and comfy.  It makes me feel how commercials portray women feeling in the morning, like, 'ooooo, I just can't stop smiling and basking in this pool of sunshine while I eat my yogurt".  You get what I mean, this robe is my pool of yogurt.
Most Surprising: Colfax Dress
I've labeled this dress most surprising because it's simple design really opened my eyes to a boxier silhouette working for my body. I adore it in this coral silk blend and over the past summer I wore this dress so many times!
Most Rewarding: Tencel Winslow Culottes
Perhaps my most rewarding experience this year was launching my first PDF sewing pattern, The Winslow Culottes!  I made so many versions of this pattern in the testing process, but these ones that I made for the sewalong get a ton of wear.
Most New: Bramaking at camp
This past October I attended Camp Workroom Social and learned how to make my first underwire bra from the bra queen herself, Amy from Cloth Habit! I loved the class and so enjoyed the camp experience, you can read all about it here!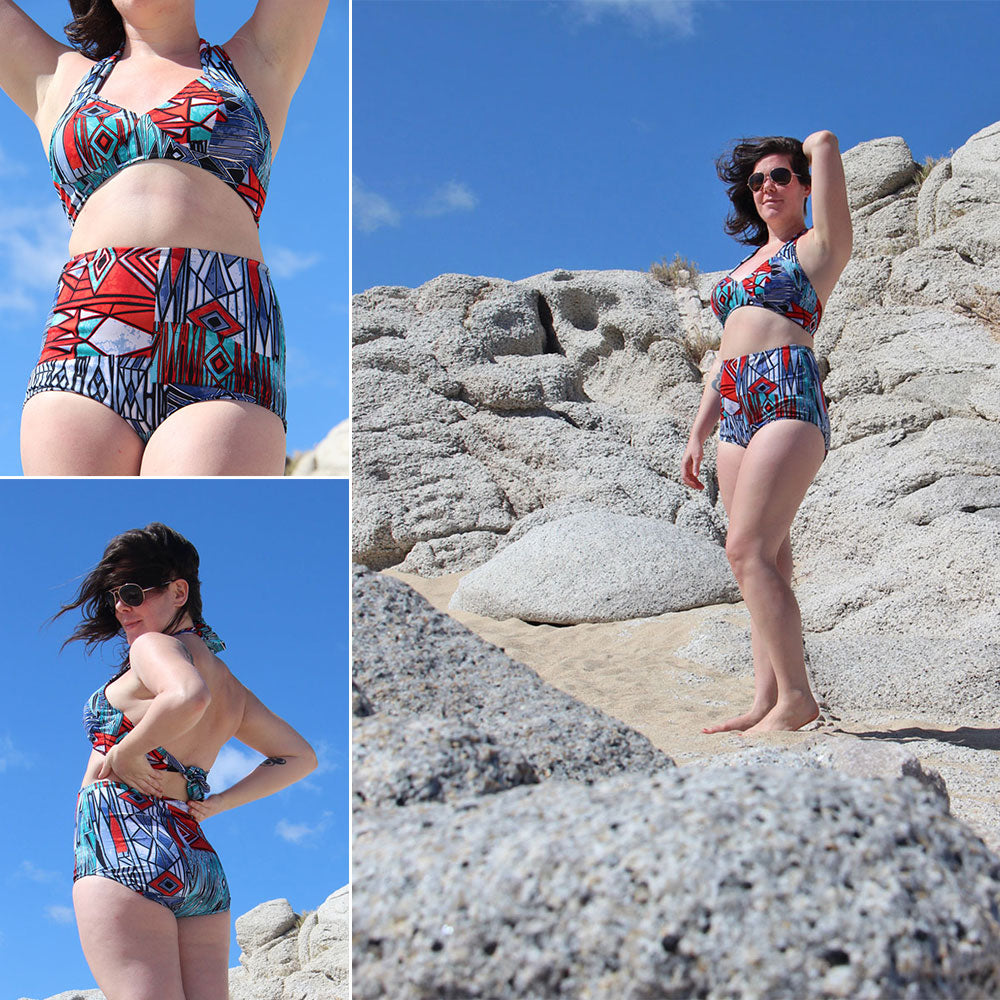 Most Fun: Reno & Dakota Swimsuit
You can really go off the wall with swimwear fabric, which makes the sewing experience very fun indeed! I love this swimsuit so much and we had such a blast in Mexico last February, so this one is a winner all round.
Most Challenging: Kelly Anorak
I pretty much gushed my heart out about this pattern and how great it was to be challenged to try new sewing things in my full post, but essentially, this jacket was one of my favourite projects ever.  I am so excited to make another one for rainy weather soon!
Most Worn: Bamboo Hudsons and Striped Lark
Last but certainly not least, my most worn items are, of course, basics! I throw on my bamboo Hudson pants every chance I get at home, they are simply the most comfortable things ever.  When I don't feel like getting dressed I reach for my leggings and throw on my striped lark, it never fails :).
So…what did we learn?  I think the most obvious takeaway here is that almost all my favourite makes from this year are solids!  I'm always saying I'm a print person – and I do make myself a lot of prints – but it seems that I feel more comfortable on an everyday basis in solids!  REVELATION. I will, of course, continue to make both, but I'm slowly getting a handle on making clothes I will truly want to wear.
Well, those are my sewing highlights! Still to come in the next couple weeks are some sewing lows, some life milestones, and, of course, my sewing list for 2017.  Which I will stick to 100%, naturally.
---