Fabric can make all the difference in the final garment, so it is important to choose the right fabric for your desired results! I hope you are all excited to get sewing your Blackwood Cardigans. Today I will be comparing different fabric weights, answering from FAQ's, and recommending some online fabric shops where you can find great knits!
Psssst: The Blackwood Cardigan is on sale for 20% for a little while longer! Grab your copy today for 20% off.
---
What fabric weight should I choose?
The Blackwood can be made in anything from a lightweight jersey to a spongy sweater knit. If you choose a lighter weight fabric it will be a thinner layering piece and it will drape more. Lighter weights also tend to show what you are wearing underneath if it is baggier or bumpy. Thankfully, this cardigan doesn't close at the front and skims over the hips to minimize any bumpiness no matter what weight you choose.
Here are some weight comparisons. I made the grey version on the left out of a soft and fluid rayon jersey. It is a light layer that goes with almost anything. Anya's version on the right is made from a polyester blend sweater knit and is a bold, statement colour.
On the left here is Anne's version in a transparent hacci rayon knit.  On the right is Jennifer's version in a cotton sweatshirt fabric.
On the left below is Sara's version in a lightweight modal knit. Compare that to Heather's version in a beefy sweater knit.
See Fleurine's version on the left in viscose knit in contrast with Aida's version in ponte de roma.
Can I use a heavy weight knit for the Blackwood?
You can! Provided the fabric has the recommended stretch of at least 40% widthwise and 20% lengthwise it should work fine. It would also be wise to make a muslin out of a similar weight to test it out before using nice fabric for the final version.

If you find the fit is too snug, you can try making a size up to accommodate the added bulk of the fabric. The reason heavier weights are not recommended in the instructions is because the cardigan is intended to be a lighter layering piece, as opposed to a coatigan. Its slimming cut and sleek style lines are well suited to light-medium weights.
Can I use a rib knit for my Blackwood?
Yes! I experimented with a wide rib and a tight rib when I was developing the pattern. Below, you can both Caroline and I used the same wide rib knit from her shop, Blackbird Fabrics.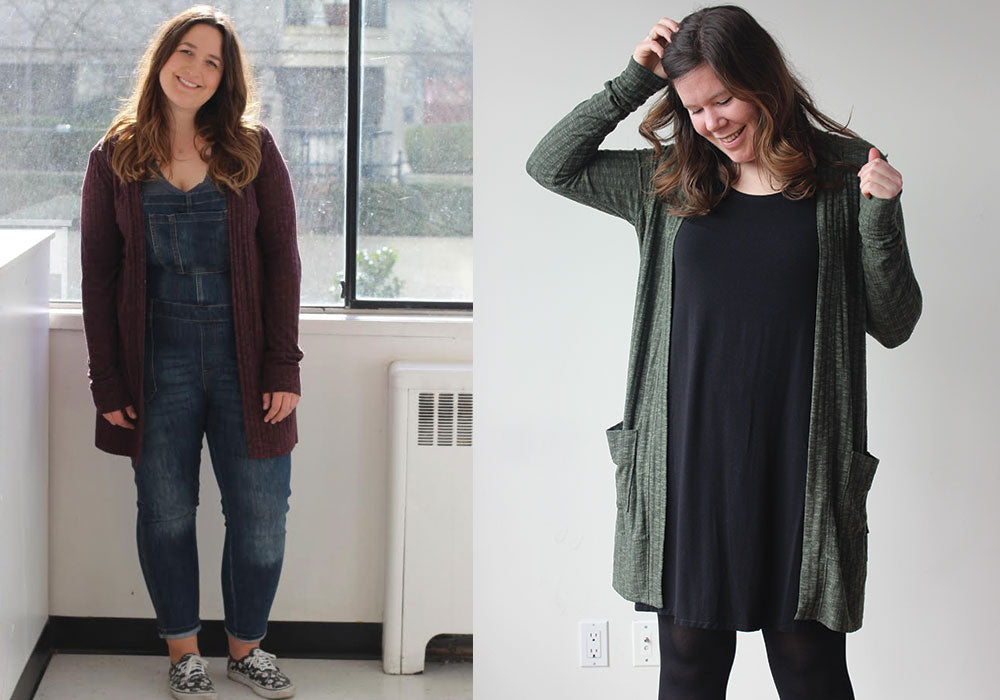 I also used a tight rib knit for the view B Blackwood below. It is super stretchy and has great recovery. The trick is to pick a rib knit that will hold its shape and not give you too many wavy seams when sewing. If you are new to sewing knits, I wouldn't recommend rib knit for your first try.
---
Here are some fabric suggestions for the Blackwood Cardigan!
I hope you found this post on choosing the right fabric helpful! Please let me know if you have further questions. You can comment on this post or you can reach me at support@helensclosetpatterns.com.
The Blackwood Cardigan is on sale for 20% for a little while longer! Grab your copy today for 20% off.