I have always been totally smitten with making outerwear. Back in 2014 when I first fell down the rabbit hole of indie patterns, I was obsessed with the Minoru Jacket and decided to tackle it as my first big sewing project in years. It was a challenge, to say the least, but I felt so good after it was complete. I was ready to sew anything!  Jackets and coats do take more time and supplies than the average project, but in the end, you get to wear your make proudly and nobody will ever guess you made it. Making a jacket? That's crazy, right? Yepp, crazy awesome.
After the Minoru I went on to make the Clare Coat, the Cascade Duffle Coat, the Kelly Anorak, and now the Ellsworth by Christine Haynes! I've got another Kelly on the way and have been working on a cute little Lupin jacket, too.  My entry-way closet is getting full!!  I really enjoy the process of constructing the outside layer, the lining, adding in little details, and then magically pulling it all together! If you have tried coat making yet, you should give it a go, and you should start with the Ellsworth!
Here are a few reasons why this pattern works so well for beginners (in my opinion).
It has a slightly oversized fit, so there is little chance that the finished coat won't fit or will be too tight in the back, bust, or arms.

It is a classic style that will stand the test of time

It can be made from a huge variety of fabrics, most of which press well and are easy to work with.
I went to Camp Workroom Social last year and It was so cool to see all the beautiful coats come out of the coat making class with Christine Haynes! I loved seeing all the different fabric choices and it really made me curious to try this pattern.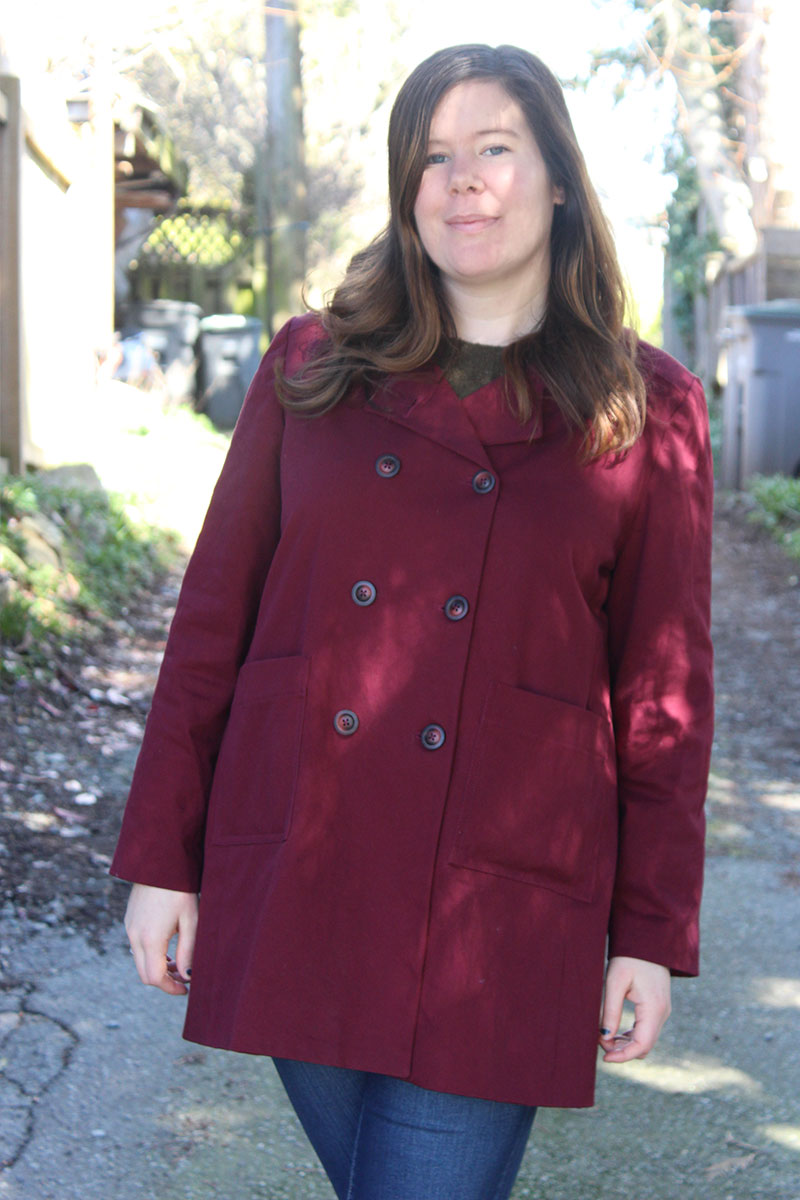 Because the coat fits large, I chose to size down. On the size chart, I was a 16, but based on the finished garment measurements, I made a 14. I'm glad I sized down and I did not need to make any adjustments in doing so. Normally, I would make a broad back adjustment and possibly a full bust adjustment, but neither were needed with the Ellsworth, even after sizing down.
Even though the Ellsworth has an oversized fit, it is very flattering and chic. The classic design works so well with any outfit, and there is plenty of room underneath for a sweater (pssst – the Blackwood works particularly well!). You can wear the Ellsworth with most of the buttons done up or with all of them done up, but I personally love how it looks open. I have been stomping down the street with my hands in the pockets, letting the front blow open.
I used a triple stitch to do the topstitching, but decided not to top stitch around the collar in the end. I like the way it looks as is so I am going to skip that final step.
I got several different button options to choose from and I received a lot of helpful advice on instagram (thanks)! The consensus was that these were the clear winner and I agree – they match the inner and outer fabrics perfectly. My only regret with this make is my stupid buttonholer was having a moment and went a bit wonky on me. As a result, my buttonholes are not very pretty, c'est la vie. 🙂
For the lining, I used a darker plum rayon bemburg. It is delightfully slippy inside and helps the coat to not get bunched up at all. I usually pick a bold, contrasting lining, but I just love the way these two shades of plum look together.
Are you considering making the Ellsworth? I would definitely recommend it as a great beginner coat!!  Let me know if you have any questions about my version!
---