This post has been on my 'to blog' list for so long!!  I finished this make back in January, and I was feeling that it was too cold-weather specific for this time of year, but then I realized it is so perfect for Easter! I literally look like an easter egg in it, so how could I not share?
I got the idea in my head that I wanted a puffy vest for the cooler months, but I'm not crazy about the sportier, nylon versions out there.  I wanted a wool one with lots of 'puff' and great pockets, those were my must-haves.  After looking at a few pattern options, I decided I could take the Grainline Studio Cascade Duffle Coat and use it as a base for my vest. It had the yoke/body proportions I wanted, and I already knew that the hood would work for me.  This post is going to be a bit long, but hopefully, it will help anyone who wants to copy this make!
I used the top body pieces of the long coat view because they cut off at just the right spot (highlighted in pink below).
I added a bit of a scoop shape to the back piece, and I extended the front pieces forward to accommodate the missing zipper placket. I wanted to sew my zipper right onto my vest, no placket needed, but you could make a vest with a placket and toggles, too!
I also used the yoke pieces from the coat pattern, and I brought the shoulder down about ½" on either side.  I also cut the armscye about ½" in on either side at the shoulder. You will need to cut into your body pieces as well to true up your pattern. I also extended the fronts of the front yoke pieces, so they would match the main fabric pieces perfectly.
I used a patterned acrylic 'wool' that is super soft and cozy for the bottom, and a complementary wool for the top yoke, front facings, back facings, and hood.
I traced a new pattern piece for the batting, using the yoke and body pieces combined. 
I also used the batting piece to trace my facings and draft my lining pieces. Usually, a lining is cut a bit long, so there is an overhang at the bottom where it meets the hem.  In this case, I wanted the tension in the lining so it would help pull the facing inwards at the bottom. I knew the batting would want to roll out, so I cut it precise and it worked out great! I used some leftover tencel denim I had in my stash because the colour was perfect. For the facings, I used the same wool as I did for the yoke and hood. 
Batting pattern piece – facings + seam allowance = lining!
Once you have all your pieces, you can start assembling!
---
Sew Yokes to body pieces and topstitch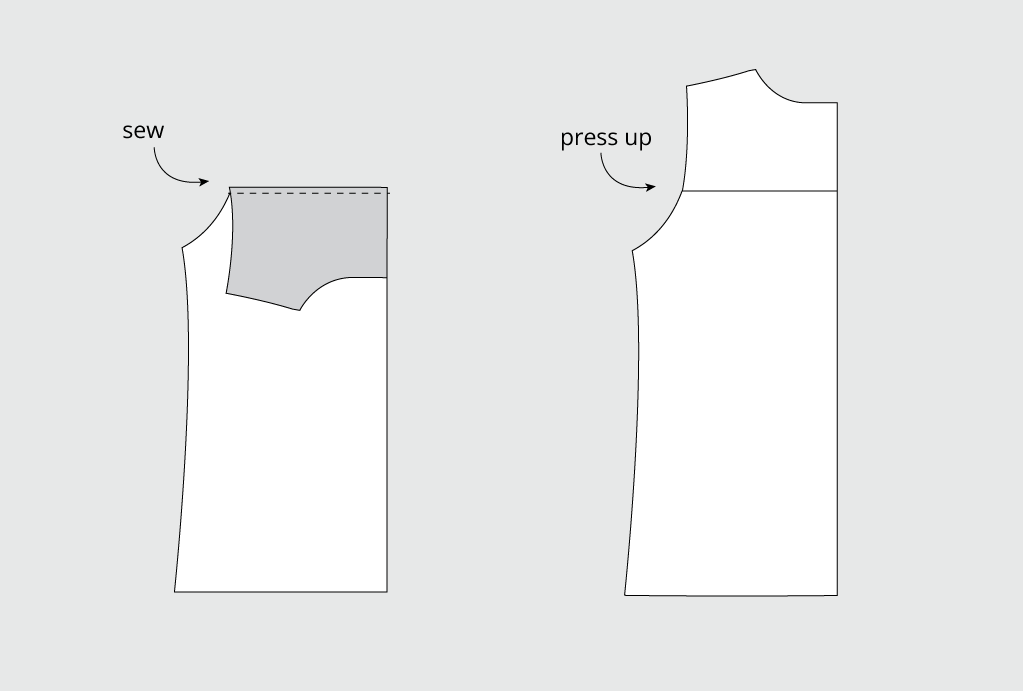 Pin batting to front and back pieces and mark where you will sew your lines
Carefully sew the batting and fabric together. Use a walking foot here if you have one!
Mark where your pockets will go (I used the pocket from the Clare Coat pattern, but you can easily make your own or do side-seam pockets instead).  The Clare Coat pockets are intended to be on an angle, but I put them on vertically and they worked very well. Install your welt pockets. I followed the Clare coat sewalong here. It's a bit trickier with the added bulk of the batting, but it works!  Note that there are no diagrams of this step, and the pockets will not be shown moving forward, I just didn't manage to make time to do it super detailed. 
Sew fronts to back at shoulders and side seams
Sew armhole facings in a loop. Press seams open.
Attach armhole facings to vest body and understitch.
Fold lining armscye in and press.
Construct lining, including bottom facing.
Baste the zipper to the front vest.
Bag the lining, encasing the zipper and the hood (which you must construct separately). Do not sew the armholes shut or you won't be able to turn this right side out!  Sorry I have no illustrations of this step. 
Trim the corners and reduce bulk as much as possible by grading the seam allowances.
Turn the vest right side out through one of the arm holes.
Handstitch the arm hole facing to the lining and press all edges!
The edges are going to be bulky, so you could topstitch them flat to reduce the rolling in effect. Mine have settled quite well and I am pleased with the finished results. It is definitely oversized, but that is ideal for wearing over a sweater, and man is it ever comfortable!!
I hope you try making your own Cascade Duffle Vest, let me know if you have any questions!  Now, ALL the pictures!!!