So many of you have picked up the Blackwood Cardigan since its release last march and I am so pleased with the response to it over the past 6 months. I'm glad you love this simple, sleek style as much as I do and I am happy to have provided the community with a well-loved pattern that will stand the test of time.  In celebration of Blackwood Cardigan Week here on the blog, I am sharing some simple Blackwood Cardigan hacks that you can easily do to switch things up a bit. On Tuesday I shared a tutorial for making a split hem version, and today I have a walkthrough of how to sew cuffs with thumbholes! You can apply this little hack to any knit garment and it makes for an extra cozy feel.  Let's take a look!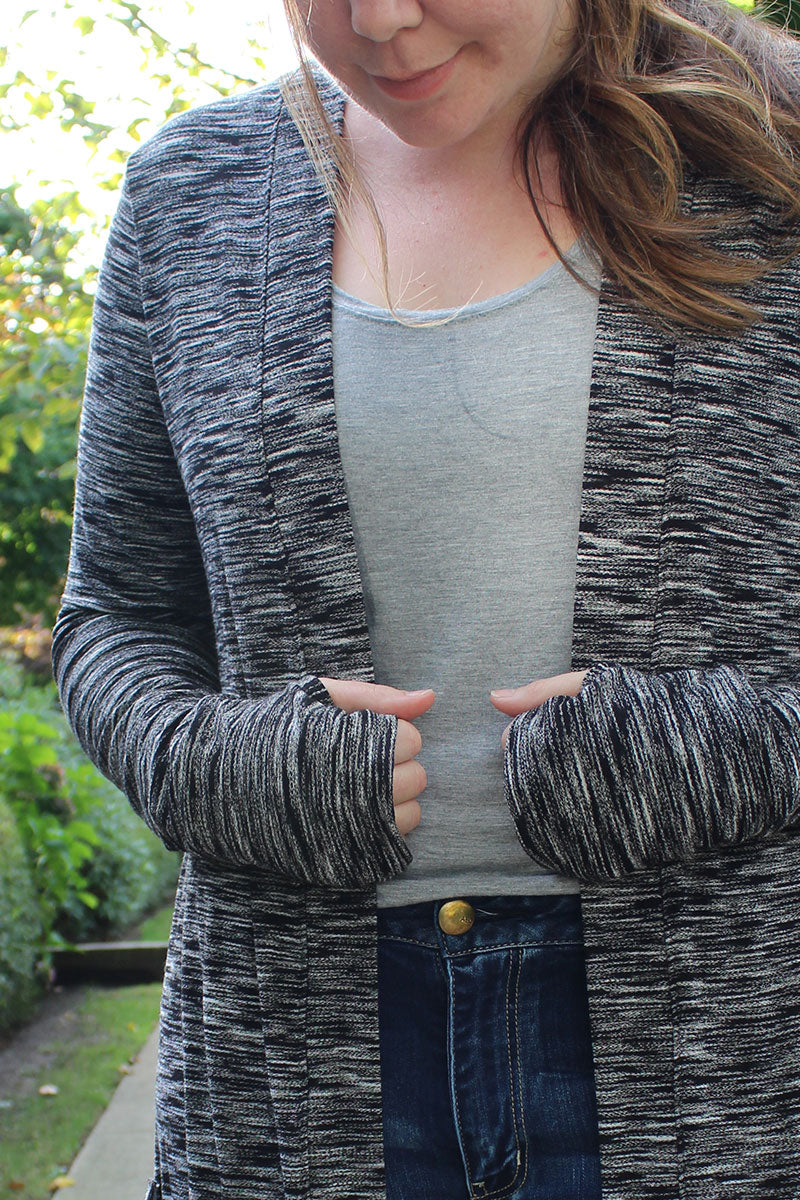 The sleeves of the Blackwood are already designed to be extra long to pull over the hands, so adding thumbholes will not affect the fit of the sleeve or cause seams to have to stretch to accommodate the hands. In fact, it's almost like the Blackwood cuffs were meant to have thumbholes! It just feels so right, you know?  This Blackwood has also been lengthened by 3″ for an extra long look.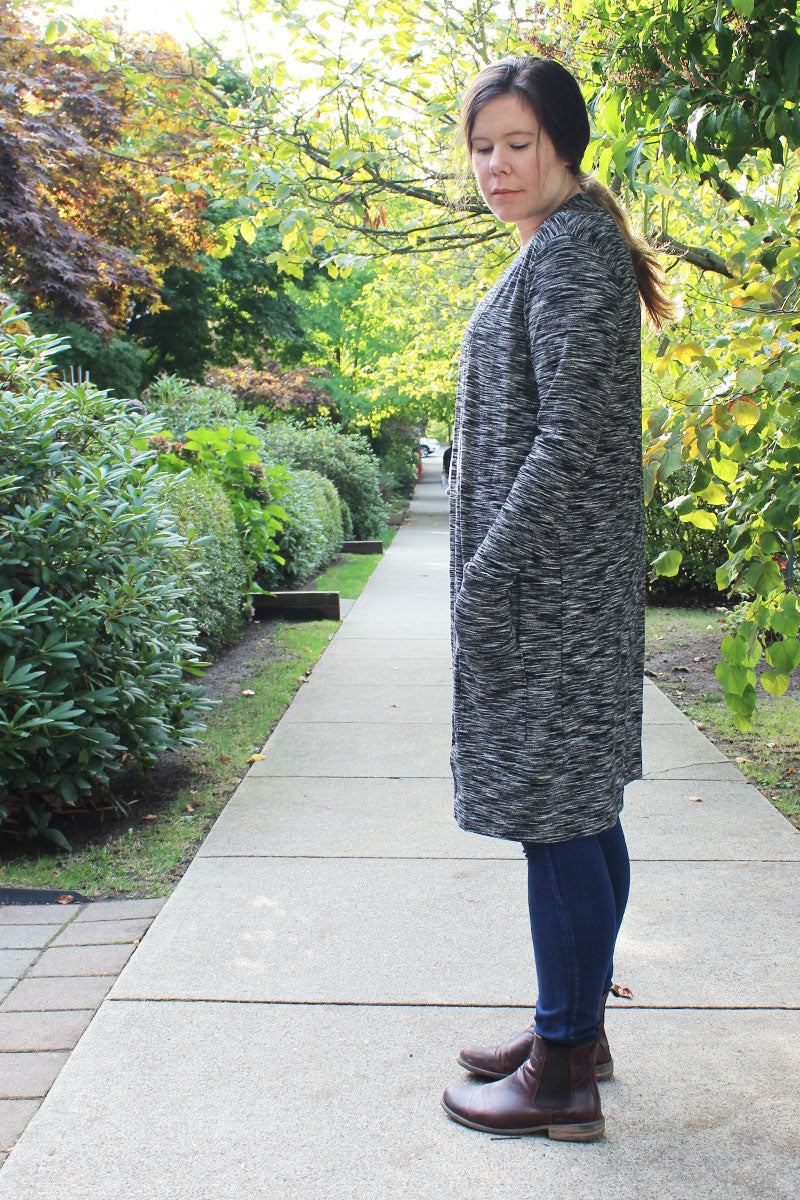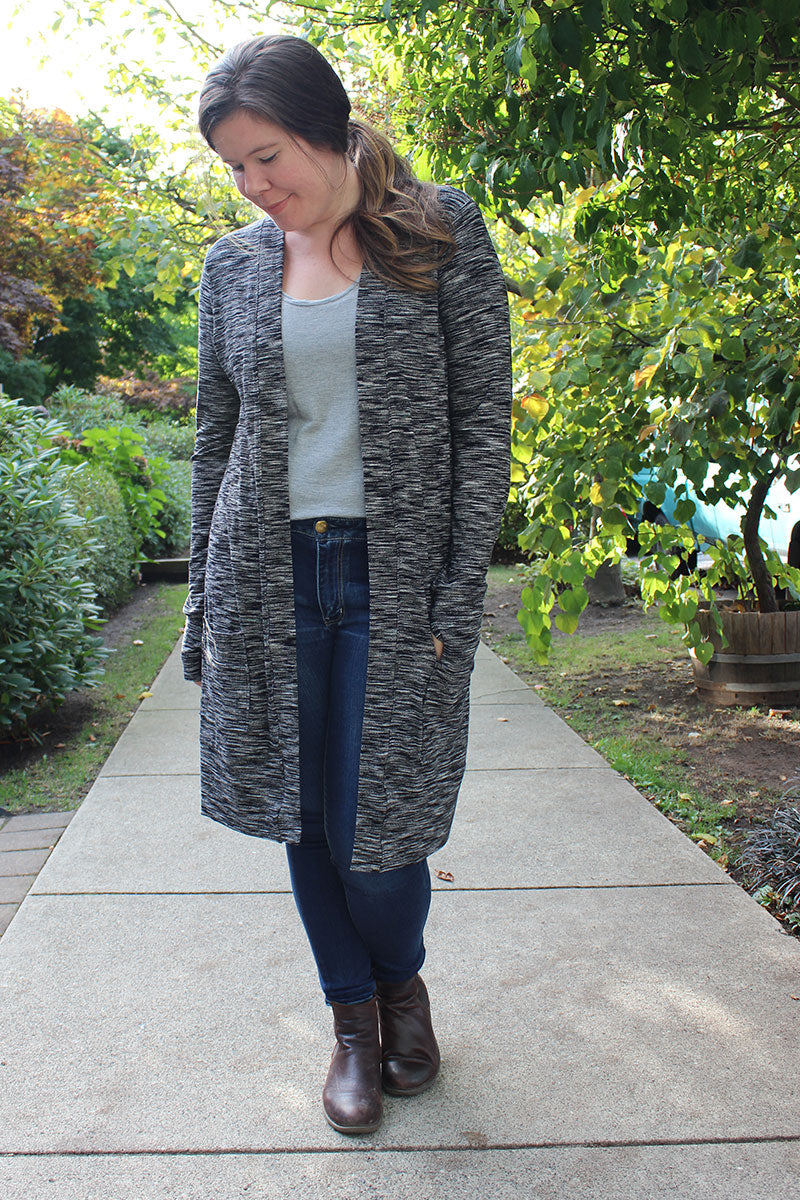 For the fabric, I chose this poly knit from Fabricana here in Vancouver. It has amazing drape and was really nice to sew with, but it is not super soft and not very breathable, but decided I loved the variegated grey and the drape enough to overlook those things! It hangs from the body really nicely and it has a lot of weight to it so it doesn't get hung up on other clothes.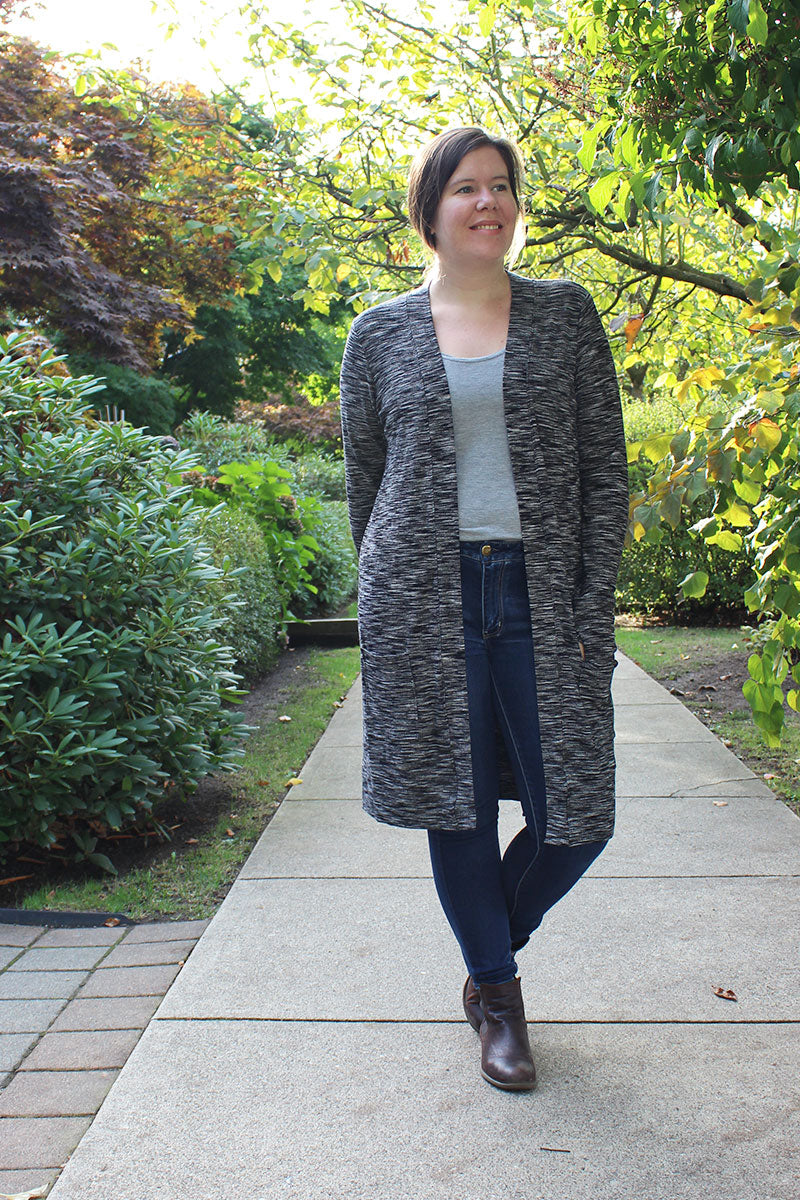 The thumbholes are a really nice touch that will keep your hands cozy while not restricting your ability to use your thumbs! It can add a sporty look, but I think in this fabric, they are almost invisible.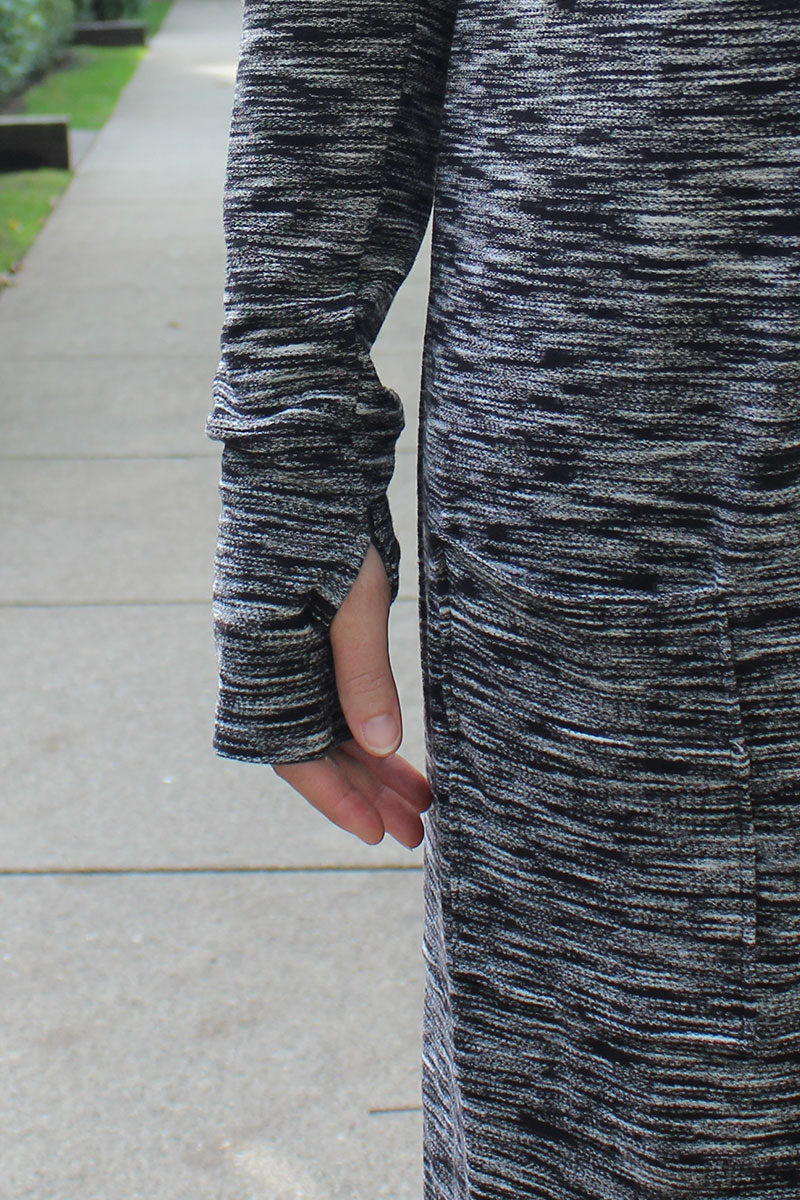 ---
How to sew thumbholes into cuffs
Step 1: Lengthen the cuffs by 3″. Doing this will give you more room for the holes, but if you want to keep the cuffs as-is, you can fit a thumbhole into them, the choice is yours.
Step 2: Fold the cuffs with right sides facing and mark where you want your thumbholes to be with pins. Be sure they are equidistant from each end so they will line up when we fold the cuffs. The size of the thumbhole is up to you; I made mine 1.5″ long. Sew the seam, stopping and backtacking on either side of the holes to leave them open.
Step 3: Press the seam open using a tailors sleeve roll if you have one. Along the holes, be sure to press it open 3/8″.
Step 4: Fold the cuffs with wrong sides facing, lining up the thumbholes. Pin together along either side of the holes and along the seam.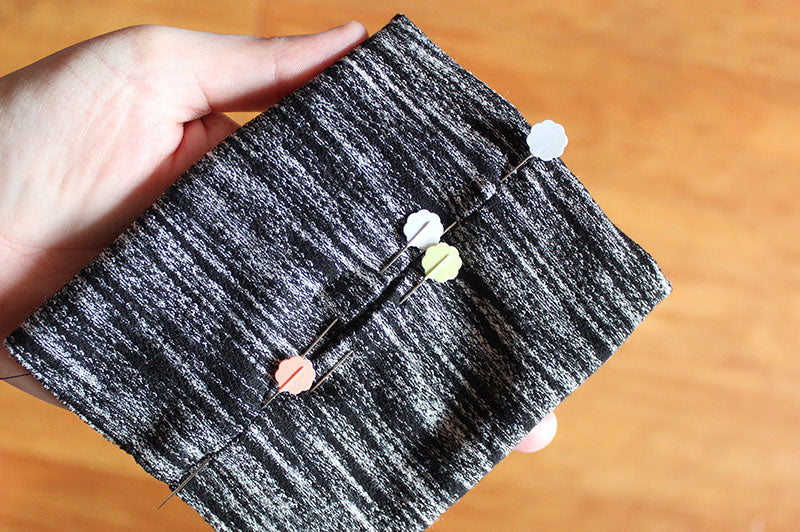 Step 5: This next step is a little awkward on your machine. Sew 1/4″ from the seam from end to end, closing up the sides of the thumbholes.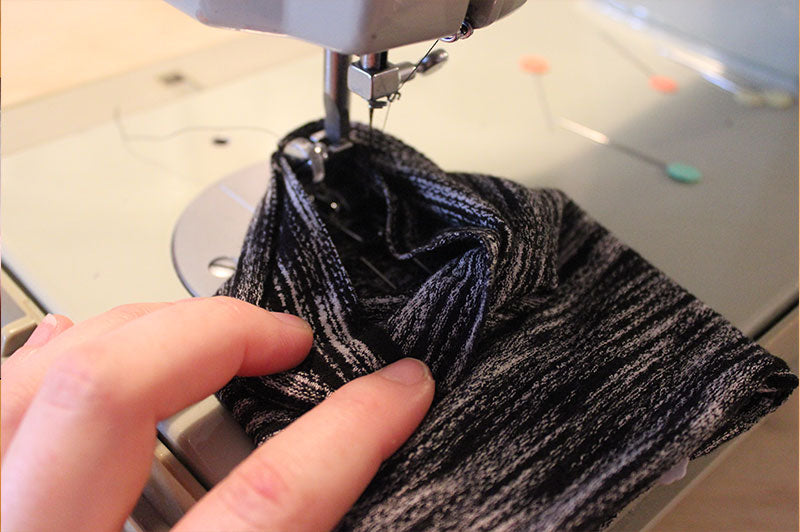 Step 6: Add a bartack at either end of the thumbhole to secure this stress point.
That's all there is to it! Now you can continue to sew your cuffs on as normal.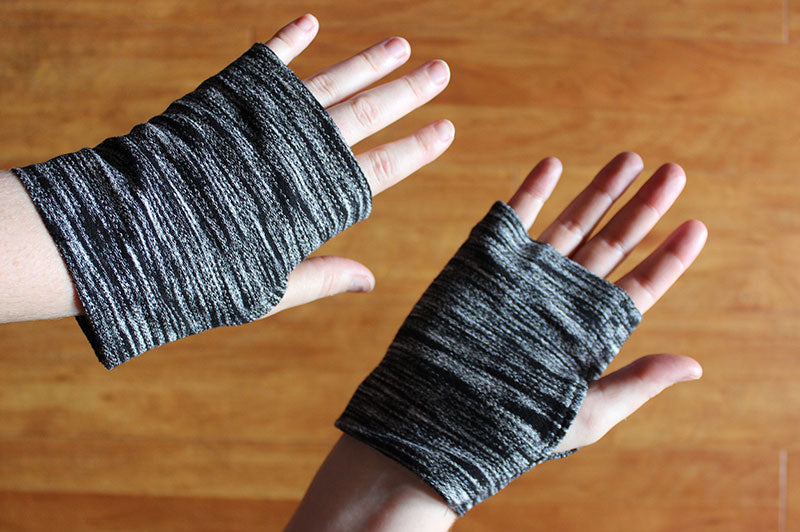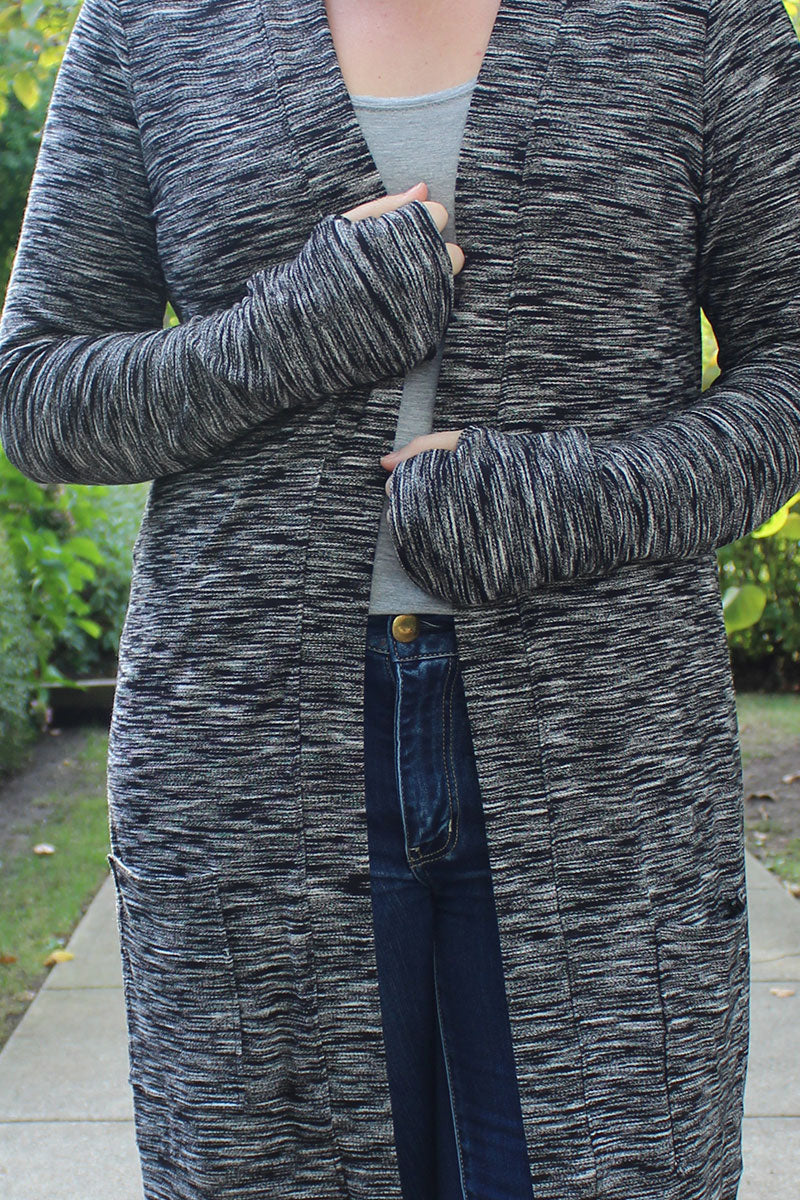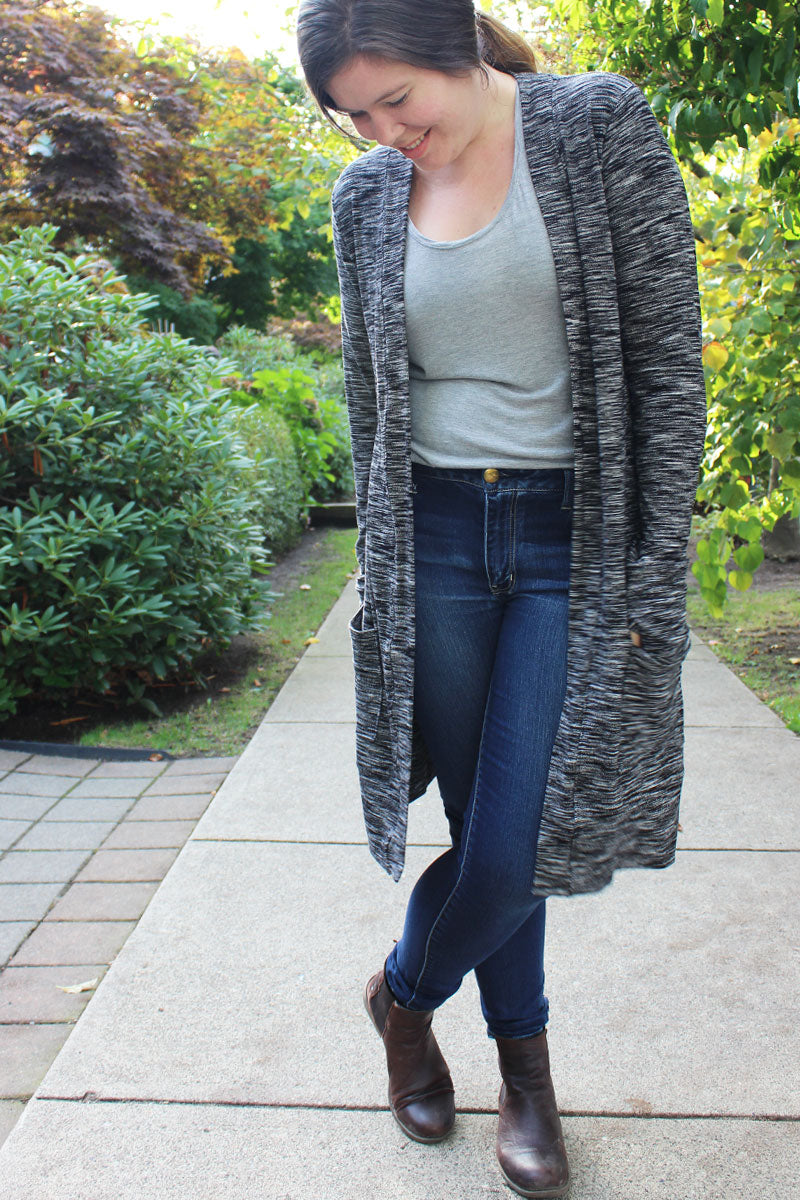 I hope you enjoyed this post on how to sew cuffs with thumbholes! I am loving this Blackwood so much and the thumbholes just make it that much more enjoyable to wear.
Happy Sewing 🙂