This jacket has been on my 'to make' list since this pattern was released in 2019. I sincerely wish I had made it sooner because—my goodness—what a fun sew this was! I want to walk you through sewing with boiled wool today and show you how I changed the construction of Pona in order to sew overlapping seams.
I used Boiled Wool from Blackbird Fabrics. This particular one is quite beefy and has some serious weight to it. I actually ended up doing a really deep hem on this Pona Jacket because of that extra weight pulling the jacket allllll the way to the ground. I didn't want to be dragging this gorgeous wool through our muddy, wet snow here in BC, so I just shortened the jacket.
Here are the changes I made to the Pona Jacket pattern:
Lengthened front, back, and front facings 22″.
Tapered the arms in 1″ at the wrist for a tighter fit.
Added a center-back seam and a kick pleat.
I skipped the interfacing on the neck facing and collar.
I decided to sew overlapped seams with this fabric because boiled wool does not fray and I love the way it looks when it is sewn like this. I first encountered this on my Tessuti Berlin Jacket. These seams almost look inside out!
Top tip for sewing overlapping seams: Do not clip notches! These will show on the final garment. Mark notches with chalk or other marking tool.
The most challenging thing about sewing overlapped seams is that you can't see your seam allowance markings. I used lots of pins and sewed slow, with the side I wanted looking nice and neat facing up. The undersides of the seams are a little wobbly but that's ok! I could trim them down but I won't— I embrace the wobbles.
The other big challenge is what order to sew in. It all depends where you want the overlaps to sit. I thought this through as I went along, and I did unpick a couple of times to do things in a different order—it was like a mini design challenge!
One of my favourite features of this garment is the pocket placement. I decided to sew the front facing and back neck facing on the exterior of the coat to highlight these cool shapes. In doing so, I realized I could sandwich the pocket in between the facing and the side seam so I overlapped them accordingly. I actually trimmed some width off of my facing to make this gap larger so I could fit a good sized pocket in there.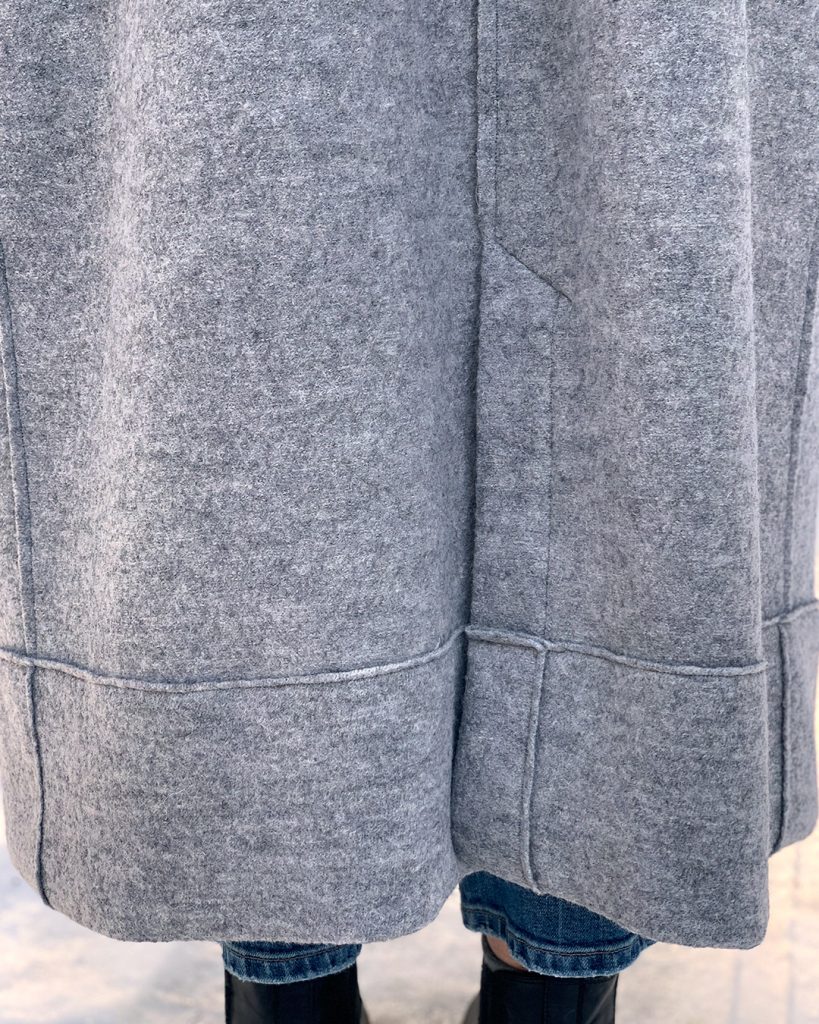 Another feature I really like about this jacket is the little kick pleat I added to the back. I just made this up as I went along – cutting a little wedge extra at the bottom and then folding it onto the jacket to make this shape. It was supposed to be longer and it would have been if the jacket hadn't gotten so weighed down by itself (to the point where I had to hem it 6″ shorter than I intended). Oh well—lesson learned!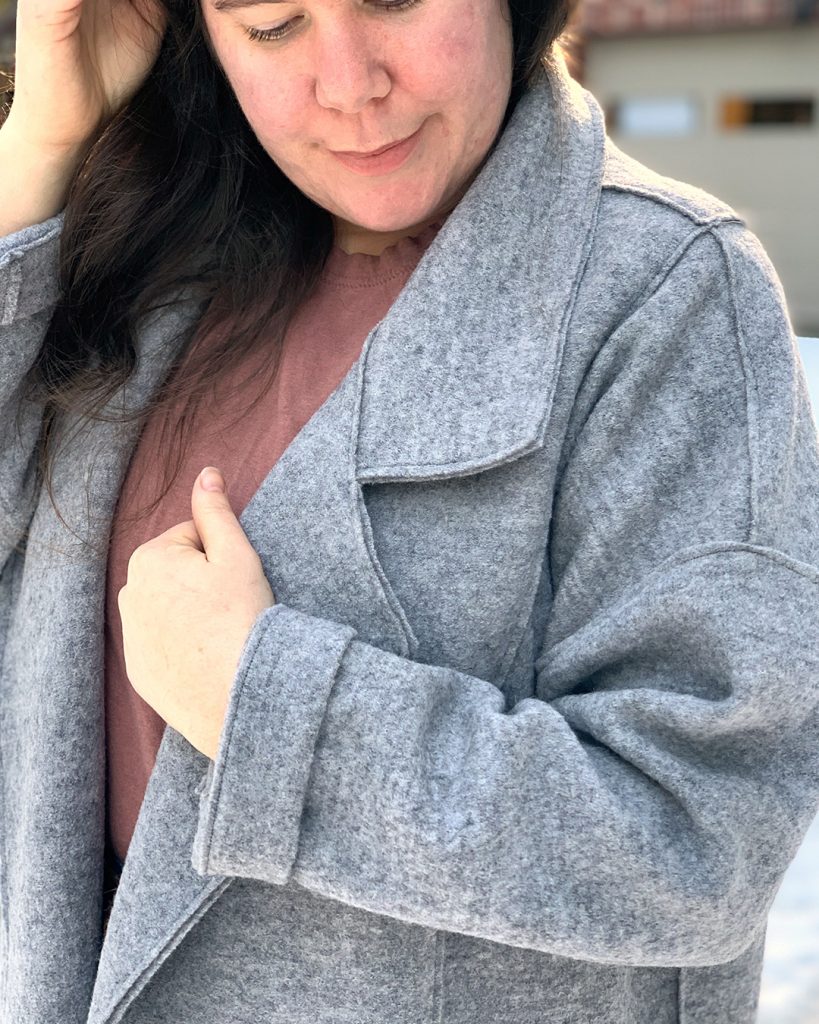 You'll notice that the collar and lapels also have raw edges and the collar is sandwiched in between the facings (now on the outside of the garment) and the body of the jacket. All of these layers together were hard to sew, I won't lie. Basting stitches are your friend here! Baste by hand for extra control. Once you get things in place, then you can hit the machine.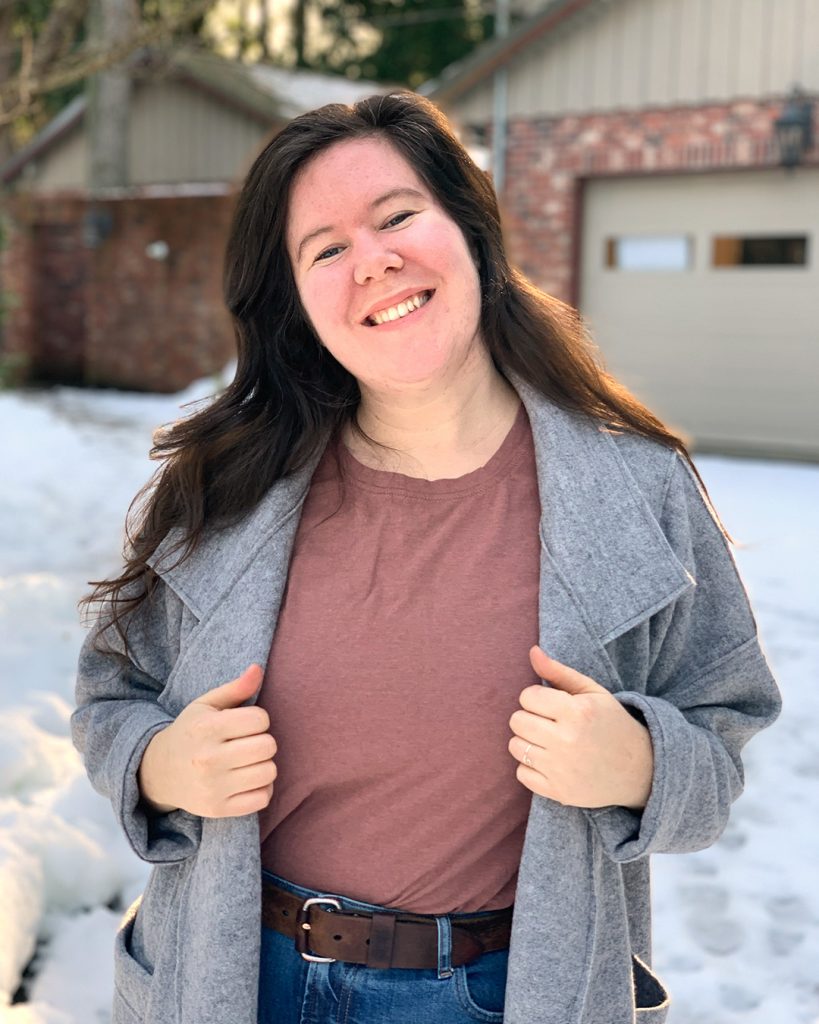 The way the seams overlap is up to you! I like my back seams overlapping onto the front of the garment, but it's just as good the other way. I chose to put my sleeve on top of the jacket, but you can put it underneath, too! The fun part of boiled wool and overlapping seams is how creative the process is.
Here is the order I sewed in:
Sew center back seam and kick pleat.
Sew body shoulder seams with overlap to the front.
Sew top of the pockets with overlap on top.
Baste pockets in place along jacket side front seams.
Sew bottom of pockets to jacket front.
Sew facing shoulder seams with overlap to the front.
Sew collars together.
Baste collar to jacket body with overlap on top.
Sew facings on top of jacket body, collar, and pocket.
Sew sleeves to jacket with overlap on top.
Sew side seams with overlap to the front.
Sew sleeve cuff with overlap to the inside (this will be on the outside when cuffed).
Fold up the hem as much as you like to the right side and topstitch.
I didn't add any waist tie to this jacket because I thought it might make it look a bit like a bathrobe. I do think a boiled wool waist tie would work great though, and you can find that tutorial here.
This jacket feels so luxurious and special. I love the light grey colour and it feels amazing to wear. It's heavy and long and I think it makes me look very cool, haha. Due to its length, I don't think ill be wearing it on long walks in the woods with the dog, but I do plan to wear it on special occasions or even just shopping at the grocery store!
Thanks for checking out this make! Happy sewing!
Helen