Hello everyone! Today we have Stephanie from @SewWithStephanie! Stephanie is here to show us how she made these two awesome Jackson Tee pattern hacks featuring a ruffled shoulder cap and a swishy waistline peplum! We love following Stephanie for her creative takes on patterns and her bright and beautiful makes! We are so excited to have her join us on the blog today. So without further ado . . . let's see how Stephanie hacked the Jackson Tee!
Helen's Closet Jackson Tee Pattern Hacks
Hi There! My name is Stephanie Burwell from @SewWithStephanie . I am a lover of all things DIY, with a personal goal of creating a fully handmade wardrobe, all while helping others to do the same. I define my personal style as comfy, chic and flirty, so the first thing that came to mind when I saw the Jackson Tee was to add some flirty ruffles—and that's how my Jackson Tee Hacks began.
When choosing my pattern size, I relied on my bust size measurement as opposed to my waist size measurement, as I've found that when making tops the fit is more accurate when I go by the bust measurement.
My bust size ranges between 36" and 37" (91-94 cm), which means a pattern size of 36.5" (93 cm) typically works out well for me. This puts me at a size 10 pattern.
The Jackson Tee Pattern calls for stretch knit, so I used a polyester/spandex knit fabric from my stash. One of the reasons why this pattern is so great is that you only need 1-2 yards of fabric, plus extra to add the ruffles required for this hack. I used about 3 yards in total to complete both versions of my Jackson Tee.
Below I will break down how I made each hack separately.
Hack #1 – Adding Ruffles at the Sleeves
First, cut out all pattern pieces using the length for View B.
With some of the scraps that remain, cut out 2 pieces that measure 27" wide x 6.5" long (68.5 cm x 16.5 cm). This will be the the ruffles for our sleeves.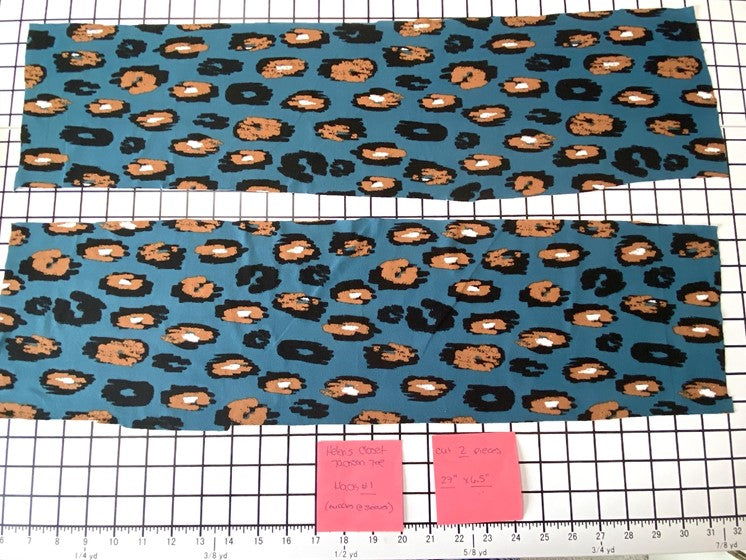 Before beginning assembly, you will want to gather your ruffle and baste it to the right side of the sleeve cap.
To do that, first fold each of the two ruffle pieces in half (wrong side facing) and sew two lines of gathering stitches along the raw edge opposite of the fold (indicated with white markings below. This will ensure that your gathers stay in place when you baste these pieces to your sleeve.
Next, pull one of the threads to gather the ruffle piece. Pin this piece to your sleeve pattern (#3), adjusting gathers if needed, and baste together. Repeat for the other sleeve.
The process should look like this: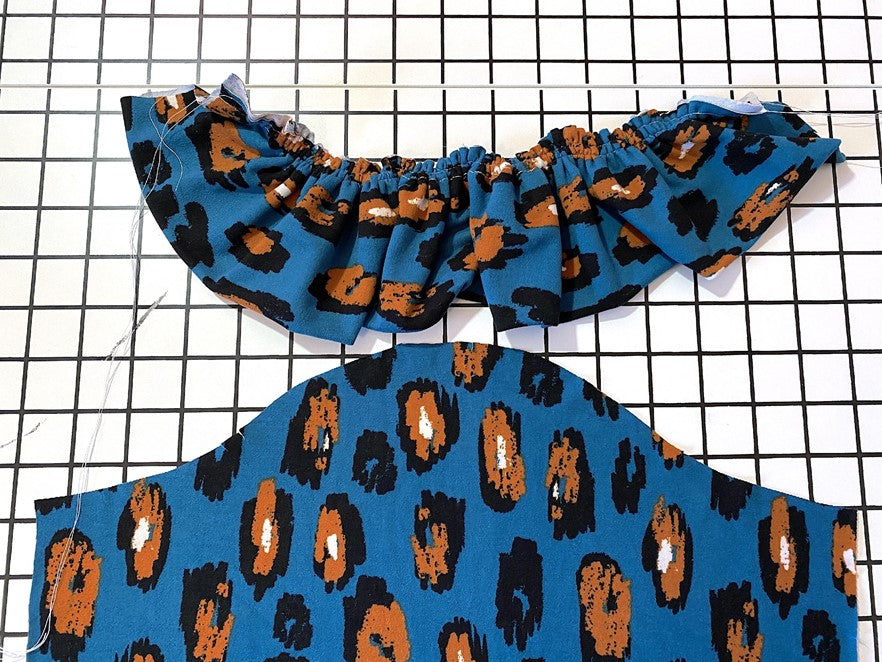 Now that your ruffled sleeves are assembled, you can continue to sew your Jackson Tee according the the instructions. And voila! You have a completed Hack #1 of the Jackson Tee.
Hack #2 – Adding a Peplum to the Bodice
For Hack #2, we are going to add a peplum to the bodice. Before cutting out your pattern, be sure to note where the Lengthen and Shorten lines are. These lines will be a guide for where to cut the pattern pieces for this hack.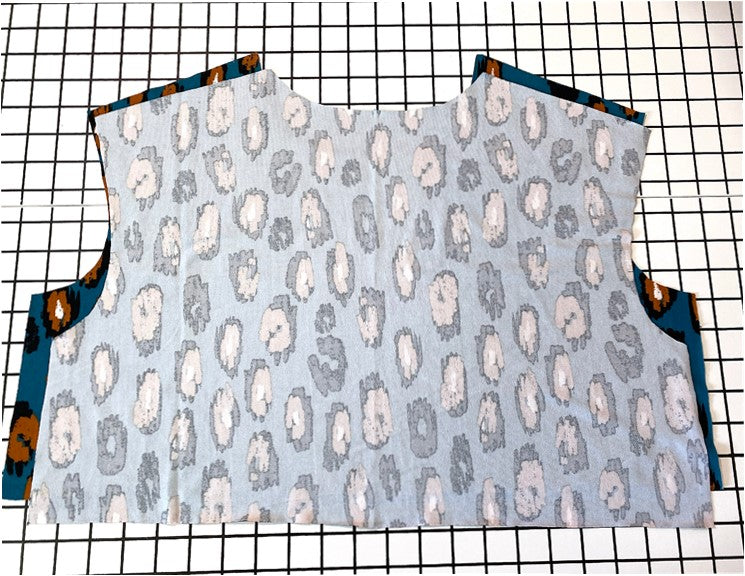 When cutting out this hack, instead of tracing a new copy of the front and back pattern pieces, I used my tracing wheel and pattern marking paper to mark the Lengthen/Shorten lines on to my fabric. This technique saved me a ton of time, especially since I was working on both hacks at the same time.
Cut out your pattern pieces per the new lines you marked.
Next, we will make the peplum that will be attached to the bodice. This is done by using the same method that would be used to make a circle skirt.
To do this, fold your fabric in half, and then in half again perpendicular to the first fold line (fold lines are indicated by the orange and white lines below).
I know that this might be super confusing, but don't worry—I have a tutorial on how to make a circle skirt here.
Now that you have folded your fabric, it's time for a little math. Write this down:
Formula = Circumference (your chest in inches) + SA (seam allowance) / 6.28
My circumference is going to be 40" based on the chest finished garment measurement for size 10 of this pattern.
So my formula looked like this: (40″+2″) / 6.28 = 6.69″ ( I rounded this up to 7")
In centimeters: (101.5 + 5) / 6.28 = 17 cm
The result ( 7" / 17 cm) will be the measurement you use to cut out the waist.
Along the folded edges starting at the corner, measure down 7" / 17 cm and then connect your markings forming a curve. From where you just marked, on one folded edge measure down 9" / 23 cm. From the other folded edge measure down 14" / 36 cm. These different lengths will create the high-low effect on the peplum. Connect these markings by making another curve and then cut out the fabric along both curves.
Remember, I know that this can be a lot, so for a video guide on how to actually do this watch the beginning of my tutorial here.
After you've cut out the new pattern pieces, create gathering stitches along the top curve. Your new pattern piece should look like this:
Next, assemble your Jackson Tee following the pattern's instructions, until you get to the point where you need to finish the hem. The hem line is where we will be attaching the peplum we just created.
First, go ahead and finish the hem on the peplum piece by doing a rolled hem.
Then, pull on of the gathering stitch threads you sewed earlier to gather your pattern piece. Try to distribute the gathers evenly as you pin the piece along the waistline of your shirt. I add notches to the center front and back of my shirt as well as on the peplum to help ensure that the pieces stay aligned. For the peplum, I wanted the longer portion to sit at my side seams and the shorter part of the peplum at my front and back, so I placed my notches accordingly.
Once everything is pinned in place, sew your peplum to the bodice. Hack#2 is complete!
I hope you have enjoyed learning how to make my versions of the Jackson Tee, and can't wait to see yours. Make sure to tag or follow @SewWithStephanie so that I can see them!