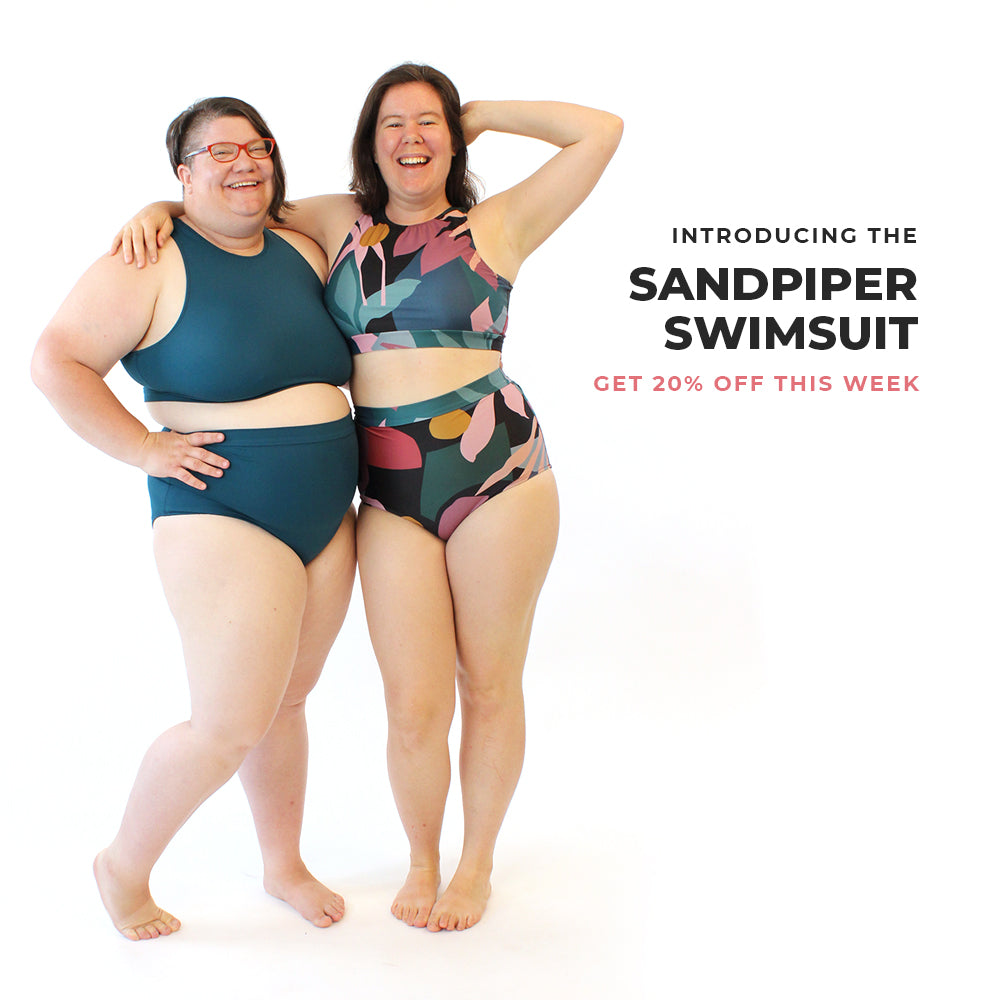 We are so excited to announce the launch of our very first swimsuit pattern —the Sandpiper Swimsuit! This fun and sporty swimsuit design is inspired by our love for swimming, playing, and general adventuring on the beach!
The Sandpiper Swimsuit is 20% off this week, no code required!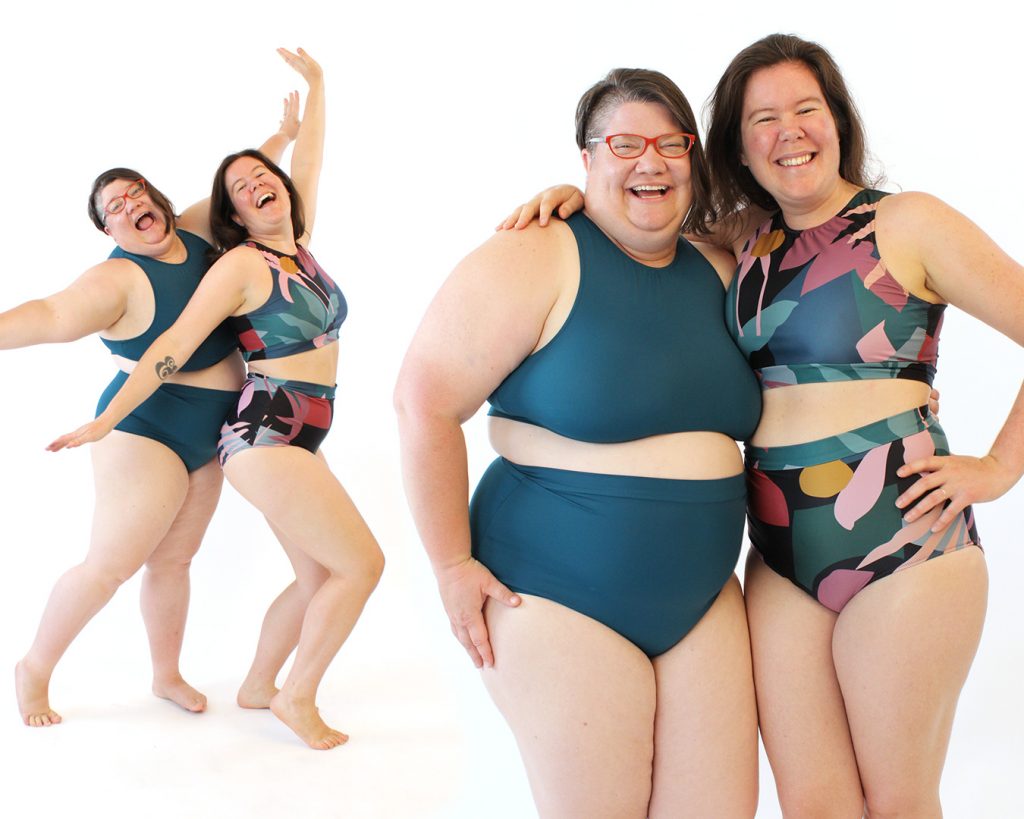 About the Suit
Sandpiper is a two-piece swimsuit pattern with a sporty top design and options for high-waisted or classic bikini cut bottoms. The top features a high neck and subtle racer-back that is perfect for water or beach activities. The Sandpiper Swimsuit is lined and finished with swimwear elastic on the neck, arm, and leg openings. The Sandpiper waistband and top band are finished using fabric bands. This pattern is available in sizes 0-34 US (up to a 62" chest/hip).
The Views

View A of Sandpiper is a classic high-neck and back top with high-waisted bottoms. Both pieces feature a fabric waistband and top band that can be sewn in a contrasting fabric if desired. Mix and match prints on the top and bottom for a custom look!
View B of Sandpiper features a longer bottom band on the top, giving it more of a tankini vibe. The bottoms for this view are a classic bikini cut and the waist of the bottoms is finished with elastic, similar to the neck, arm, and leg openings. You can sew the views as—is or you can mix and match the tops and bottoms to get your perfect suit!
The Fit
Sandpiper is designed with water adventure in mind! This swimsuit pattern is great for activities like swimming, paddle boarding, water sports, or playing with kids on the beach! Sandpiper fits snug to ensure you feel secure while you move about and enjoy the waves. The high neck and back protects your skin from the sun and slight racer-back cut leaves arms and shoulders free for ease-of-movement. The bottoms include options for a high or low-cut waistline and the bum fit is ever-so-slightly cheeky. Not too much but not too little—just right!
Two size ranges are included with Sandpiper. Sizes 0-22 based on our B-cup block and 12-34 based on our D-cup block. Sandpiper can fit folks with a range of bust sizes very well as long as you like a bralette-style swimsuit and are not wanting or needing a cup-style top with wires or padding.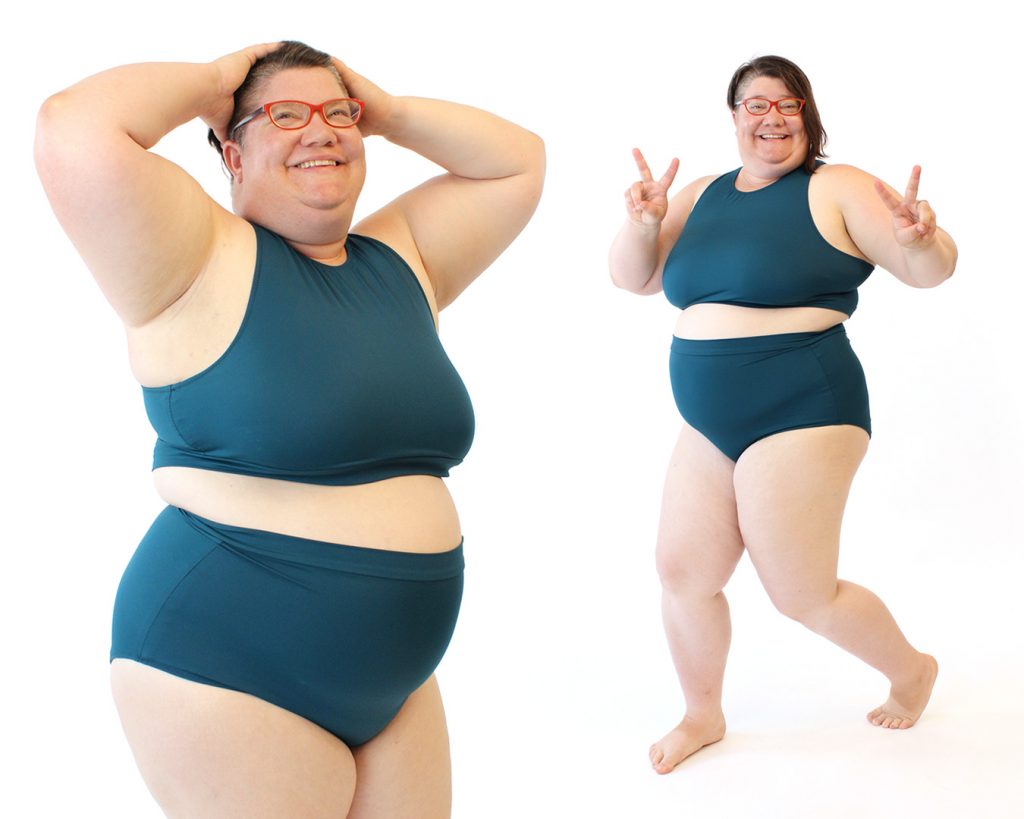 Our model, Liz, is wearing a size 24-D Sandpiper. Her measurements are:
49" (124.5 cm) High Bust,
53" (134.5 cm) Full Bust
44″ (112 cm) Under Bust
50" (127 cm) Waist,
54" (137 cm) Hip.
She is 5'5" (165 cm) tall. She typically wears a bra size 48F.
Top: We added 0.75″ to the under bust at the center front and blended it up to the side seams to match the back.
Bottoms: We increased the front rise of her bottoms 2" for her samples and blended it down to the side seams to match the back.
Based on her personal preference, we chose to size down for her bottoms at the waist and hip to prevent them from sliding down.
Helen is wearing a size 16-D Sandpiper. Her measurements are:
40" (101.5 cm) High Bust
44" (112 cm) Full Bust
36" (91.5 cm) Underbust
34" (86.5 cm) Waist
44" (112 cm) Hip
She is 5'9" tall (175 cm). She typically wears a bra size 36D. We lengthened the swimsuit bottoms 1" (2.5 cm) and the top 0.5" (1.3 cm) at the bust.
The Fabrics & Notions
Sandpiper is designed for swimwear knits and linings. We recommend swim fabric with at least 50% stretch in both directions. Look for fabrics like 'nylon tricot', 'swim tricot', 'swim lycra' and 'swim fabric'. For lining, look for 'swim lining' or 'lightweight power net' or 'lightweight power mesh'.
The neck, arm, and leg openings on Sandpiper are finished with ¼" swimwear elastic. Look for chlorine resistant rubber elastic or cotton swimwear elastic.
We used supplies from Blackbird Fabrics and Discovery Fabrics for our Sandpipers!
Sewing Swimwear
Sandpiper is an excellent beginner swimsuit pattern. If you have never sewn swimwear before you are in for a treat! It is so much fun to whip up your own swimsuits and it gives you the freedom to choose the fabric and customize the fit just for you. Sewing swimwear can be fun, easy, and fast! There may be some new techniques such as working with slippery knit fabrics and finishing openings with elastic, but our instruction booklet will help you with every step. The pieces are smaller than usual garment sewing and it comes together quite quickly. You don't even need to iron! What!? Swimwear is a great sewing adventure.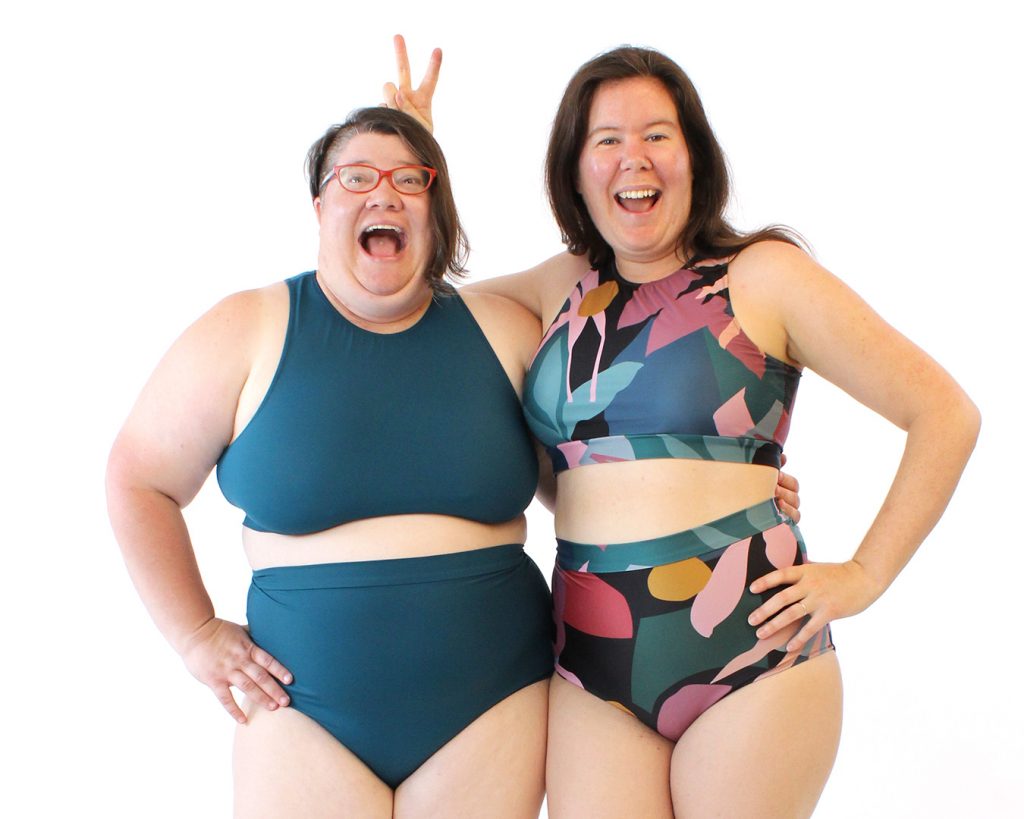 Can I make Sandpiper if I am a beginner?
We've rated this pattern 'advanced beginner' because swimwear fabrics and elastic are a bit more challenging to work with than regular knit fabrics. That being said, if you are a beginner and you want to try sewing swimwear, this is the pattern for you! You can totally do it.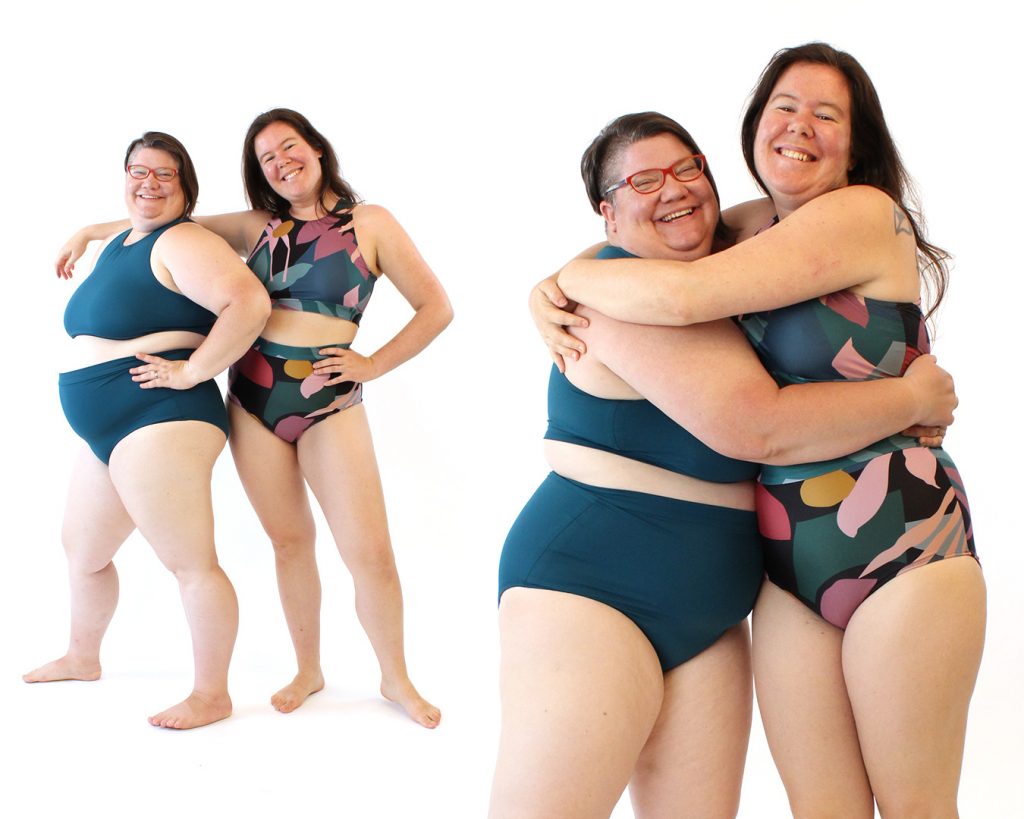 BONUS
We think Sandpiper would make a great workout top or crop top for layering under garments like our York Pinafore and Yanta Overalls. Pair a Sandpiper top with our Avery Leggings for the perfect athletic set! Keep an eye out for Sandpiper pattern hacks coming your way soon.
Thank you so much for checking our Sandpiper Swimsuit! Grab this new pattern for 20% off this week, no code required!
I had so much fun modeling this design with my cousin, Liz. Here are some pics from the shoot where we are goofing around in our Sandpipers!