New FREE PATTERN alert! I am so excited to share our latest design with you. This one is a collaboration between my partner Sam and myself. Sam LOVES to cook but standard "one-size-fits-all" aprons are frustratingly small on his frame. Even when aprons do have sizing it usually only includes small, medium, and large. Not to mention the length. People deserve better apron coverage! It was all of these issues that led us to design the Sam Apron! A free apron pattern with sizing AND height options so you can make the perfect cover-up for yourself or a loved one.
You can get this FREE apron pattern by signing up for our newsletter. Already signed up? No worries! Simply sign up again using the same address here and you will get the pattern in your inbox. You won't be added to the newsletter twice.
Psssst: The Sam Apron would make an excellent gift! Aprons for the whole family? YES PLEASE!
The Sizing
The Sam Apron includes our usual size range, sizes 0-34 (up to a 62" hip). We use jump sizing with this pattern (we lump multiple sizes together to keep it simple), but you can cut between size lines or add/remove width on the apron to get the perfect fit.
We also include height cut lines for this pattern. Cut a taller bib and a longer skirt for folks who are over 6'. Cut a shorter bib and skirt for petite people. The cut lines are listed on the pattern so you can easily customize this for yourself or a loved one.
The Straps
I personally dislike halter-neck styles. I find that the sensation of something pulling on my neck can lead to stress and irritation. This is why I always go for cross-back aprons! I love the cross-back style because there is nothing pulling on the neck and the apron feels so secure on my body. We've included a cross-back view for the Sam Apron that I am so excited about, but we also included a classic halter neck view, too! There is no right style, it's just whatever works for you.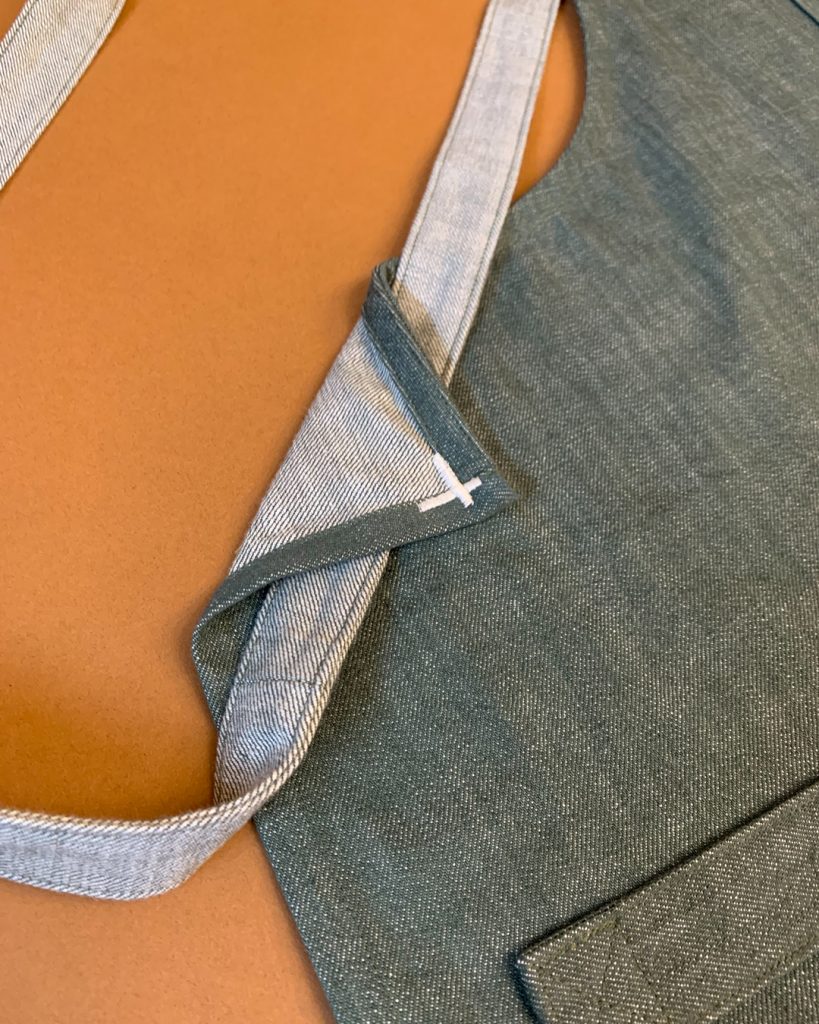 The cross-back view has some great details that I think you will love. The corners of the apron skirt are folded down to create small channels that the straps are fed through. This corner detail can be sewn on the right OR wrong side of the apron and finished with decorative bar tacks for a little visual interest.
At the mid-back (where the straps cross), a small channel is sewn to stabilize the back and encourage the straps to lie flat. Sew this little detail last to ensure you get it at the perfect spot for yourself or your recipient!
The Sam Apron includes pattern pieces for the straps so you can sew your own out of matching or contrast fabric. We used the wrong side of our green denim when making this sample so that the details (like the straps) would pop.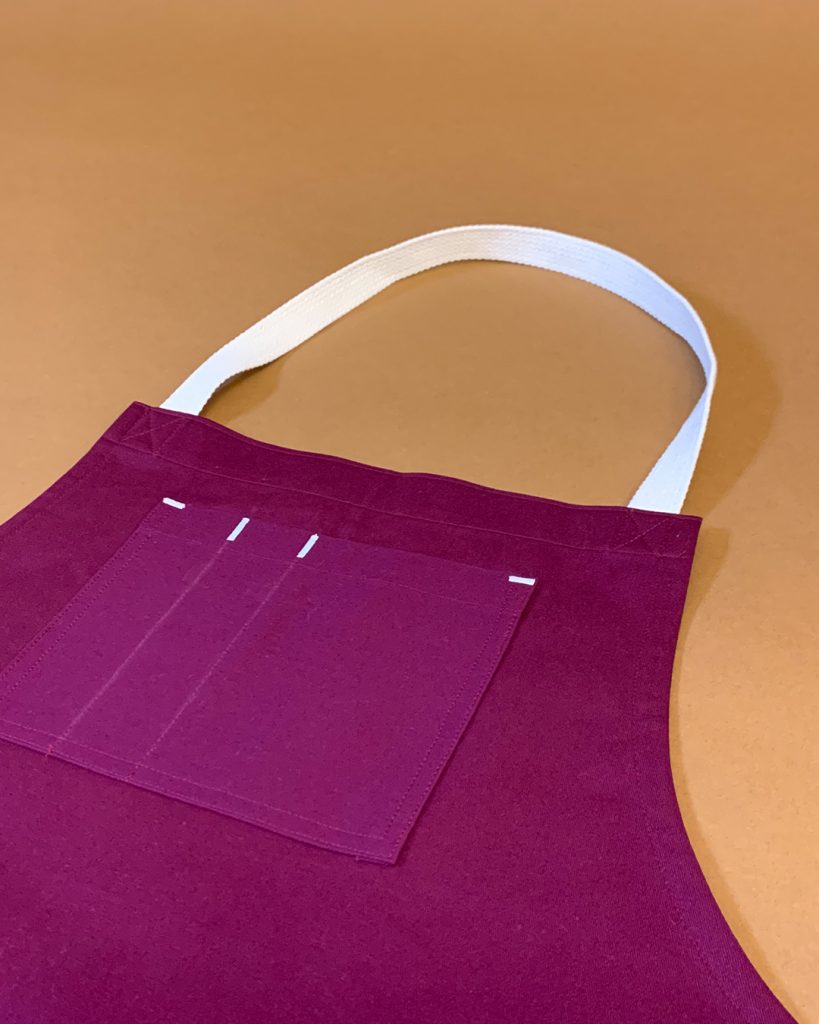 You can use webbing instead of sewing fabric straps and we have included information about how much you will need in the instruction booklet. Using webbing offers a nice contrasting element to the design and also saves time and effort on this project! Great when you are batch sewing a bunch for gifts.
If you are sewing the halter neck view of the Sam Apron, you can add two D-rings to the neck to make it adjustable. This is totally optional but is a great idea when sewing for a loved one or if the apron will get used by multiple people with different fit preferences. These rings are not necessary for the cross-back apron view because it is adjustable by default.
The Pockets
The Sam Apron includes both chest and waist pockets that can be customized to suit your preferences. You get to decide where to place them and how many dividing lines to sew! You can also swap these pockets out for different styles and shapes. It's so easy to make your apron unique and perfect for your needs. We like to finish the tops of our pockets with bar tacks but you can use metal rivets or just backstitching here if you like.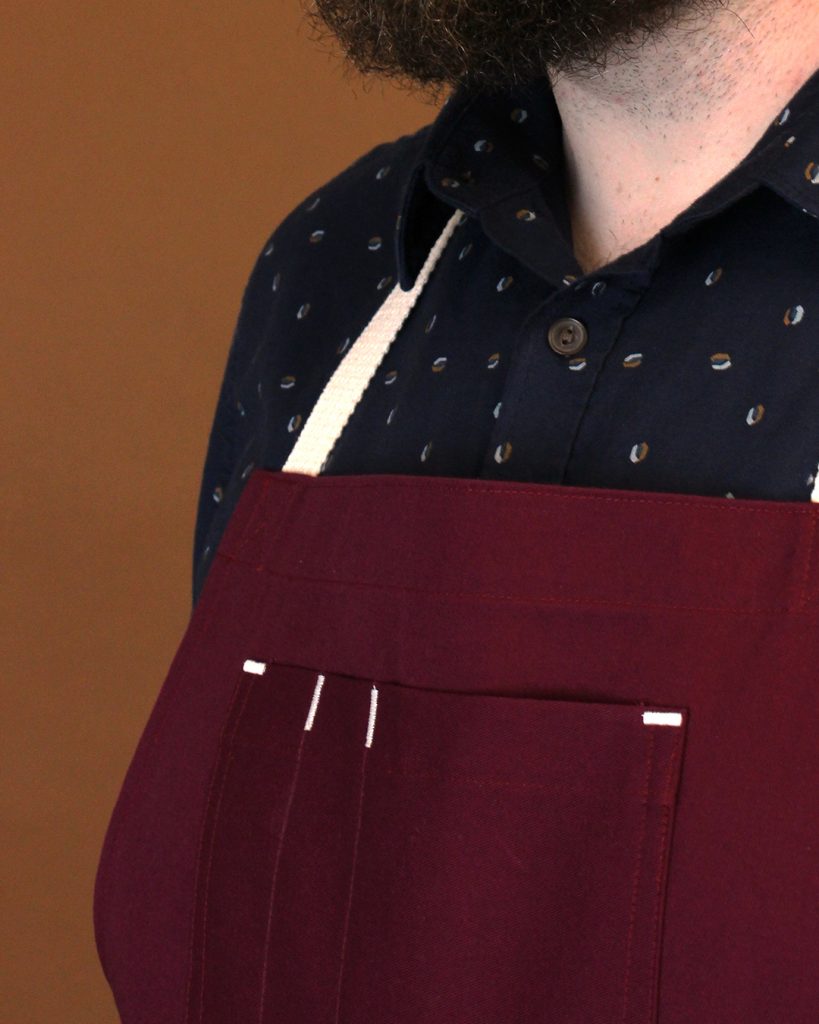 If you will wear your apron while seated, you may want to change up the pocket placement. You can raise or lower the waist pocket or eliminate it entirely. Perhaps try sewing two pockets and angle them so they work better while seated. You're the boss!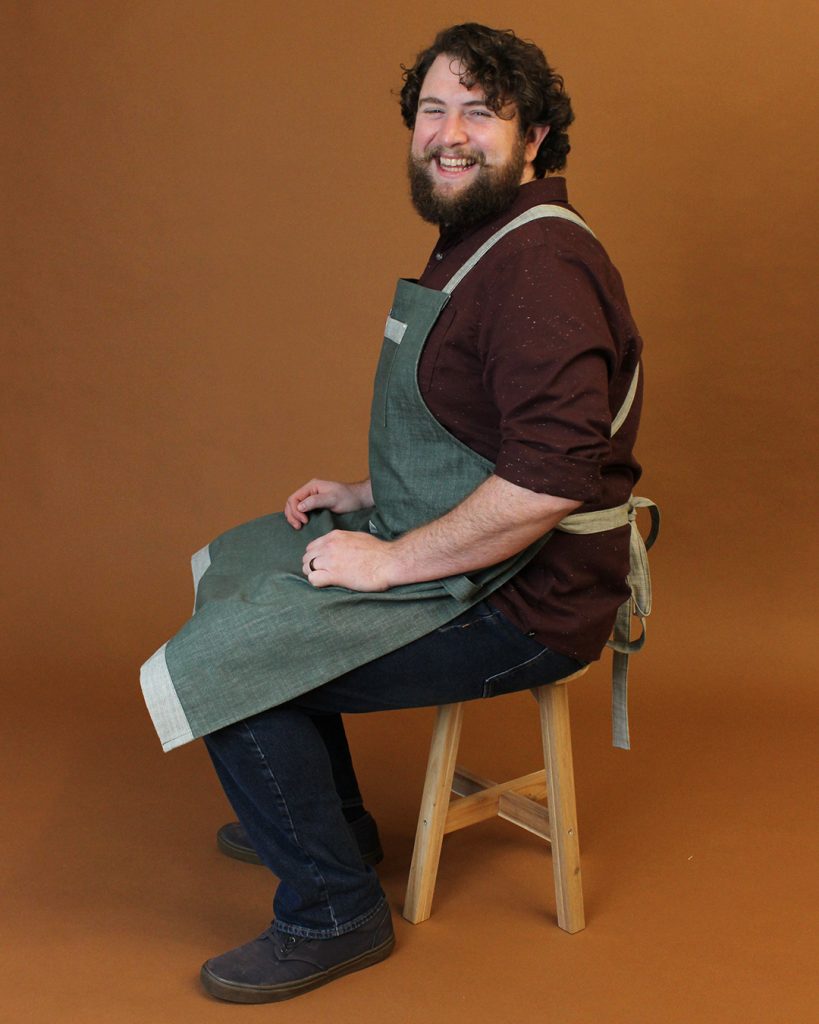 The Towel Loops
This was a new apron detail for me. I've seen these loops on aprons in the past but I've never really used them! These loops are intended for tea towels or kitchen tongs, or really anything you can slip through them that you may need!
Sam likes to have a towel on both sides of his apron while cooking. This way, he can wipe his hands, clean up spills, and have a protective towel at the ready for handling hot pan lids and handles. Now that I understand how to use these loops, they are seriously so handy! The Sam Apron has one on each side of the waist pocket.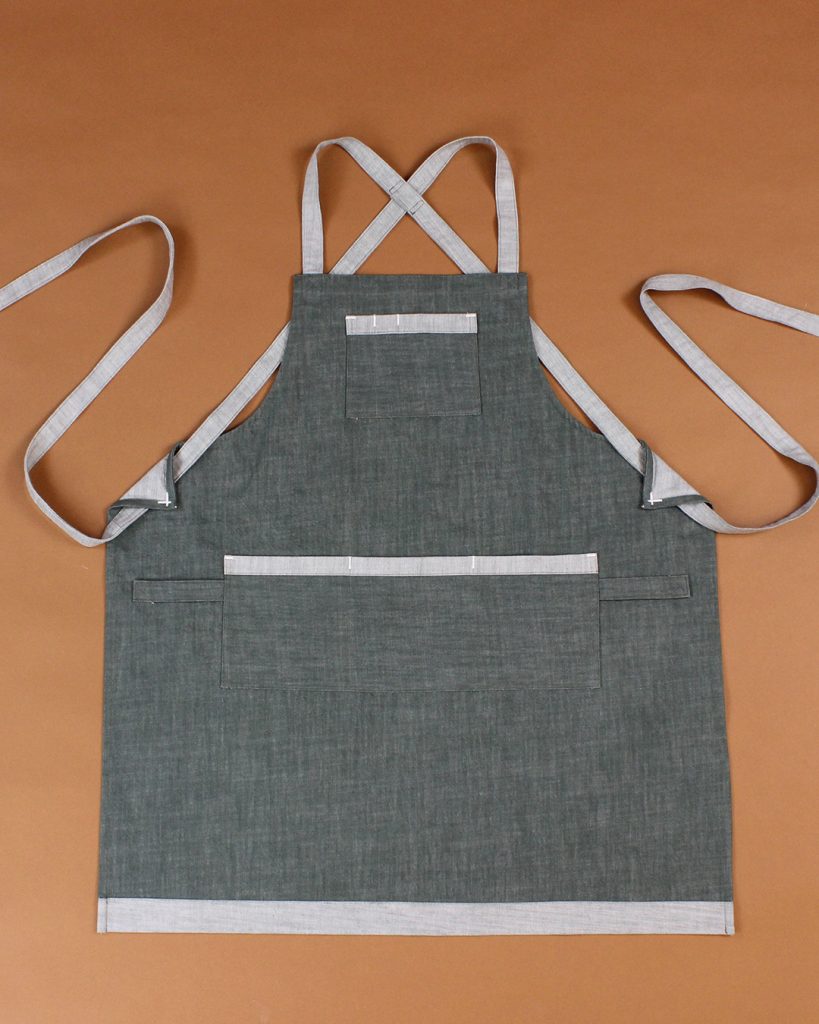 The Fabric
A lot of garment sewing patterns will say 'do not use quilting cotton', but this one is the exception. Quilting cotton is a great choice for the Sam Apron! Stable cottons like cotton lawn, broadcloth, and quilting cotton are all great lightweight options. Light to medium weight linen is also a great choice.
For a medium-weight apron, try a medium weight cotton twill, canvas, or denim (around 6-9 oz). For a heavyweight apron, try a 12-14 oz duck canvas. Waxed canvas also works well for extra water resistance. We recommend beginner sewists stick with fabrics between 2 and 7 oz. Heavier fabrics result in bulky seams that can be more difficult to sew.
Our Samples
Sam's Green Apron: 9oz coloured Denim
Sam's Purple Apron: 6oz Cotton Twill
Helen's Printed Apron: Cotton Linen Canvas (about 4oz)
We designed the Sam Apron with cooking in mind. Getting messy in the kitchen while making meals, baking, and canning! That said, you can totally use the Sam Apron for all sorts of activities. Painting, dyeing, and block printing to name a few. Anything you need protection for, the Sam Apron can be your go-to. Choose your fabric based on what you plan to do in it and (more importantly) how messy you usually get! I like my aprons on the thicker side because I love to make a mess and I don't want anything getting through onto my clothes.
We love when designs are flexible and this apron is no exception. You can design different pockets, add cool hardware, create custom details, and more! Let your creativity flow and come up with your own ways to make this design unique.
Thanks for checking out the Sam Apron! We can't wait to see what you do with this new design. You can get this FREE apron pattern by signing up for our newsletter. Already signed up? No worries! Simply sign up again using the same address here and you will get the pattern in your inbox. You won't be added to the newsletter twice.