Thank you so much for the warm reception to our latest pattern—the Cameron Button Up! I am excited to see what the sewing community makes with this new design. Cameron can be made in so many fabrics and styled so many ways. I love how versatile it is and I am excited to share my collection of Camerons with you over the next few weeks.
When I initially started designing Cameron back in early fall, I had this exact make in mind: a cozy layering shirt in thick mammoth flannel. I love a black and white print so this fabric jumped out at me. I'll admit, I also bought a few other flannels from Blackbird Fabrics at the time because I was so excited about this look! There are more flannel Camerons in my future, for sure. We used flannel for one of Sam's Camerons in the photoshoot, too!
I sized up one size for this Cameron Button Up because I knew I wanted to layer it over other shirts and have it be a bit oversized. My measurements put me in a size 16 and I made an 18 for this one. Cameron includes sizes 0-34 (up to a 62" chest/hip). I also lengthened the shirt 3" (7.6 cm).
My measurements are:
High Bust – 40" (101.5 cm)
Full Bust – 44" (112 cm)
Waist – 34" (86.5 cm)
Hips – 45" (114 cm)
Height – 5'9.5" (176.5 cm)
I did something a little different with the pattern matching on this Cameron—I opted to pattern match the shirt open. Usually, we would line up the center fronts on the same vertical axis of the print. I knew I was going to wear this one open, so I lined up the inner edges of the button plackets on the same vertical axis. This way, when I wear it open, it feels balanced. This was a bit of an experiment and I don't think this is necessary if you are making an open shirt, but it is kind of cool! When I close my Cameron, the plaid doesn't match perfectly, but it's still cute.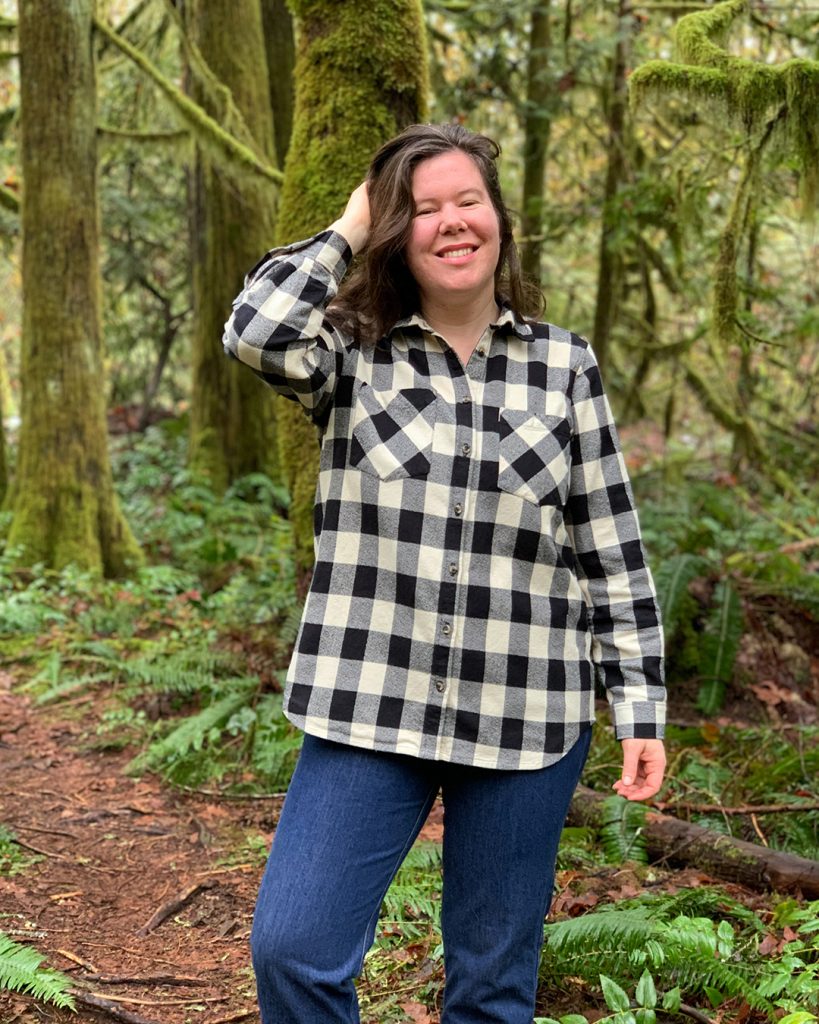 We include instructions in the booklet for how to match your plaids across the center front of Cameron like the samples shown below.
I love the casual vibe of this shirt and it is so comfortable to wear. It feels like getting a nice warm hug! It fits perfectly into my west coast wardrobe and makes for a great warm layer when walking my dog, Emma. I love it paired with jeans, joggers, or leggings. It works great with our Arden Pants or Avery Leggings! I'm wearing it here with our upcoming jeans pattern—to be released later this Spring.
For seam finishes on this Cameron, I decided to up my sewing game and do flat-felled seams. We include instructions for this technique with the pattern booklet and we have a blog post coming your way about it, too! I flat-felled the side and sleeve seams. Flat-felled seams around an armscye can be a bit tricky, but they are so worth it! I love the clean look on the inside. I accidentally put this shirt on inside-out sometimes because I can't tell which side is which! Thank goodness for the pockets.
Speaking of pockets—I opted to sew two pockets on this Cameron Button Up. I also decided to cut them on the bias in order to highlight them. There are so many options when it comes to chest pockets on shirts and we have included ideas for alternatives in the pattern!
In addition to the pockets, I also decided to cut the back yoke on the bias. I love this approach with plaids or stripes. Cutting it on the cross grain is also a nice option. You only need to cut the outer yoke in a different direction, the inner yoke can remain on-grain. When working with delicate or drapey fabrics, you can interface a bias-cut yoke to help stabilize it.
Let's talk sleeve plackets for a moment. I chose not to worry about pattern matching my plackets because I knew that I would be wearing my shirt with the sleeves rolled up most of the time. In fact, that is why they are a little bagged out in these pics—I've been wearing this shirt a lot! I think pattern matching sleeve plackets can be really fun and rewarding, but it is not a detail that attracts a lot of attention. I don't think you need to try to match them perfectly unless you want the challenge.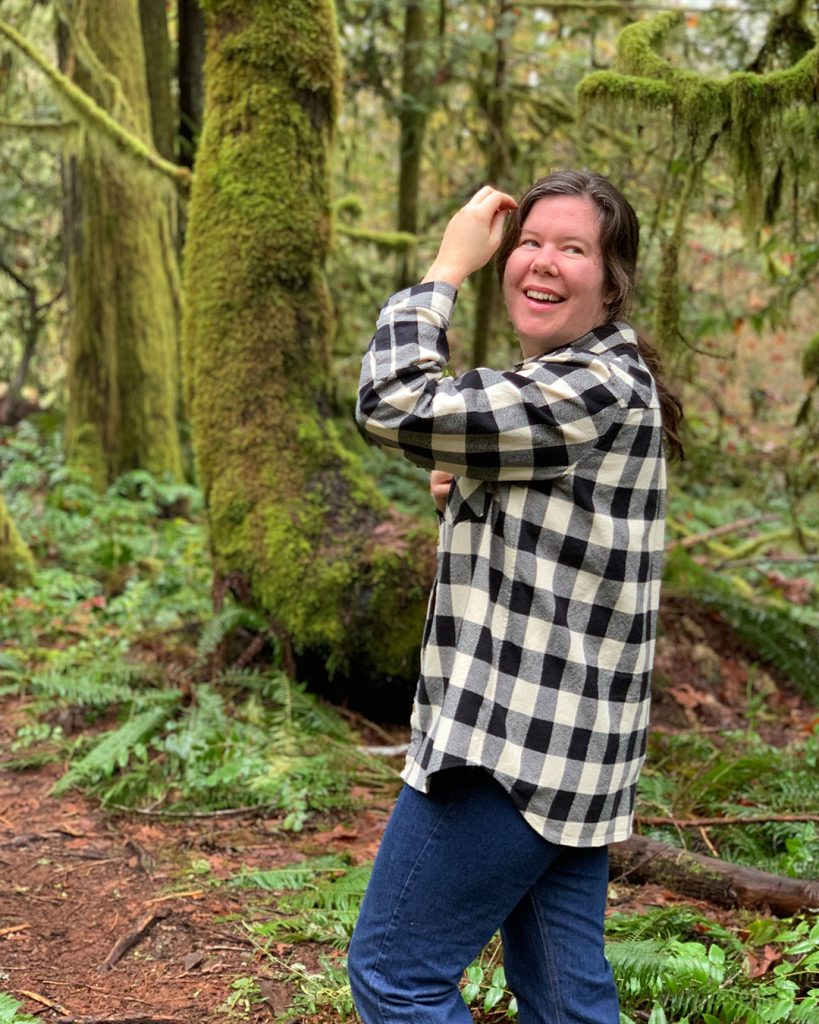 I do like to pattern match my plaids and other prints horizontally across the center front and side seams. This is easy to do and makes for a really nice look from the side. We've got you covered in the instruction booklet with guidelines for how to do this. I love the slight scoop in the hem on the Cameron Button Up. Not too shallow and not too high—just right!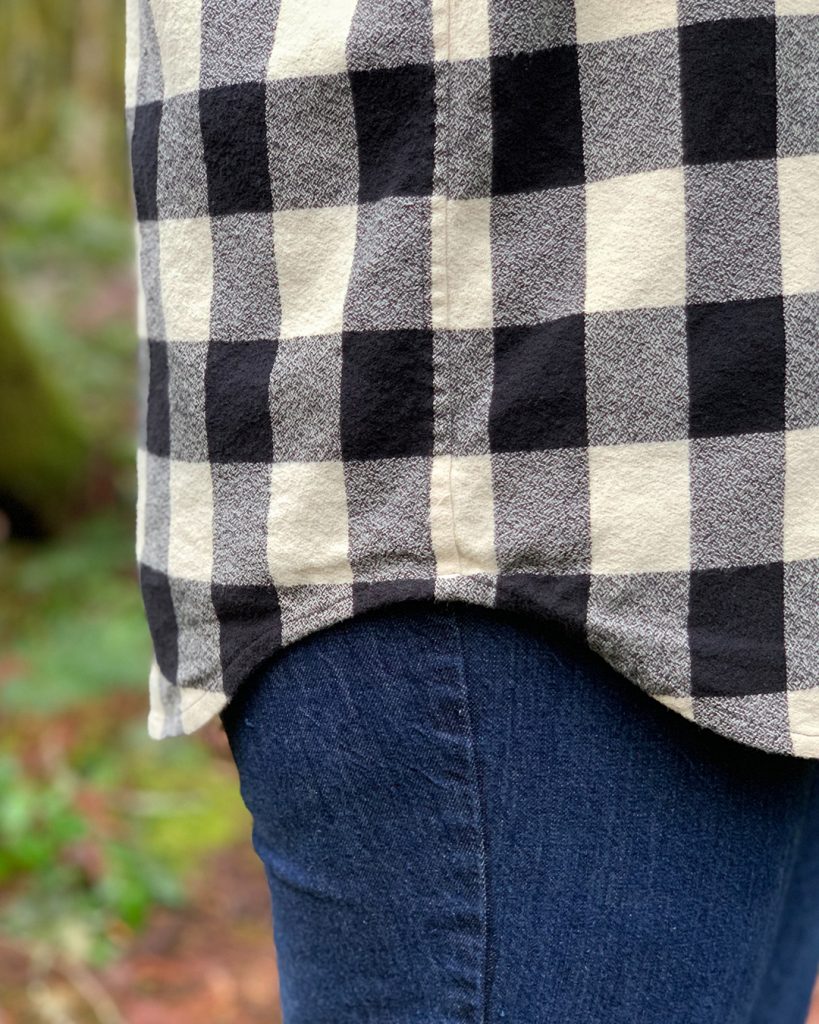 Thanks for checking out my flannel Cameron Button Up! I LOVE this shirt and know that I will be wearing it for years to come. It is so cozy and comfortable and just *chefs kiss*. You can grab Cameron for 20% off right now in the shop, no code required!