I love summer sewing! This is when all the fun prints and colourful fabrics really get to shine in my wardrobe. I feel so inspired this time of year and I love coming up with fun (and easy) summer makes. Today I have a pattern hack to share and it uses our new Moss Jacket pattern . . . let's take a look at this beach cover up!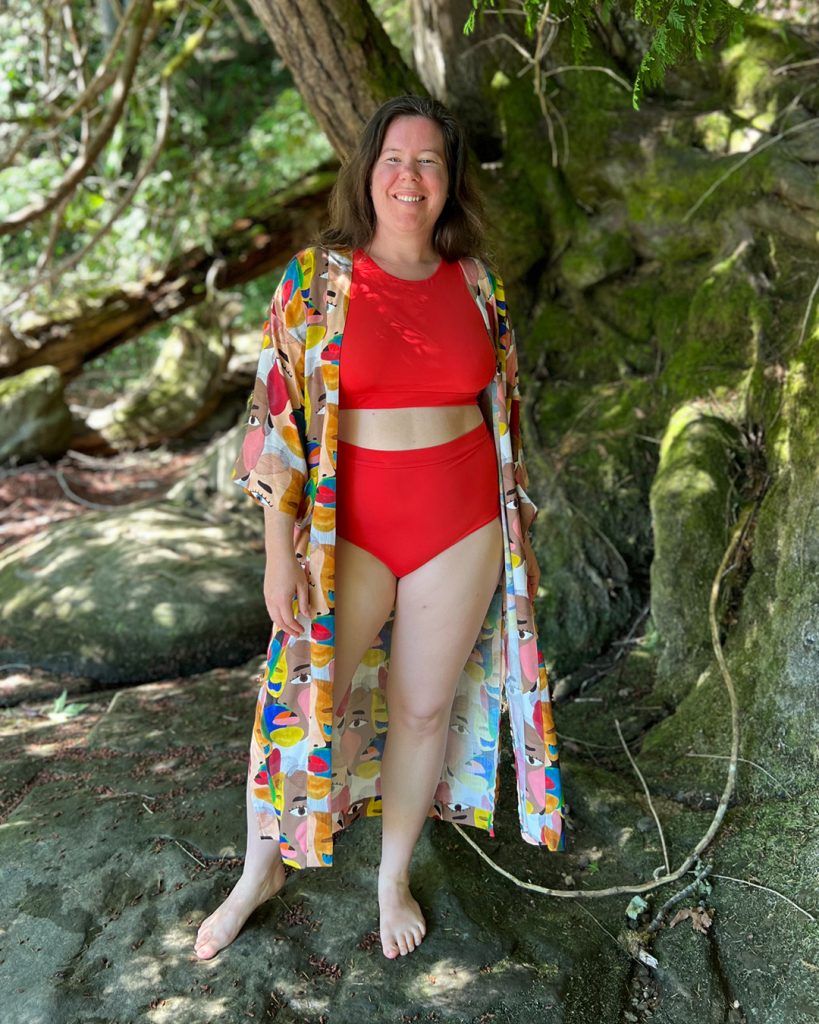 For this hack, we used view A of the Moss Jacket and modified it to be much longer. It's a really easy change to make and the results are beautiful! I love this lengthened version as a beach cover-up to help protect my shoulders from the summer sun. It also makes a fun layering piece to wear out on the town as well! You will certainly turn heads if you use a print like this one.
How to lengthen the Moss Jacket
First, decide how much you want to lengthen the jacket by. We added 17" (43.2 cm) to mine and it feels just right for me. I wanted it to be long but not be scraping the ground. Add the amount you want to the bottom of the front and back pattern pieces, as well as the front facing. You can also make this hack using View B, you just need to add length to the collar piece as well.
Moss does not have an oversized fit, so this hack works best if side slits are added. They are not 100% necessary, but I think it makes the garment flow better when walking. To do this, mark on your pattern piece where you want the slit to start. We put ours 16" (40.6 cm) up from the bottom.
When sewing, finish the seam allowances on the front and back side seams separately. Then, stop sewing at the marking for the side slit. Press the seam allowances on the slit under and topstitch. Sew the hem as directed in the instructions.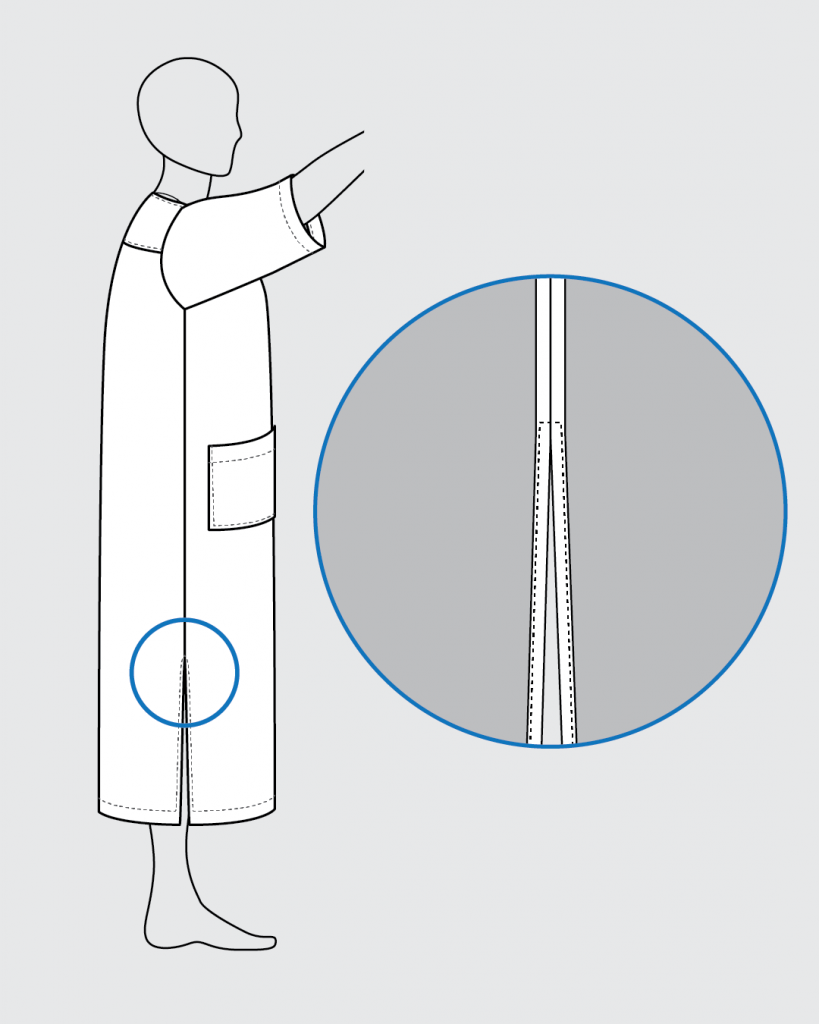 That's all there is to this great summer pattern hack! You can totally make this in an afternoon and be wearing it to the beach in no time. We went to our local river swimming hole for these photos. There is a beautiful pool just to the left of where I am standing on these rocks!
I've paired my Moss cover-up with a brand new Sandpiper Swimsuit! Call me biased, but I love this suit design so much and I knew I needed a version in bright red. This is my 'baywatch' suit and I feel so cute in it! For my Sandpiper, I lengthened the bottoms by 1" (2.6 cm) and the top by ½" (1.3 cm) —for reference, I am 5'9.5" tall. (176.5 cm). No other changes made!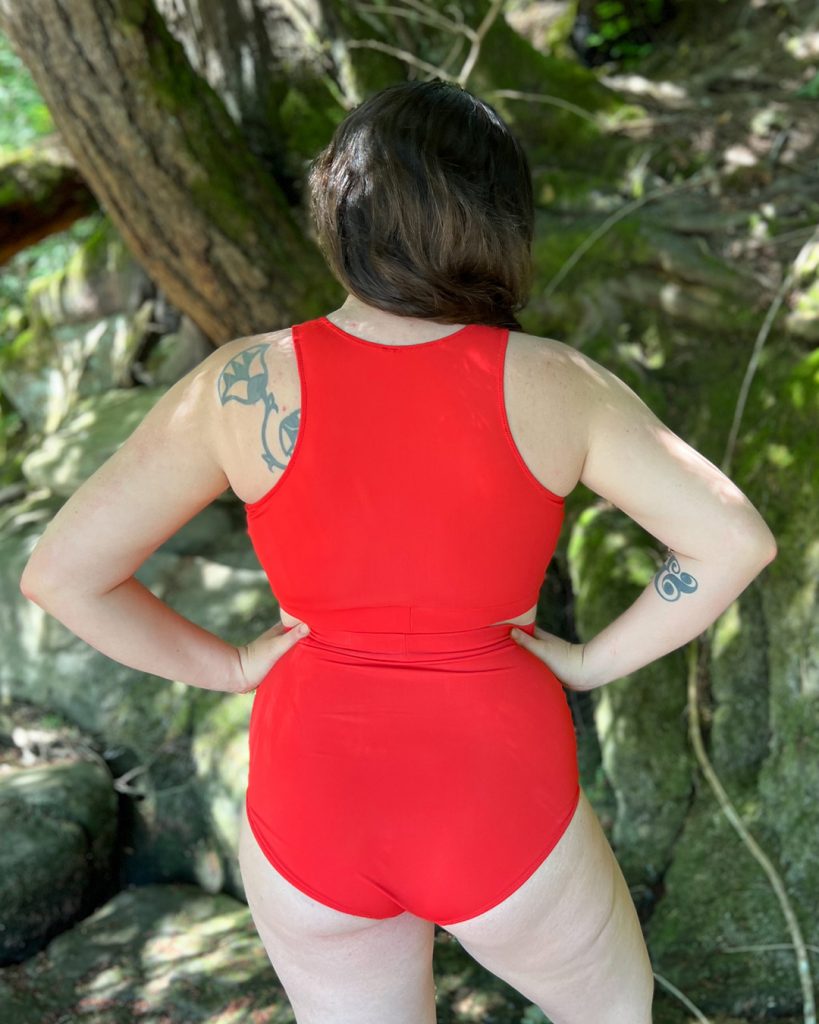 Thanks for checking out this fun summer hack! I hope you give it a try using our Moss Jacket pattern and Sandpiper Swimsuit!