I'm very pleased to announce that we've made some updates to our Elliot Sweater and Tee pattern, including two new sizes! We have added sizes 32 and 34 to this pattern, so it is now available up to a 60" chest and 62" hip. All our patterns are on sale right now for up to 25% off so now is the time to snap this pattern up and sew some for the upcoming season.
When we revisited this pattern to add the sizes, my current drafter and grader made some suggestions for ways we could improve the pattern. We now have an improved upper back fit and more ease for the lower sizes to better match the ease in the upper sizes. I'm so happy to be able to revisit and revise this pattern to make it better than ever!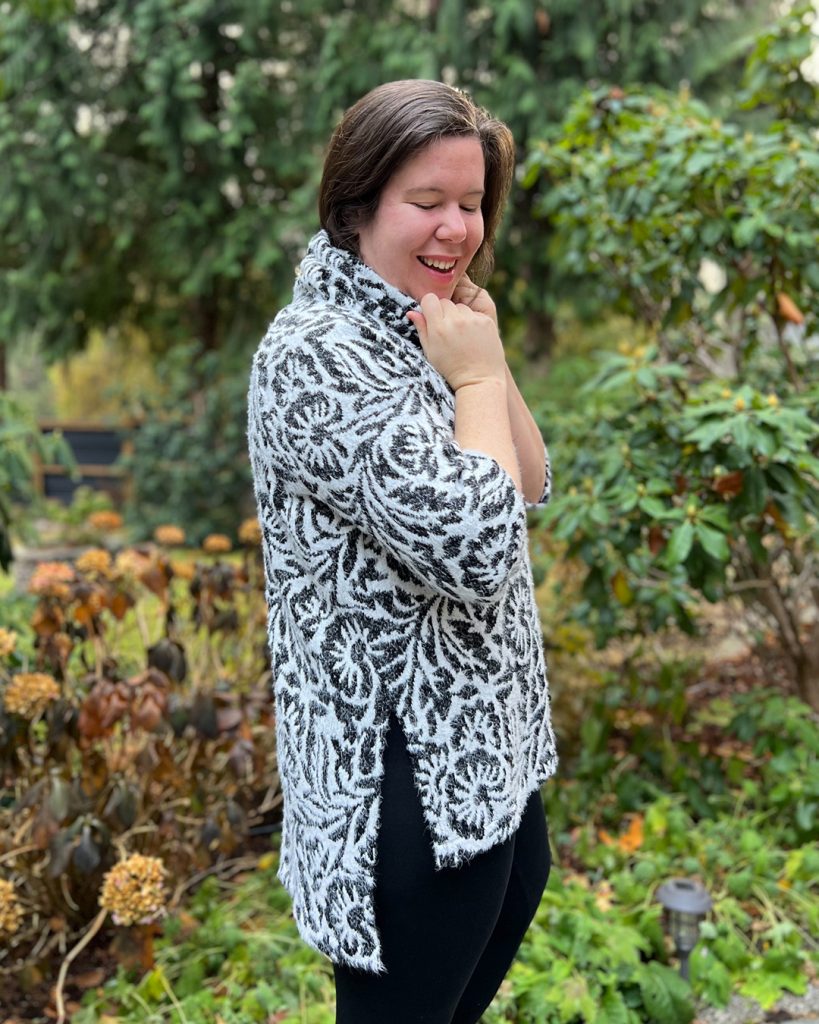 The updated pattern will be available to all past purchasers of Elliot simply by clicking the download link in your email or your account. Can't find your purchase email or log in? Get in touch with us at support@helensclosetpatterns.com. If you like your Elliot sweater pattern just the way it is, there is no need to download and make the new one! These changes are not drastic and you can absolutely continue to sew with the older version.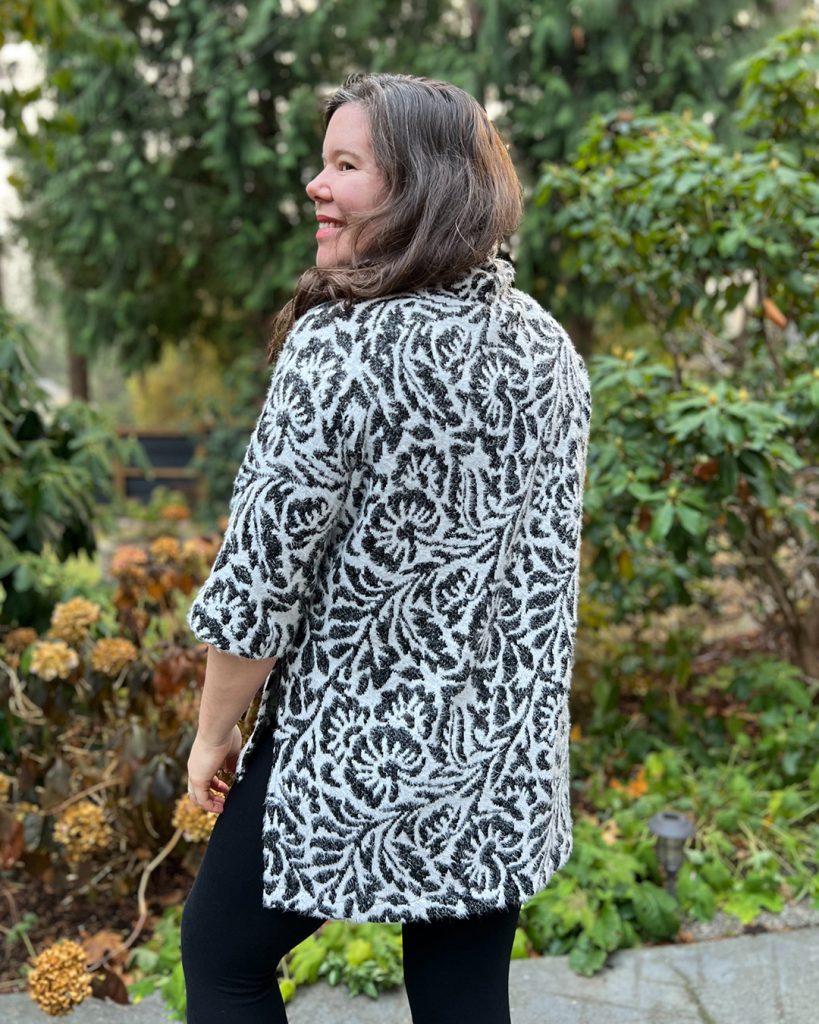 In honour of the changes to this pattern, I have sewn two new Elliot Sweaters and I am LOVING both of them. The first is this gorgeous black and white Elliot sweater using view A of the pattern. This fabric is a sweater knit that I bought locally at Fabricland. I don't have an online link for it, so if you know where to get this online, leave a comment on this post! This knit is unbelievably soft. I nearly didn't go through with the project because it would have made a great blanket with the edges sewn under.
I love the super tall cozy neck and the high-low split hem on view A of the pattern. Elliot features cropped sleeves but if you prefer full-length, it is easy to extend the sleeve down. I personally find that there is something so elegant about the combination of the ¾" length sleeve and the tall neck. It just works!
I've paired Elliot here with a new pair of Avery Leggings made in black bamboo French terry. I adore these leggings and cannot express to you enough how comfortable they are! I will be living in these all winter.
My next Elliot is view B in a stretch fleece fabric from Blackbird Fabrics. This is not polar fleece, it is lighter and it has more stretch to it. It's a perfect weight for a layering sweater that can be worn indoors without overheating. I love the idea of it over a tighter top like our Dawson Top.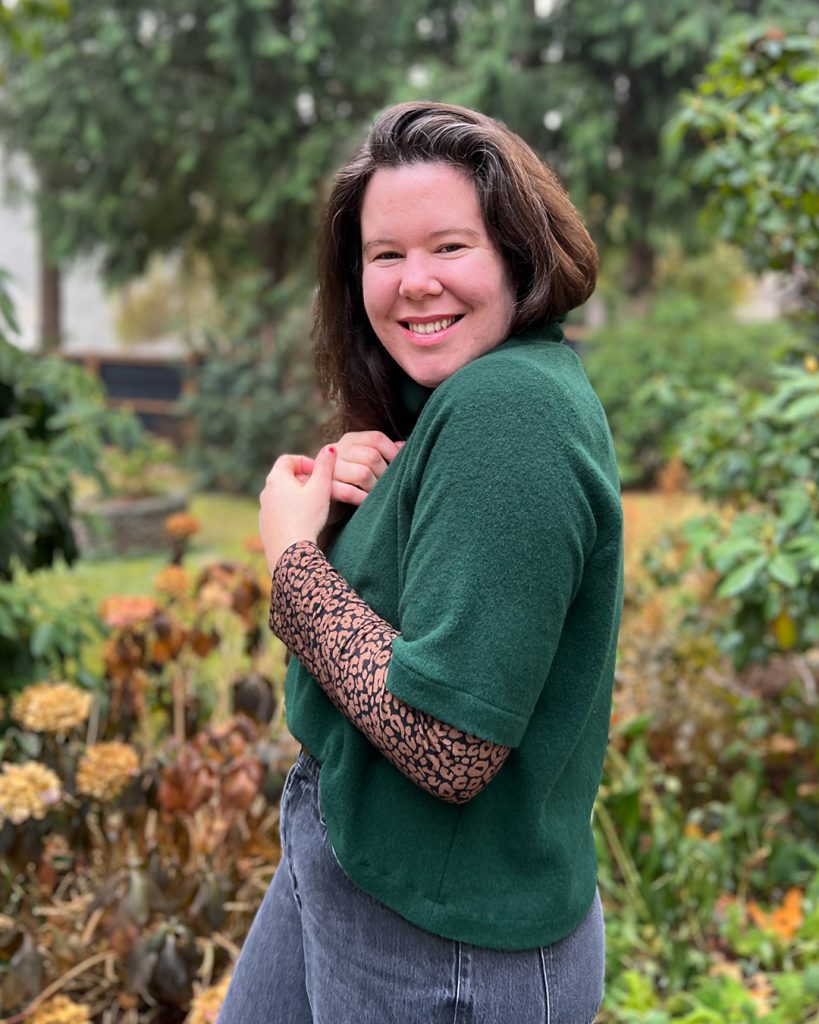 View B of Elliot features a cropped length and a shorter collar. This fabric does not hold its shape super well so the collar is collapsing, but that is totally OK by me. I like this semi-cowl neck look. If you want to prevent collapsing, choose a knit with more body or try interfacing the neck band with a stretch interfacing. This view looks great with high-waisted jeans like our new Brooks Jeans!
All of our patterns are on sale for at least 20% off right now so go and check out the shop to find Elliot, Avery, Brooks, and more!