I was so fortunate to have a fantastic group of ladies test my latest pattern, the Blackwood Cardigan. Their versions turned out beautifully and their feedback was invaluable to the process. It is truly amazing to be able to rely on support from this community to help me achieve my goal of releasing another pattern!  
The tester group was assembled from previous testers of the Winslow Culottes, people who had volunteered to test via comments or emails over the last 6 months, and a few friends I connected with in person at Camp Workroom Social!
I owe this group a huge thank you and I hope you enjoy perusing their awesome Blackwoods. In no particular order, I give you the Blackwood Testers!
---

Katie
@katharineemma
"My new Blackwood Cardigan is a great light layering piece. I assembled the whole thing on my serger, which made it a quick afternoon sew. I did hand stitch down the inner front band, but that only added about an hour and I think it gives it a professional finish. I'm really pleased with the fit too!"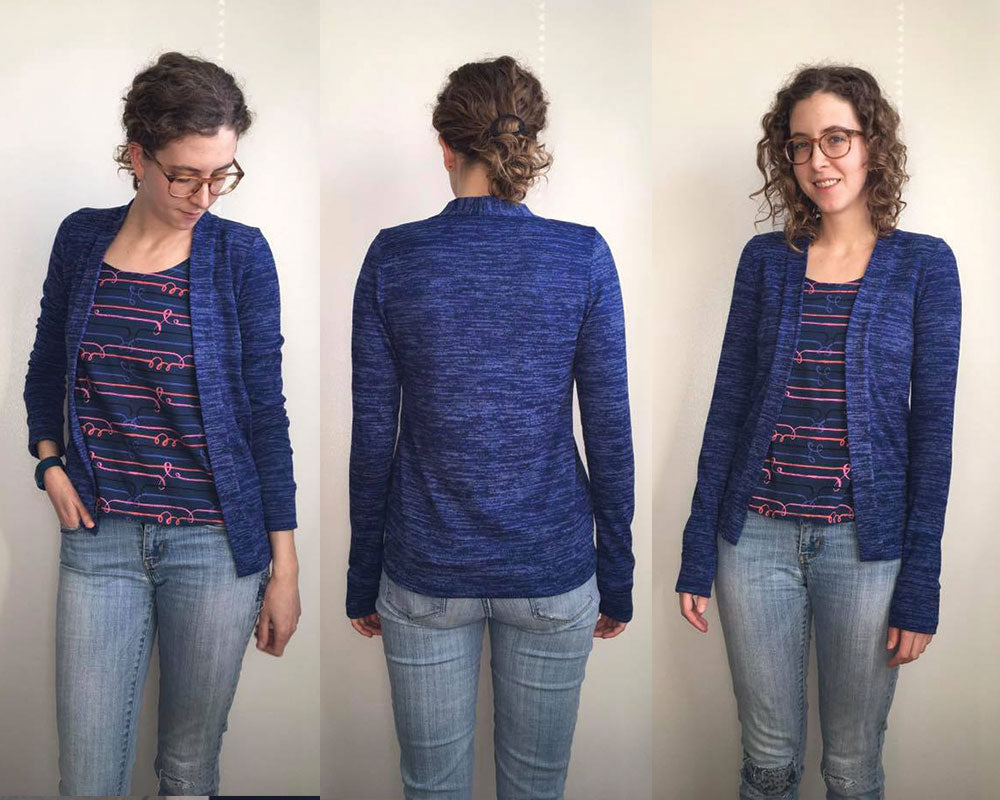 Anya
Anna Zoe Sewing  |  @annazoe
"This pattern is the perfect layering piece. The cardigan is super quick and easy to sew up and open front allows for a perfect garment to wear on top of your favorite camisoles and shirts. I will certainly be making a lot of these!"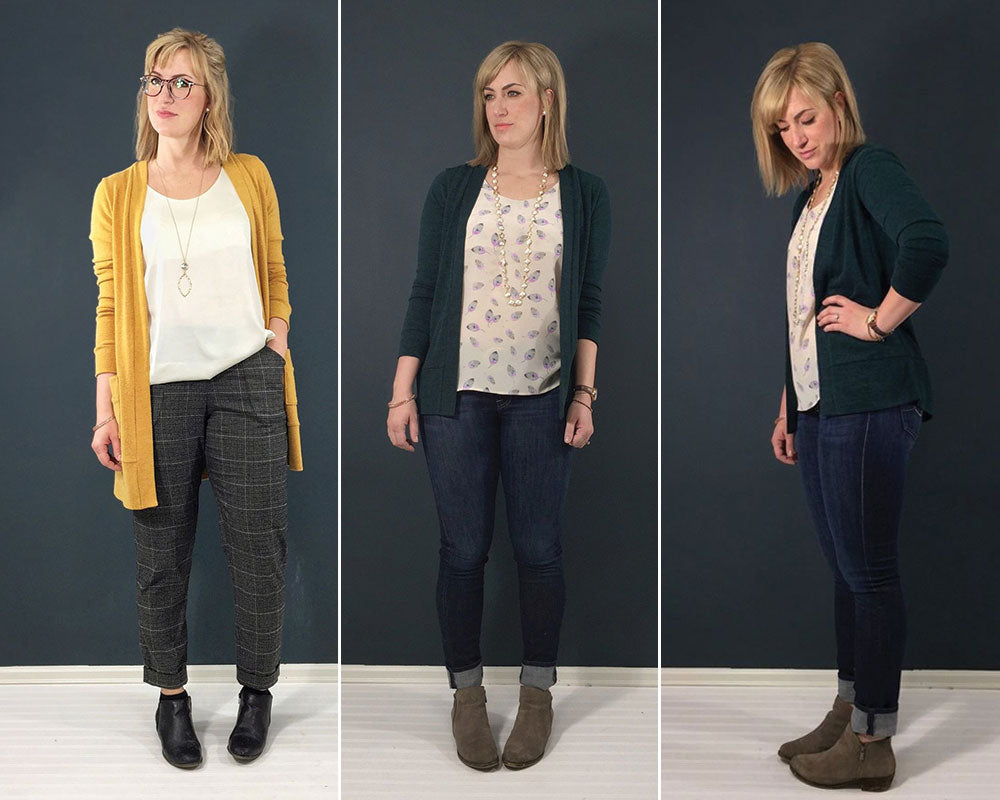 Gillian
Crafting A Rainbow  |  @gilliancrafts
"This cardigan sews up so easily, and I'm happy with how mine fit! I like the choice of two lengths, which make it perfect for layering over pants, leggings or dresses."

Meg
Cookin' and Craftin'  |  @megret79
"An easy-to-sew wardrobe staple, perfect as a lightweight cover-up for summer or as a layer under your jacket for cooler weather!"

Aida
Ida Aida Sewing  |  @aida.k_t
"The Blackwood Cardigan is a beginner friendly pattern and a really quick make, I made view B and although I'm a slow seamstress it only took me 6 hours from attaching the pdf to finish the garment which is pretty fast for my standards. I prefer my cardigans to have a sort of closure but now that I've made this I really like that it stays open, not having to make buttonholes is a plus!"
Caroline
Blackbird Fabrics  |  @carolinesomos  |  @blackbirdfabrics
"This pattern was quick and easy to sew up, and I really like the length of view A. I love layering, and I'm always looking for a comfortable cardigan to throw on top of my everyday uniform (tees and jeans or leggings). The Blackwood is going to be in heavy rotation for me now!"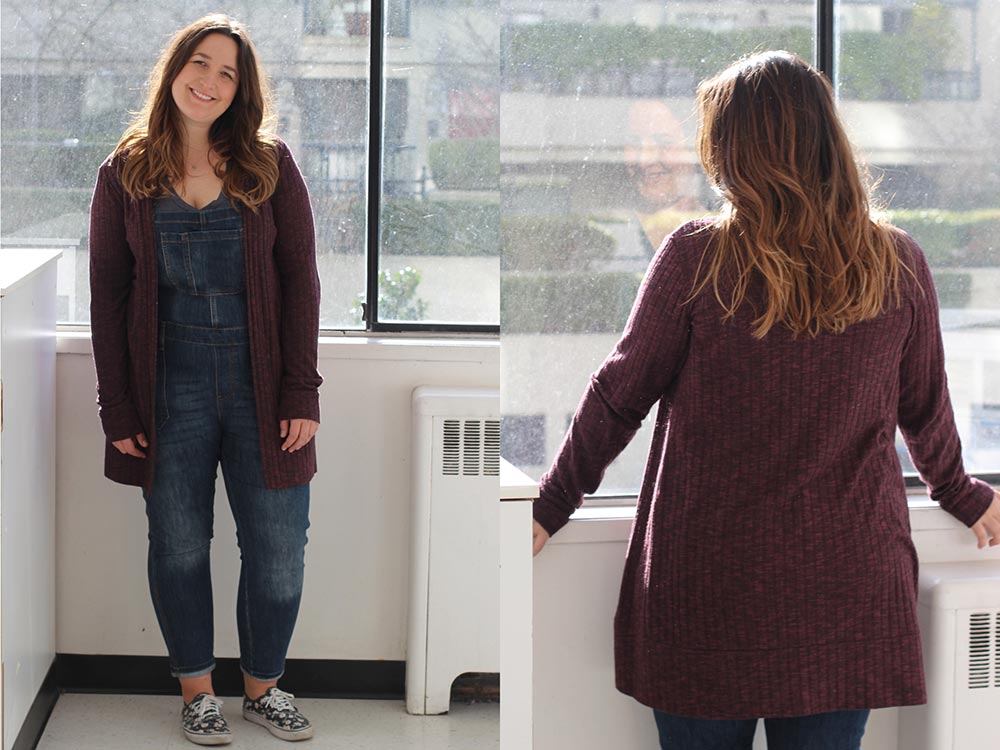 Trudi
@trudizsews
"The Blackwood Cardigan is another versatile pattern from Helen's Closet. It can be made from lightweight linen for summer to merino wool to fight off the winter chill.  For those of us who don't go sleeveless anymore, this is a perfect light covering without any bulk for hot weather.  Made out of a heavier weight, it allows me to extend my summer wardrobe into the cooler days of fall. It's a great style for everyone, and it's a great pattern for beginning to sew with knits."

Heather
The Pug And Needle  |  @heatherandthepugs
"The Blackwood is the perfect staple cardigan that my wardrobe has been missing. So comfy and perfect for layering."

Fleurine
Sew Mariefleur  |  @mariefleurine
"Sometimes you wear a pretty top and you want to show it off, but it's just a little bit too cold to wear it without anything on top. The Blackwood Cardigan is perfect for layering, since it's designed to be worn open. It doesn't cover up Your pretty top and you don't have a lot of excess fabric hanging around. Helen's instructions are very thorough, making this a great pattern for the beginner sewist or someone not used to sewing with knits."

Emma
Emma's Atelier | @emmas_atelier
"The Blackwood Cardigan will become a closet staple. It comes in two slim fitting styles either hip length or mid thigh. It is designed to drape open so no pesky buttonholes. "

Christine
Unlikely Nest  |  @unlikelynest
"I love this pattern! Simple, flattering, essential. There are lots of cardigans out there, but none that hit the mark quite as on target as this one."
Note: Christine made three versions! She played with the proportions of the front and bottom band on the second and third – don't they look great? These adjustments are super easy to make to this pattern, so you can really get creative!
Jennifer
Clothing Hacker  |  @mizzsmartypants
Sara
The Sara Project  |  @thesaraproject_
"I love this cardi! Super quick sew, really comfy to wear. I'm not big on layering but I know I will be wearing this cardigan all the time!"

Chui
Wear The Duckie Tie  |  @sewcheesy
"Blackwood is a simple, classy pattern that makes you look polished. I can see it being a great base for pattern hacks as well!"

Andrea
Fair Fit Studio  |  @fairfit
"I have been looking for a cardigan pattern in this shape and style for a long time! It's been missing from my self-sewn wardrobe arsenal of great patterns. I sewed it up in 45 minutes, and I'm thrilled with my final result. The fit is perfect for me, I love the slim lines, especially the fit of the sleeves, as it will be a perfect layer over summer dresses. I live in a hot weather climate, so I only need light layers, but if I was looking for a winter version of this pattern, I would go up one size and work with a heavier fabric so I could layer it over long sleeves. I will sew multiples of this cardigan for many years to come."

Anne
Sew Anemone  |  @sewanemone
"This is a fantastic pattern that I can see myself using repeatedly for many years.  It's so classic, I love both the lightweight cover-up I made from view A and the sweater knit version I made in view B."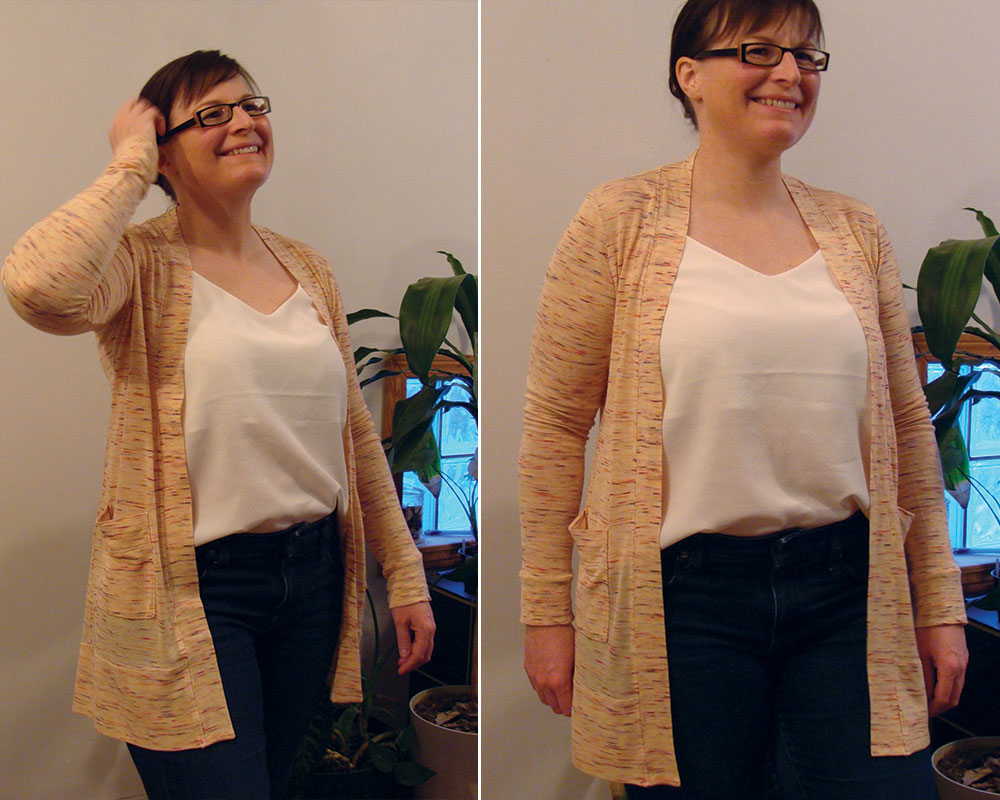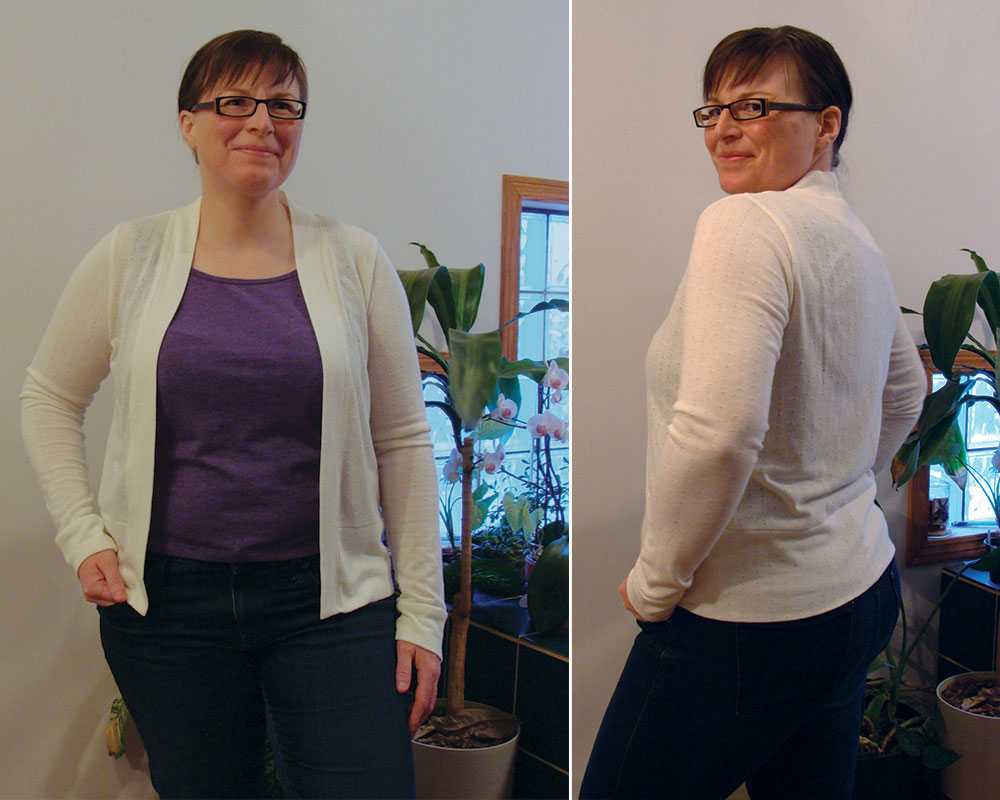 Saki
Saki Jane  |  @sakijanesews
"The extra long sleeves on the Blackwood Cardigan make it extra cozy for those early spring days where you can't quite tell if it's still winter or not. It's trans seasonal and great as a layering piece for cool summer nights (or movie theaters, or restaurants, or anywhere else notorious for being colder than expected)."
Note: Saki did some amazing colour blocking! She added seams to accomplish this look and it created such a cool cardigan.
Aren't they all just gorgeous? There is honestly nothing more exciting than seeing a design come to life. To all my wonderful testers – thank you, thank you, THANK YOU! You ladies are the best!
If you want to jump on board the Blackwood Cardigan train, you can grab your copy this week for 20% off!
---