Give me ALL THE ELLIOT TEES! I feel like the sweater view of the Elliot Sweater & Tee gets most of the focus, so today I want to share my collection of Elliot Tees! I love this raglan shirt pattern for tees. The relaxed sleeve fit is ideal for my personal style and it is sooo comfortable to wear. You can make it in a wide range of fabrics, including cotton jersey, ITY knit, rib knit, and bamboo knit. The best part? It is SO FAST to sew!
Now available in sizes 0-30! The Elliot Tee is 20% off this week. No coupon code required.
My Striped Elliot Tee
This is the original Elliot tee from the photoshoot in 2018! I still wear this once a week or more if I can. The fabric is from La Mercerie a while back and I just love the cream colour with the dark stripes. It is a smaller size than I would make now, but it still fits great. You can see how it is tighter than the other Elliot tees in this post. You can size up or down depending on your desired look! I love to pair it with my Dawn Jeans for a modern, retro-inspired style.
Alterations: None
Fabric: Cotton Jersey Knit from La Mercerie
My 'Faces' Tee
This is currently my favourite wardrobe item. I can't get enough of this adorable faces print by Lady McElroy! I got this jersey from Blackbird Fabrics and I have it in white, too. Clearly I need to make another Elliot Tee! I love wearing this with jeans but today I have it paired with an upcoming pattern (SNEAK PEAK!). These are woven joggers made in a hemp cotton canvas and I wear them constantly. I can't wait to share more about this new pants pattern soon! 😉
Alterations: Shortened sleeves by 2″
Fabric: Viscose Crepe Jersey from Blackbird Fabrics
My Rib Knit Lounge Top
This rib knit from Blackbird Fabrics may be one of the softest fabrics I have ever felt! It is really drapey and it feels like instant relaxation to me. I decided to make a larger, longer, split hem tee and lengthen the sleeves for max coziness. I love how this turned out and I will be wearing it loads! It pairs especially well with my new Avery Leggings – tutorial for this mesh blocking coming soon!
Alterations: Sized up, lengthened sleeves by 8″. Lengthened the body and added side slits.
Fabric: Modal rib knit from Blackbird Fabrics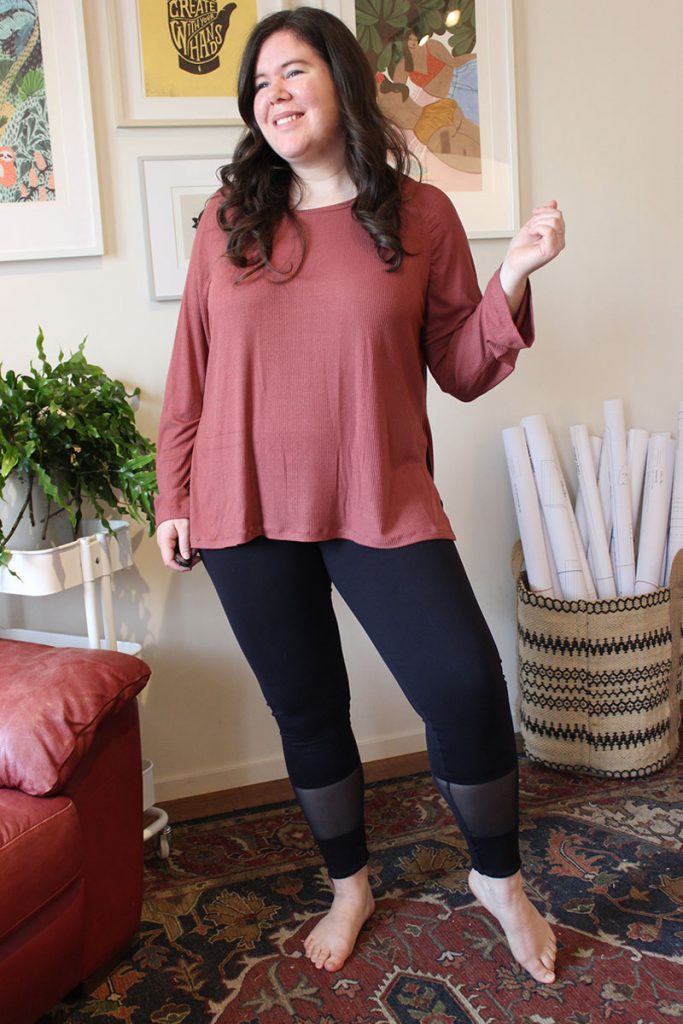 My Bamboo Jersey Tee
It is hard to describe the amount of heft this Bamboo Jersey has! I love the structure it gives the Elliot tee. I made no changes to the pattern for this version and It makes for a great, everyday, striped tee. Paired here with a new pair of Avery Leggings in a pink athletic knit. Feeling very cheerful in this look!
Alterations: None
Fabric: Thick Bamboo Jersey from Earth Indigo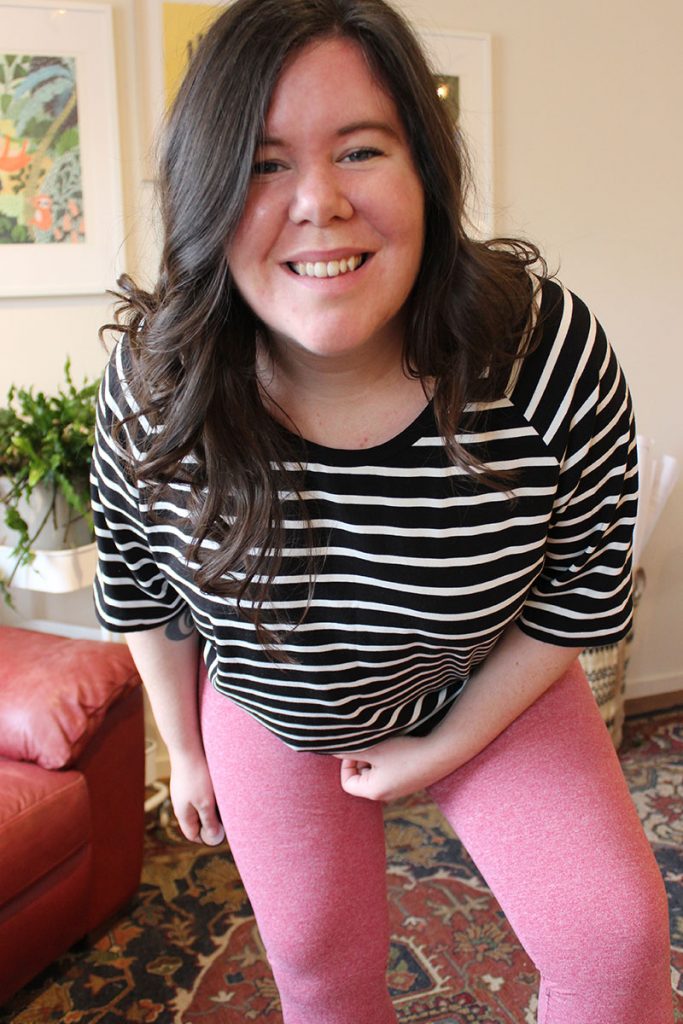 My Grey 'Rolled Cuff' Tee
This was a standard Elliot originally, but the grey knit I used was giving me classic boyfriend tee vibes. I wanted to roll up the cuffs but they kept coming unrolled! I decided to turn the cuff up 3-4 times and then topstitch it in place to get a permanent roll on the sleeve. It means the cuffs are heavy and structured which I really like. I also love wearing this tee tied in the front! Sew cute!
Alterations: Rolled Cuffs and Topstitched
Fabric: Grey linen/poly blend knit from Blackbird Fabrics
I hope you enjoyed checking out my tee collection! These certainly won't be my last Elliot Tees. If you have tried the sweater version, I encourage you to try the tee, too! You might just love it as much as I do! 🙂