Hello everyone! Today we have Saki from @sakijane and sakijane.com here on the blog to share this AMAZING Ashton Top hack. Saki played off of this hack for an Ashton dress that we shared last year, but she took it one (well, actually several) steps further! We are obsessed with this amazing dress and we hope you try this pattern hack, too!
About the author: Saki Jane has been sewing for over two decades, with a background in fashion and bridal design. Now, she finds pleasure in crafting her own wardrobe and sharing the joy of sewing with others through workshops and tutorials. You can find her work on Instagram @sakijane and at her blog at sakijane.com.
Hey everyone! Saki here—I hope this post finds you well. I want to share a pattern hack today that turns the workhorse Ashton top into an ethereal, floaty dress. This dress is perfect as an easy look for a garden or balcony party—with your partner, roommates, or cat for now, and friends and family in the coming months. Just throw it on over a slip, long-sleeved dress, or even a blouse and leggings to make it a seasonally versatile garment.
This hack is so easy, it doesn't even require you to redraft any of the pattern pieces. It merely omits the hem facing pattern pieces and has a simple addition of ruffled panels to the bottom hem of the Ashton Top.
While I'll be giving you the exact measurements of the ruffles I added, your garment can vary greatly depending on a few factors: the size you are making, how much fabric you have to work with, how extra you want your ruffles, how many tiers you'd like to have, and how long you want your dress. The amalgamation of those factors will determine your own measurements.
In addition, I've got what I call Ruffle Truths to share with you! The Ruffle Truths gives us a basic idea of how much fabric you'll need and is good to keep in mind when planning your ruffle tiers. I want you to walk away from this blog post feeling confident in playing around with different variations of ruffles in your own garments!
For a more detailed look on how to create and add ruffles to create a dress, check out these previous posts by Helen:
Ashton dress hack with gathered skirt
York Pinafore hack with gathered skirt
York Pinafore hack with multi-tiered gathered skirt

Also this one from Gillian of Crafting a Rainbow:
Ashton dress hack with gathered ruffle hem
Ruffle Truths:
Ruffles tiers grow exponentially!
If the gathers start out small on your top tier, you use less fabric than if you start with more gathers on top. If you're short on fabric, you want the gathers on your top tier to be on the smaller side.
The shorter the bottom ruffle, the less fabric you'll use.
The bottom ruffle is always going to be wider than the top ruffle in terms of fabric usage. If you're short on fabric and want a maxi or tea length ruffled dress, consider making the top tier the longest and the bottom tier considerably shorter.
The heavier your fabric, the less you can ruffle.
If your fabric is super lightweight and flowy like chiffon, you can double or triple the width of the previous tier, but if your fabric is heavy and structured, you should probably steer away from ruffling, or at the very least, make the ruffles less concentrated.
When I make a ruffled dress, I like the amount of fabric I have to be the determining factor in how wide my ruffle panels are, how many, and how gathered. If I have 3 yards, and at least a half yard or more will be used for the bodice, how much will I have left over for the ruffles skirt?
We can use the first two Ruffle Truths together to design our hack.
Have a fabric limit but want extra gathers on the top tier? Balance it out by making the top tier longer than the rest.
Same fabric limit but you want those bottom tiers to be extra long? Use smaller gathers up top.
You can make a dress with gathered tiers that are just barely wider than the previous tier (for example, a ruffle only 1.25x wider than the previous tier) and still have plenty of mobility if you add multiple tiers. You just have to make sure that that first tier measures wider than your hips with some extra ease for movement.
As for my dress, here are the details:
I made this dress in the cropped version of the Ashton Top in silk chiffon with a contrasting bias tape finish (see tutorial here), and I shortened the bodice by 1.5 inches (as shown here). I first cut all of the pattern pieces, except for the hem facings, and then cut the ruffles on the crossgrain out of the remaining fabric.
The top tier is 1.85 times the width of the hem of the Ashton top; the second tier measures 1.8 times the width of the top tier; and the third tier measures 1.3 times the width of the second tier. Because I started with a wider ruffle on the top tier, I also made it longer so that the bottom two tiers used less fabric.
I sewed the bodice according to pattern instructions until it was time to finish the hem. I then sewed the ruffle panels together at the side seams to make three loops.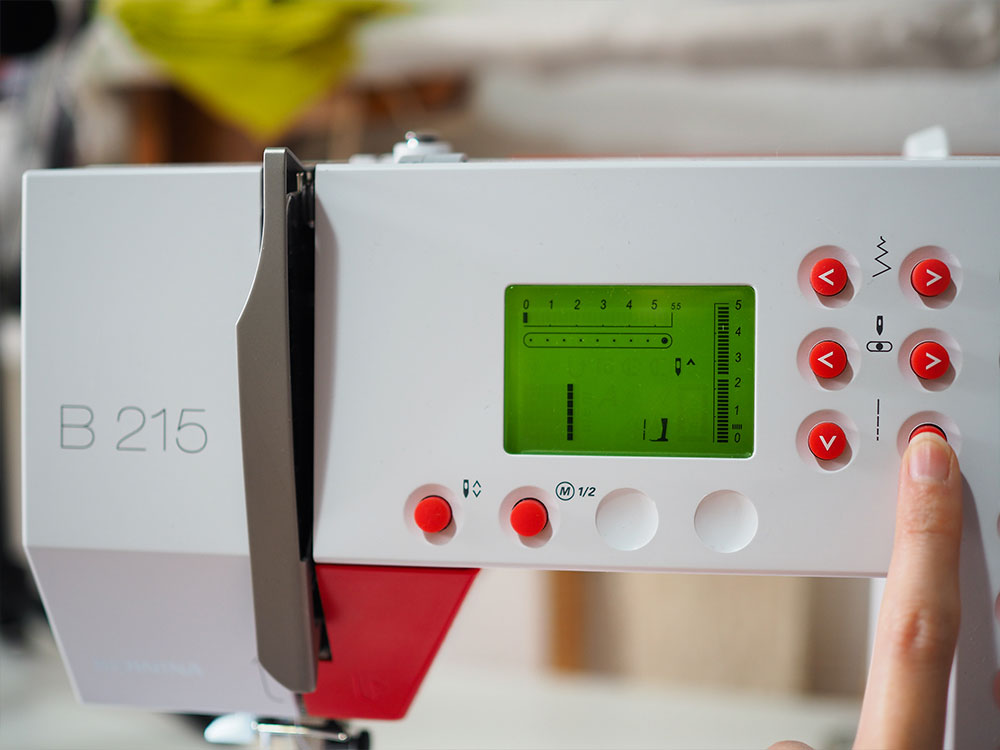 Before gathering the loops into ruffles, I marked each loop on the top and bottom at the halfway and quarter points with pins. Then, I gathered each loop and attached the top ruffle tier to the bodice hem, the second tier to the top tier, and the third tier to the second, matching to quarter and halfway points. See more details about gathering here.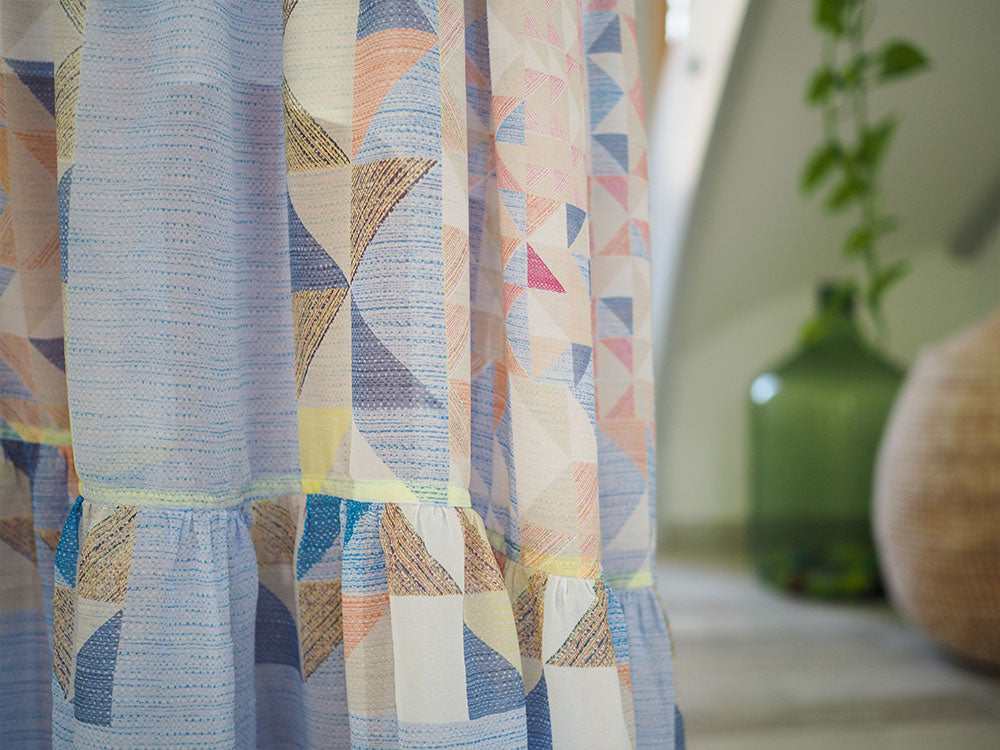 Make sure you hem your garment, and your dress is done! Isn't it amazing that sewing the Ashton in a sheer or gauzy fabric can completely change the look?