Sewing a patch pocket is a great way to customize and add some functionality to your knit t-shirt collection. Whether you want to make your tees look more casual or use up some scraps, this is an easy and quick pattern hack you can use for almost any knit pattern, including the Jackson Tee, Elliot Tee, or Luna Tank. Today I'll show you how to draft a knit patch pocket and share some tips that will make sewing t-shirt pockets a breeze!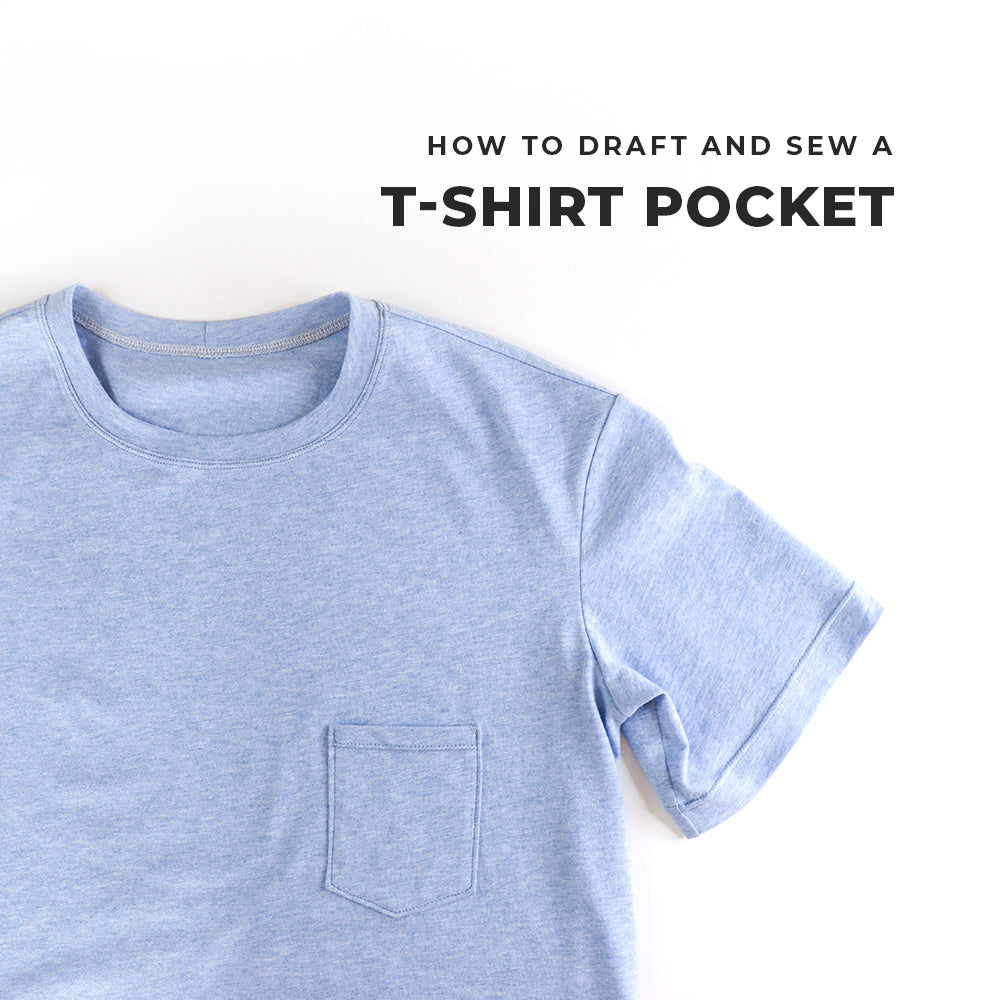 Don't forget that Jackson, Blackwood, and Elliot are all on sale during the month of October! Grab them for 20% off, no coupon code required.
Drafting the Pocket
First things first, you need to determine what kind of pocket you want. T-shirt pockets are typically one of two shapes: rectangular, or rectangular with a small triangle on the bottom. It's totally up to you which style you'd prefer—but for the sake of this tutorial we are going to draft one with a small triangle, since it is slightly more complicated. If you'd like a rectangular pocket, simply skip adding the bottom triangle. The drafting and construction for both styles are otherwise the same.
Once you've decided on a shape, you'll need to figure out how big you'd like the final size of your pocket to be. This will vary from person to person based on shirt size, chest size, and personal preference. If you have a RTW shirt with a pocket you already love, referencing that will make it easy. Otherwise you can try cutting out various pocket templates and holding them up to your chest until you find a size you are happy with.
On a piece of pattern paper, draft a rectangle in the final dimensions you have chosen (we will add seam allowance next). Using an L-square ruler is very helpful for this step, but if you don't own one just double check that all of your corners are 90 degree angles. I've decided to make the rectangle of my pocket piece approximately 3.5" (9 cm) tall and 3" (7.5 cm) wide.
Since I am adding a small triangle to the bottom, I am going to mark the center point of the bottom pocket, and then mark another center point approximately ½" (1.3 cm) below the bottom of the pocket (you can adjust this placement for a shallower or steeper triangle). Skip this step if you just want a rectangle.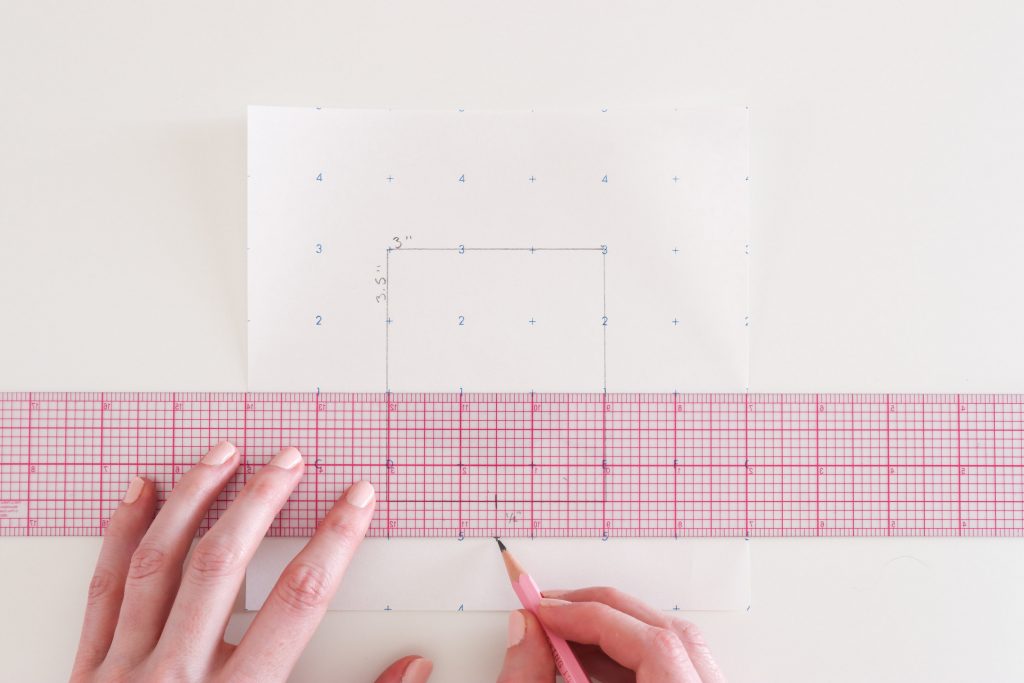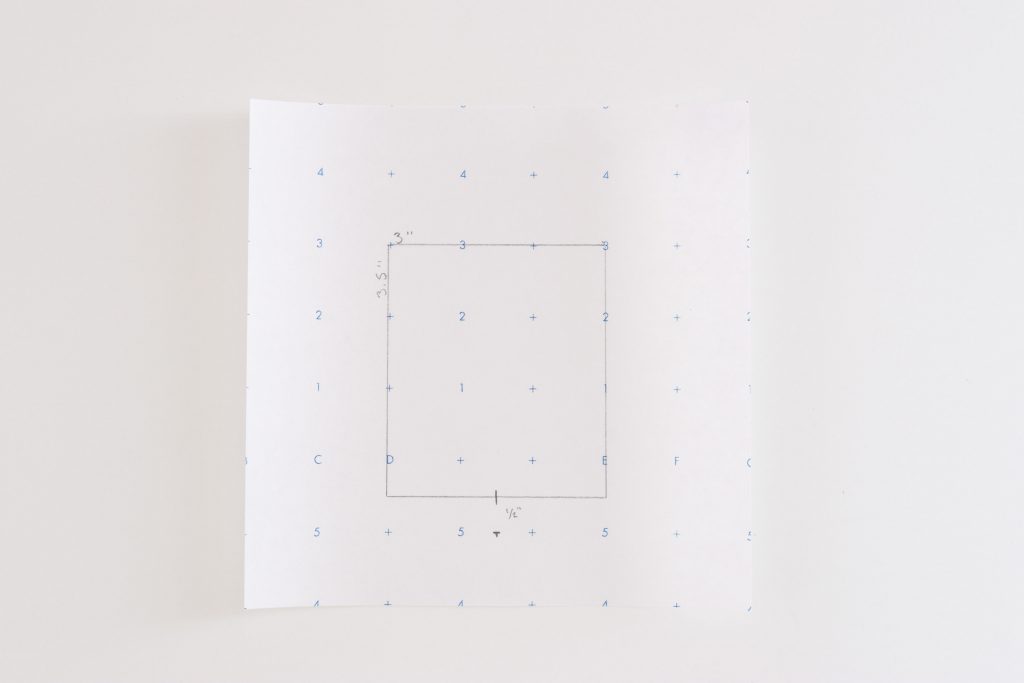 Draw lines from the bottom corners of the pocket to this new point. This will be the final size of your pocket.
Now we need to add the seam allowance. Add ½" (1.3 cm) to the top of the pocket for the pocket hem.
Add ⅜" (1 cm) to all other sides.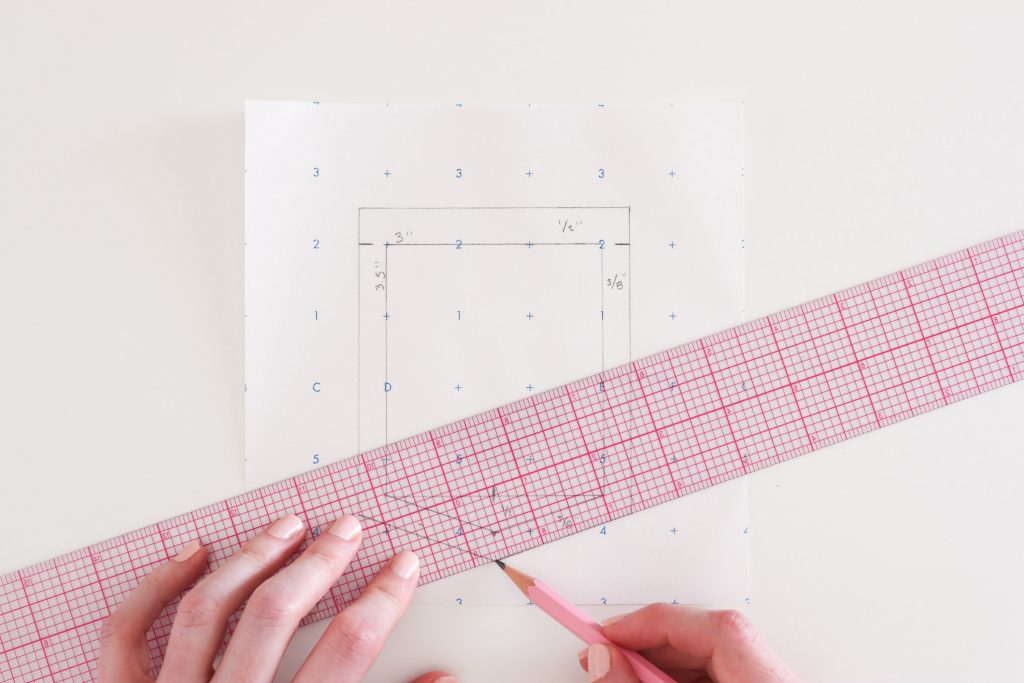 Optional: add a notch at the ½" pocket line to make pressing easier.
Cut out the final pocket template, and use it to cut out 1 piece of fabric. This will be your pocket piece.
Attaching the Pocket
It's much easier to attach the pocket onto a flat piece of fabric, so we are going to sew the pocket before assembling the rest of the Jackson Tee.
Fold the top of the pocket down ½" (1.3 cm) with wrong sides together and press.
Top stitch the seam in place close to the edge, using either a straight stitch or the same stitch you plan to hem your Jackson with, like a twin needle stitch. Press and steam the stitch line to help smooth out any waviness.
Fold the remaining sides of the pockets in at ⅜" (1 cm) with wrong sides together and press. For a triangle-shaped pocket, I like to snip the point close to (but not past!) the stitch line of the corners to help the seam allowance lay flat.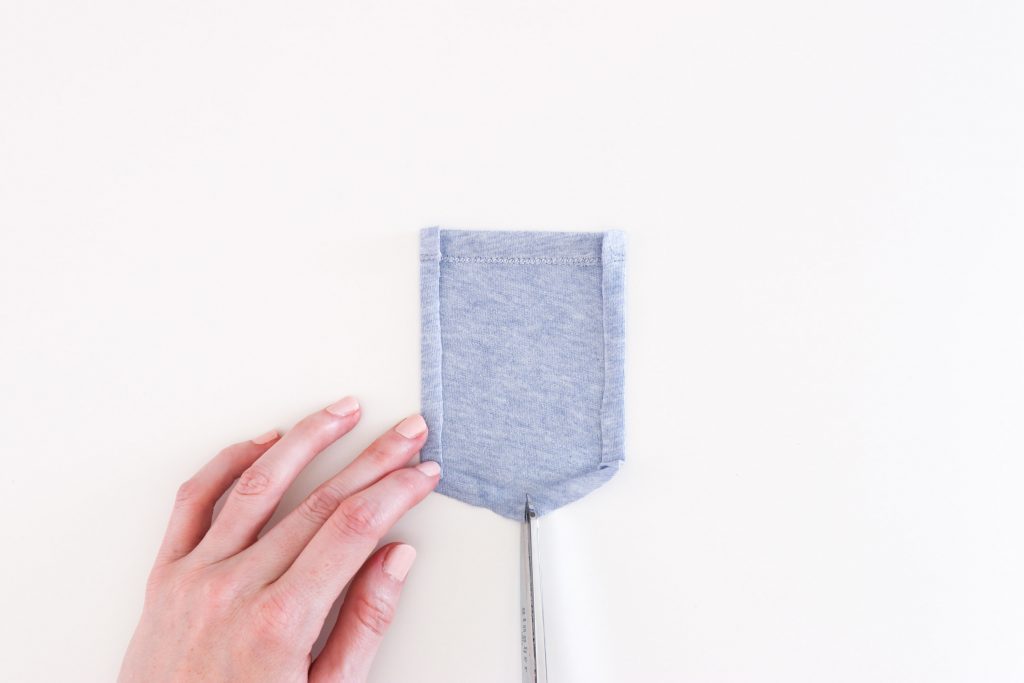 Optional: if your knit fabric doesn't take a press well, use a double-sided tape like Wonder Tape to help keep the seam allowances in place.
The pocket piece is ready to be attached to the front piece of the shirt, so you'll need to determine where to place it. In RTW, t-shirt pockets are typically placed on the left side of the chest (when worn) and on top of the bust apex—but there are no hard and fast rules here. Your height, shirt size, and apex point will all affect final pocket placement. If you own a RTW t-shirt with a pocket, you can use this as a reference. Otherwise, try holding up the front piece of the Jackson Tee to your body (being mindful of not over-handling the fabric) to figure out approximately where you want the pocket to sit. I used two pins to mark this point, and lined up my pocket piece accordingly (you can use the grainline of the knit fabric to help make sure it's straight).
Pin the pocket in place. I prefer to pin the pocket in the middle, so there is no need to remove any pins while sewing (which can sometimes cause the pocket fabric shift ever so slightly).
Optional: use a double-sided tape like Wonder Tape to position the pocket in place. It will make this step so much easier, and will help stabilize the fabric if you have a tricky-to-sew knit.
Using a straight stitch, edgestitch the right, bottom, and left sides in place.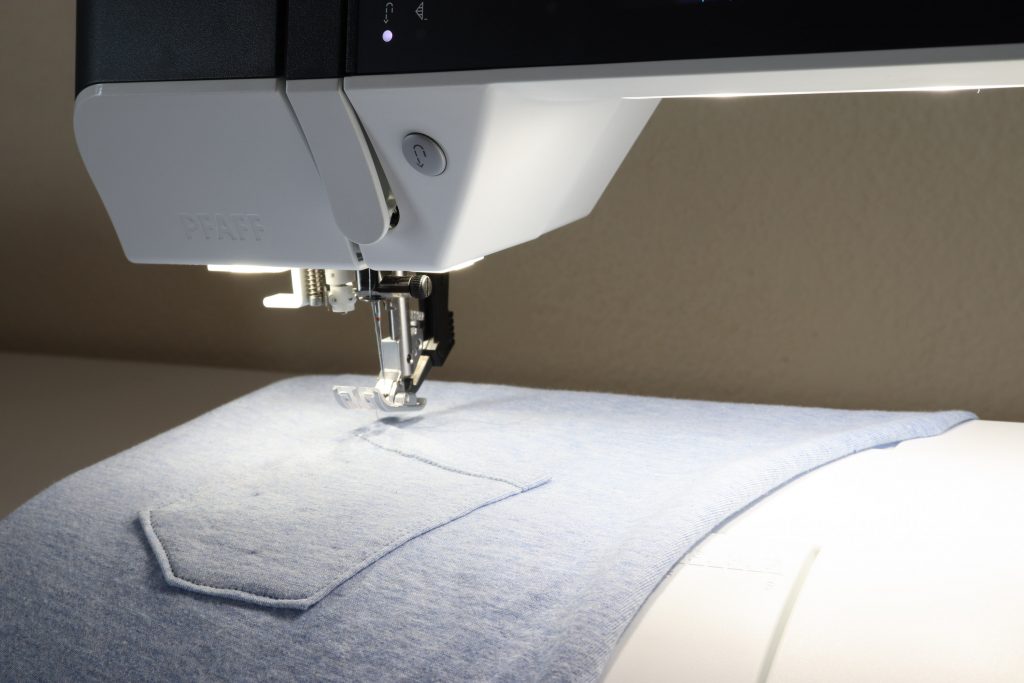 If you find that your knit fabric needs some more stability to get a nice stitch line (and you don't have a walking foot or Wonder Tape on hand), you can try using the tissue paper method outlined in this post.
Give the pocket a good press with steam to set the stitches and smooth out any waviness. Your pocket is complete! Now you can finish sewing the rest of your Jackson Tee, per the pattern instructions.
Don't miss the Helen's Closet sweater sale! During the month of October you can grab Jackson, Blackwood, and Elliot for 20% off, no coupon code required.