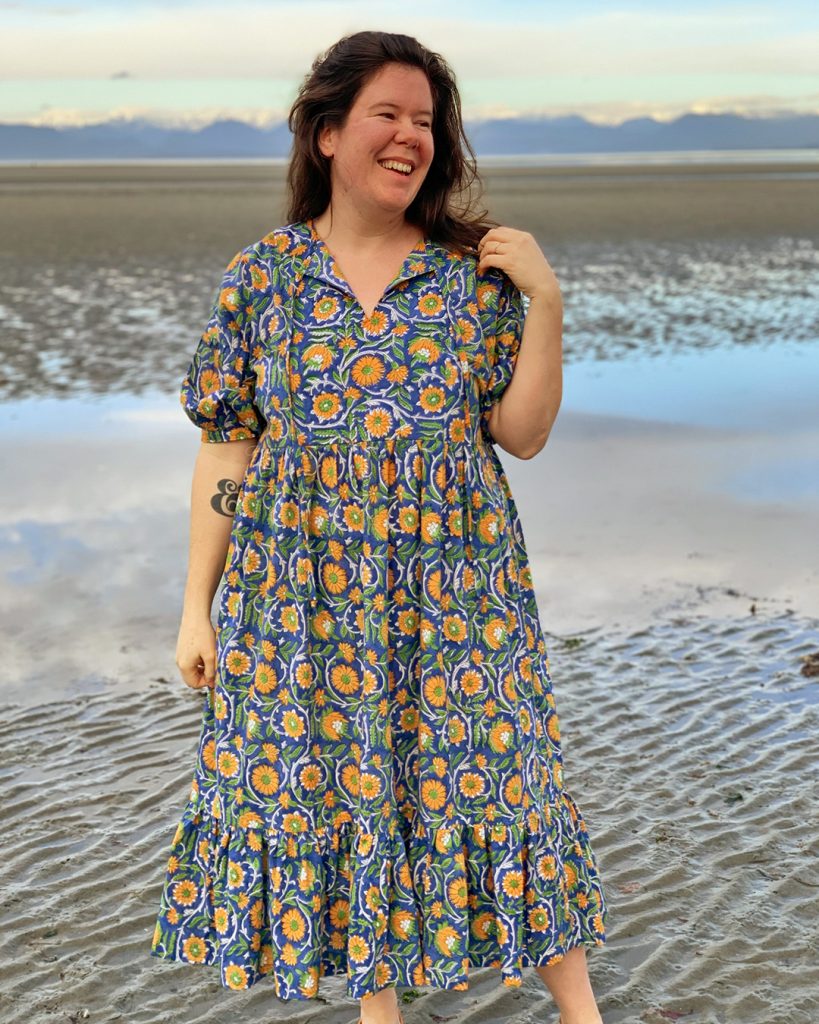 We're continuing our March Top and Dress celebration this month with one of my new favourite makes—this March Dress with an added gathered tier! I have wanted to try this simple pattern hack for March for ages now and I'm so glad I finally went for it. The ruffle tier really compliments the voluminous gathered sleeves and completes this prairie-chic look.
Psst . . . did you hear that the March Top and Dress is on sale all month long? Head to our shop to grab it for 20% off, no coupon code required.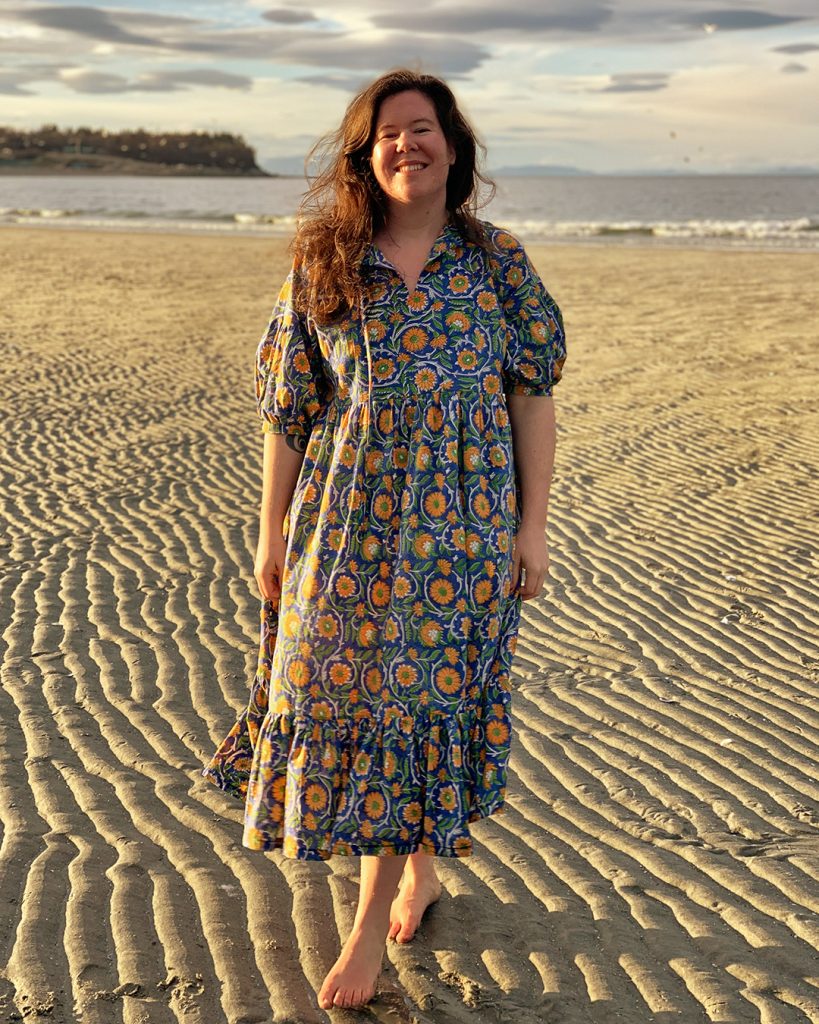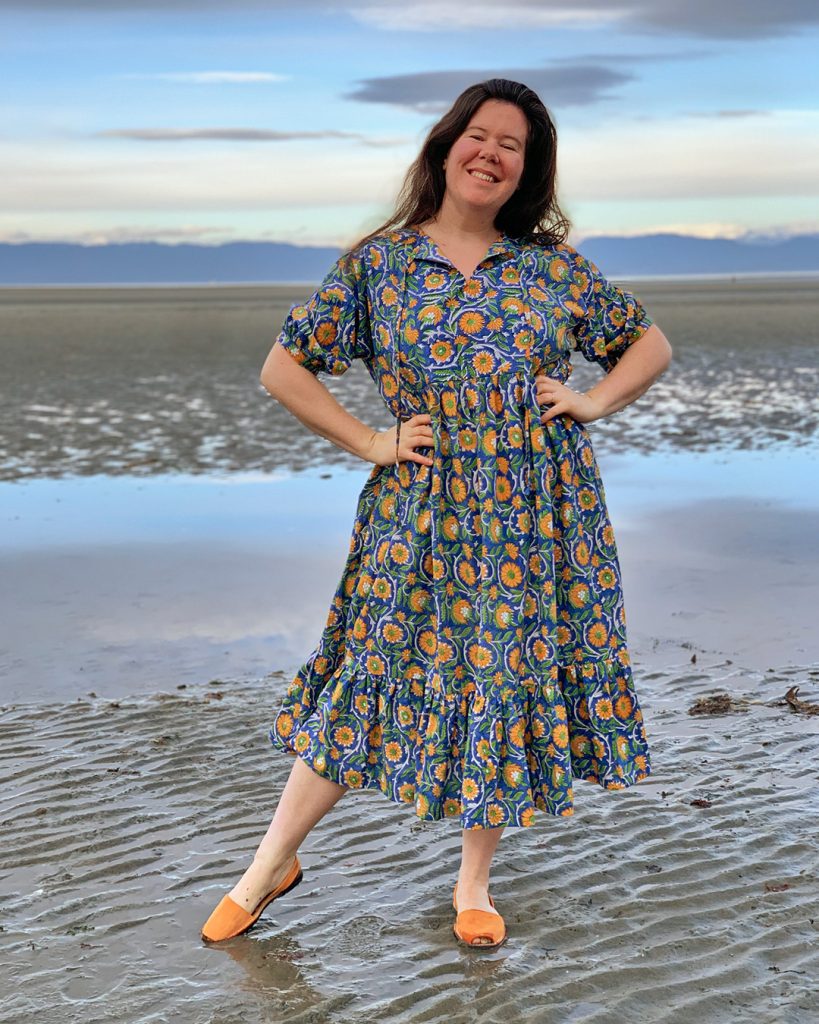 Confession time—I may have copied this look from style icon and my Love to Sew Podcast co-host, Caroline! She made a maxi March dress last summer in this same fabric, just a different print. I was SO floored by it that I immediately got my own block printed cotton from Blackbird Fabrics to give it a try. We also used this fabric for the March photoshoot for one of our top samples. This is such a dream to sew and I just love the subtle variations in the print thanks to the block printing process.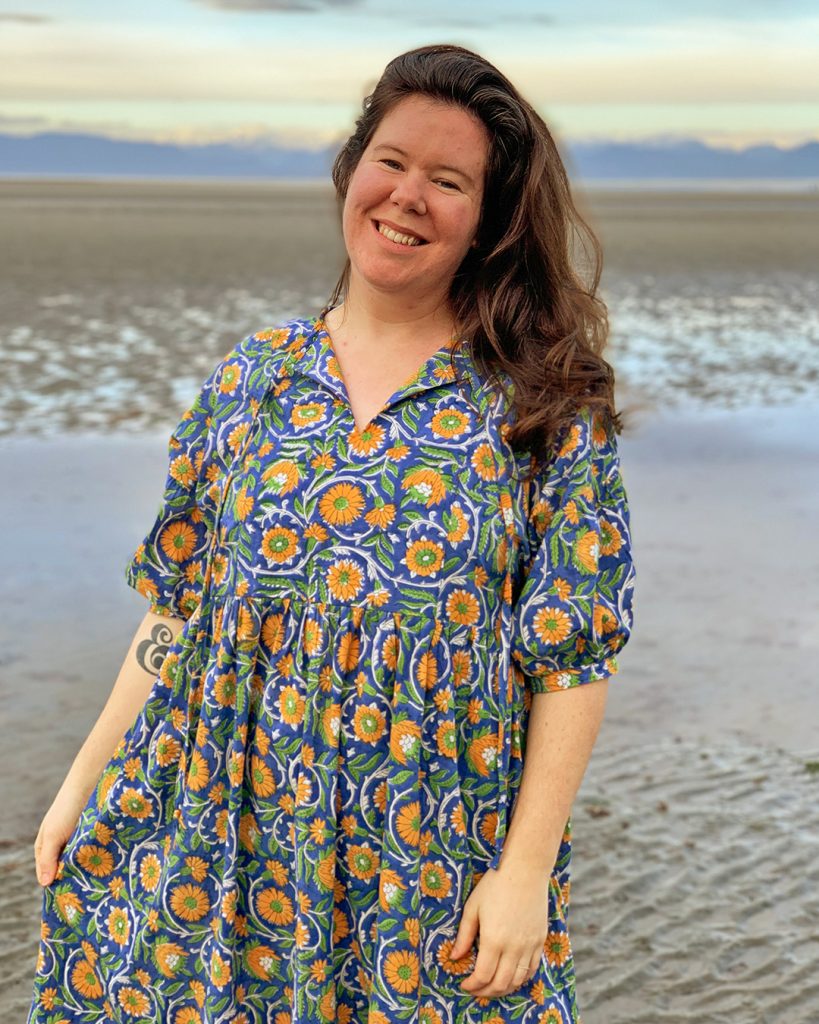 I made the dress view of March (view A) with the short sleeves of view C. I did not lengthen the pattern (I am 5'9.5" tall). I added an 11" (28 cm) gathered tier to the bottom because that was all my fabric would allow, and I think it turned out really nicely! I doubled the width of the hem of the March dress for my gathered tier because I wanted LOTS of gathers. We recommend anywhere from 1.5 times to 2 times the length. I made a straight size 16.
My measurements are:
High Bust – 40" (101.5 cm)
Full Bust – 44" (112 cm)
Waist – 34" (86.5 cm)
Hips – 45" (114 cm)
Height – 5'9.5" (176.5 cm)
If you want to learn more about gathering, check out our post on how to gather here. We also have several posts about adding gathered tier skirts, like this one here and here.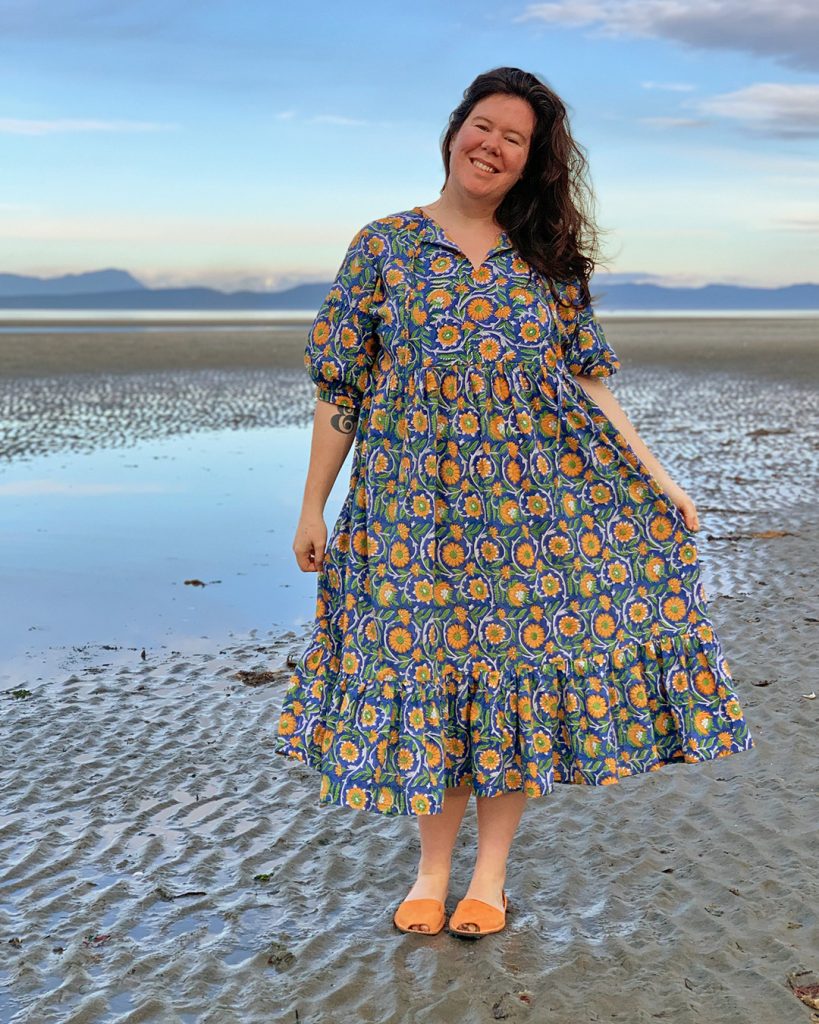 The print I chose is quite busy so there is not a lot of detail visible in this dress, but I do love how things like the neck tie and front panel show up subtly when you are up close. The weight of the fabric is perfect for gathers and voluminous sleeves! I did end up lengthening the neck tie because I got a bit bias-tape-happy and made way too much. I figured I'd make the ties extra long to use it up!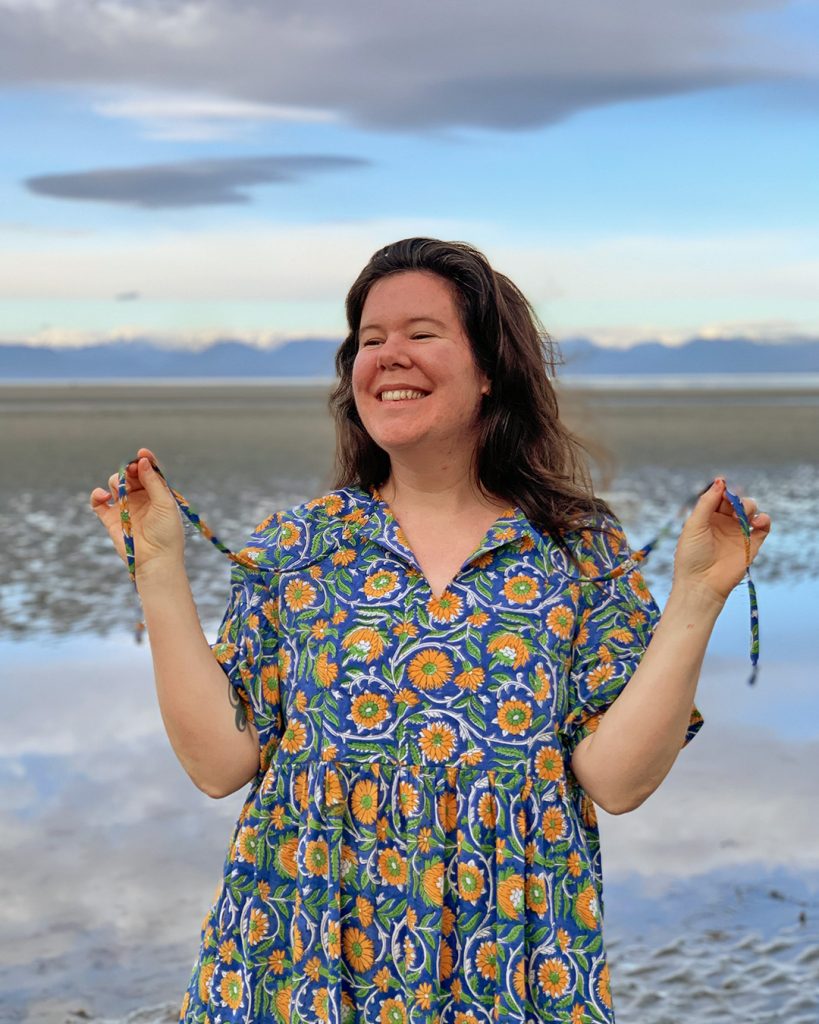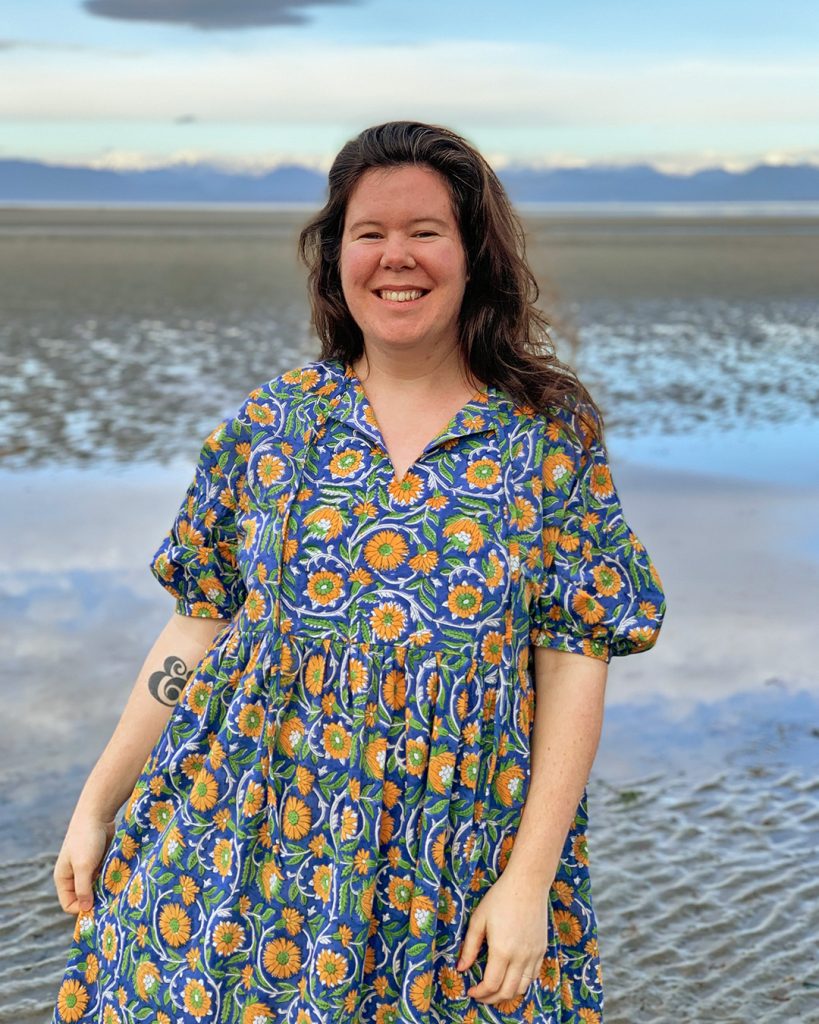 I know I will wear this ALL THE TIME in the hotter spring and summer months. I can picture myself in my garden, at the farmers market, walking my dog, and (of course) at the beach! This will be a great beach cover up that can double as a changing tent. I can also see myself putting this on at home when it is too hot for clothes. This will be that breezy go-to summer outfit that never lets me down.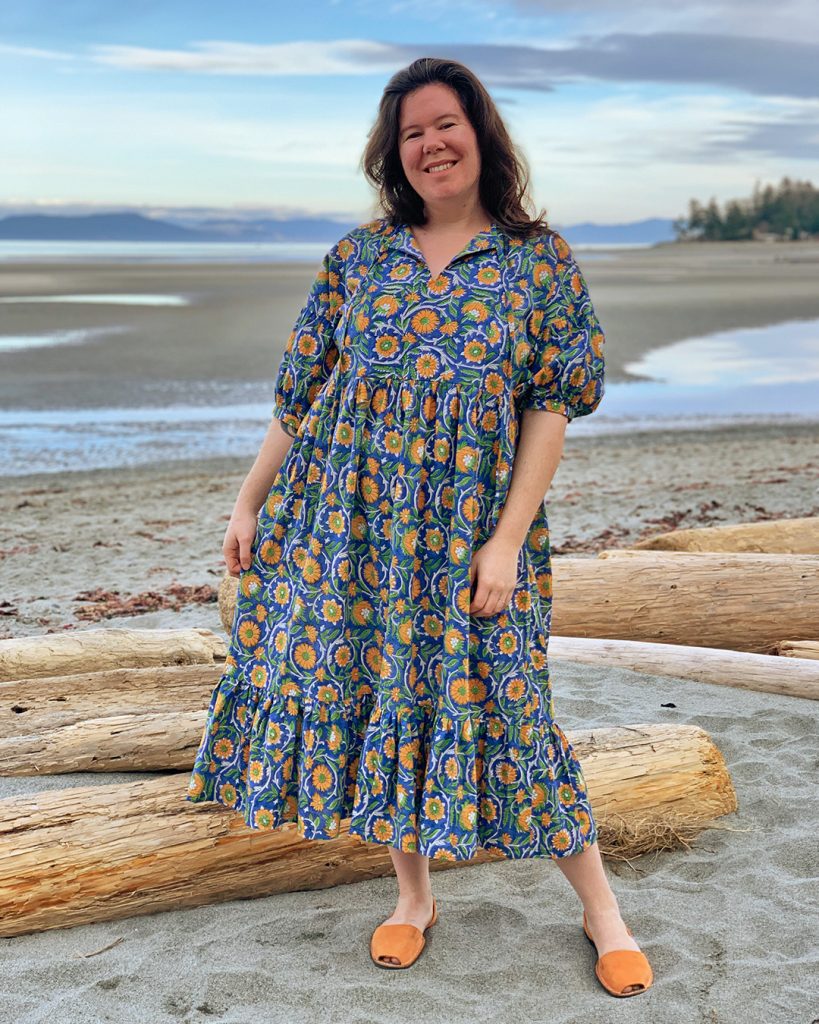 We had so much fun taking pictures of this dress at the beach. The mountain views were particularly gorgeous this day! This beach is on the east side of Vancouver Island and it faces towards the coast mountains on the mainland. Yes, it is still March here in BC and that means it is a bit chilly—not too bad, but I still had to warm my feet back up after this excursion. Yes, I was the only person on the beach in a sundress, haha!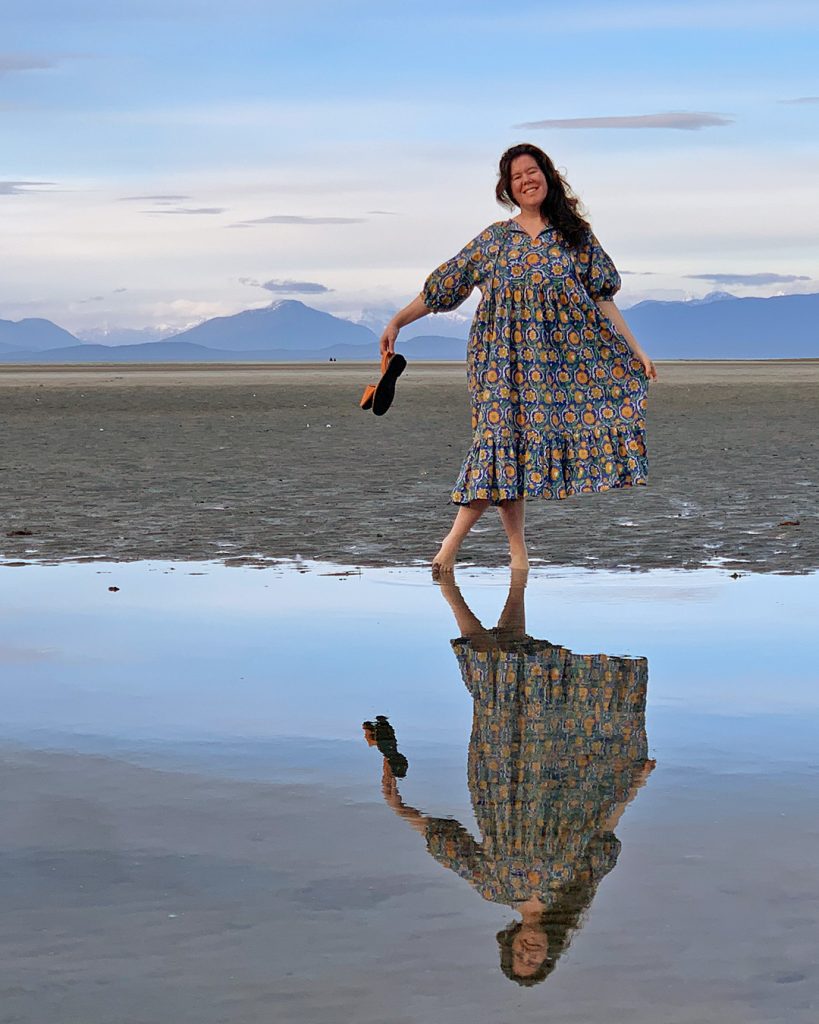 Thanks for checking out my latest March dress! Don't forget you can grab the March Top and Dress for 20% off all month long, no coupon code required.